articles
A letter of support for Irina Putilova from the Post-Soviet left community
By mute,

7 December 2013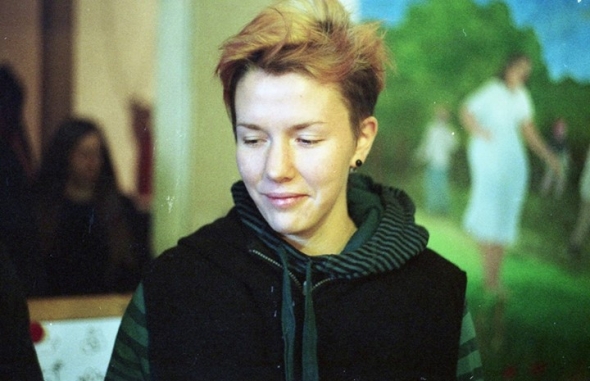 Irina Putilova, an LGBTQ activist and artist, is in detention at Yarl's Wood Immigration Removal Centre. She is scheduled for fast-track removal to Russia where she faces certain imprisonment. The Post-Soviet left community calls on UK activists and public figures to make statements in support of Irina's appeal and for her immediate release from Yarl's Wood.
Irina Putilova left Russia after a criminal case was opened against her because of her involvement in a protest by Voina, the internationally renowned art group. In Russia, Ms. Putilova had been an active participant in the environmentalist, gender equality and anti-authoritarian movements, as well as the politically engaged art scene. Her public activism made her a target of surveillance and provocations on the part of the secret services in Saint Petersburg, where she lived until her departure from the country.
In Russia, the Centre for Extremism Prevention, aka Center 'E', internationally infamous for its gangster-like methods, currently functions as a political police force. In April 2012, Ms. Putilova began receiving direct threats of physical violence from Center 'E' officers. At the time, there was no reason to doubt the seriousness of these threats, since two months earlier, Filipp Kostenko, a friend and associate of Ms. Putilova's, had been assaulted, brutally beaten and had his legs broken by 'persons unknown' after receiving similar threats. For a time, Ms. Putilova had to live with friends and acquaintances, and was constantly on the move, until pressure from Centre 'E' and the court case forced her to leave Russia.
Russian law enforcement has made the members of such protest groups their number one enemies. The trial and imprisonment of Pussy Riot and, earlier, the persecution of the art group Voina, have proven the willingness of the police to use violent means in targeting activists. Voina were subject to physical assaults and police attempted to remove the young child of two group members from their custody.
Police investigators have repeatedly visited Ms. Putilova's parents, who live in Kaliningrad, threatening not only her but them as well. Anyone seen by law enforcement as linked to protest groups is subjected to the most serious dangers, which include not only arrest and imprisonment (involving numerous violations of the law on the part of police and investigators, and with no hope of a fair trial) but also extrajudicial physical violence, for which there have been many precedents in recent years. For this reason, deporting Ms. Putilova from Great Britain, where she has come to seek asylum, would pose a serious threat to her health and safety.  
Although we are people from different walks of life and hold various political views, many of us know Ms. Putilova personally, and all of us have a good understanding of the current dire political situation in Russia. We therefore appeal to you to ensure her health and safety, and to prevent her from being deported from Great Britain.
Alexander Bidin, activist (St. Petersburg-Moscow)
Alexandre Bikbov, sociologist (Moscow)
Ilya Budraitskis, writer, left activist (Moscow)
Maria Chehonadskih, theorist, activist (Moscow-London)
Keti Chukhrov philosopher (Moscow)
Nika Dubrovsky, artist, writer (Berlin)
Yevgeniy Fiks, artist (New York)
Olga Kopenkina, curator (New York)
Pavel Mitenko, artist, researcher (Moscow)
Kirill Medvedev, poet (Moscow)
Nikolay Oleynikov, artist, activist, Chto Delat (Moscow)
Alexei Penzin, philosopher (Moscow-London)
Perrine Poupin, PhD Student, Social Movements Research Center (Paris)
Vladimir Pribylovsky, politologist, journalist (Moscow)
Tatiana Schyrko, Belarusian feminist activist, sociologist (Minsk)
Vlad Sofronov, writer, activist (Moscow)
Irina Solomatina, feminist, sociologist and curator (Minsk) 
Dmitry Vilensky, artist, editor of the newspaper Chto Delat (St Petersburg)
Misha Verbitsky, PhD. (Harvard), professor National Research University (St Petersburg)
Sign a petition in support of Irina Putilova here: https://www.change.org/en-GB/petitions/teresa-may-mp-home-office-release-irina-putilova
http://www.independent.co.uk/news/uk/home-news/russian-bisexual-activist-irina-putilova-is-released-from-detention-and-taken-off-fasttrack-asylum-list-8995978.html
The Home Office released her [on 10 December] and removed her from the fast-track process, after three days in detention [...] Putilova, who is now back in Hackney, east London, is awaiting the date for her full asylum interview.