books
Mute Magazine Print Archive
By mute,

13 September 2016
Mute magazine ISSN 1356-7748 | Sales information PDF http://linkme2.net/w7
Twitter − https://twitter.com/mutemagazine
Instagram − https://instagram.com/mute_publishing
#mutearchive
The Mute magazine print archive has its first release for sale as an original, limited edition set of all fifty-one issues of the print versions of the magazine, covering twenty years of publishing from 1994 to 2014.
The Mute magazine print archive comes as a twenty kilo professional-standard archive box. All copies are in pristine condition, and the box contains a full inventory from Mute Publishing.
This is the first time the full Mute magazine print archive has been made available for sale; the set therefore includes two issues that were heretofore unavailable and have been reprinted in full (Mute Vol 1, No. 9, Sept 1997 and Mute − The Precarious Issue Vol 1, No. 29, Feb 2005).
The Mute magazine print archive offer is being limited to one hundred and ten sets, on account of the costs of production of these new issues, and the ability to make full sets from other remaining issues.
Price £1600 (VAT exempt), 50% sale for June and July 2022. £800. + Free postage
Please order online here https://archive.metamute.org/

Image: Mute covers; Mute pilot issue (1994) to Mute Volume 3 #4 (2014)
Since its launch in 1994, Mute has acted as a platform for independent, critical analysis of the cultural and political impact of the Internet and networked capitalism. Marked by irreverence, a certain intellectual rigour, and design innovation and play, the magazine provided an idiosyncratic home to an expanding community of individuals and collectives with a deep-seated scepticism of the promise of new technologies, and a desire to undo the capitalist status quo. These artists, poets, activists, technologists and scholars were also known as cyberfeminists, unlibrarians, hackers, free university organisers and critical cartographers – and developed between them a uniquely fertile discourse which respected no disciplinary boundaries.
Having started as an art and technology newspaper, Mute grew, explored and roamed editorially, attracting new friends and collaborators, and forging new editorial ground. Over two decades of epochal social and technological change, Mute focused on the tropes of the time — precarity, gentrification, credit and crisis, surveillance, immaterial labour, hacktivism, the global slums, to name a few of its themes.
In 2014, twenty years after its launch in November 1994, Mute became a voluntary editorial collective: it continues to publish an online magazine and periodically releases titles under the Mute Books imprint.
The Mute magazine archive will, over time, be contextualised by a number of personal introductions, sister projects and collaborations.
Mute Magazine Issues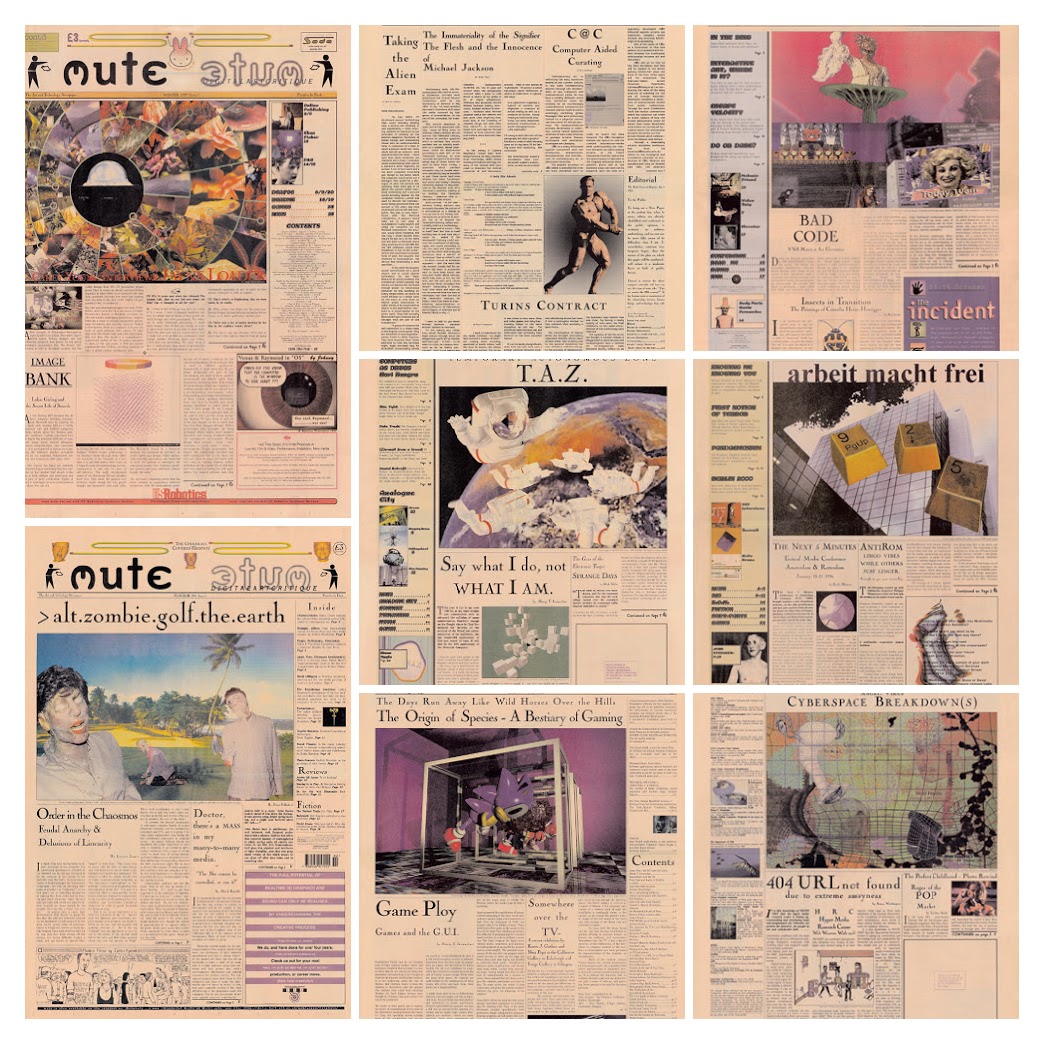 Image: Financial Times print issues, Mute pilot issue (1994) to Mute Volume 1, No. 7 (1996)