your posts
Exhibition announcement: Demanding the Impossible at Unexpected Turns
By

,

14 October 2017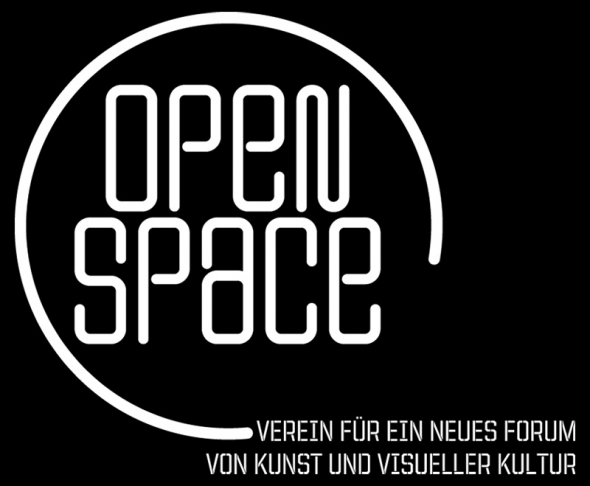 ° Demanding the Impossible at Unexpected Turns | 3 - 27 October, 2017
Project curators: Gülsen Bal and Walter Seidl
With Zanny Begg & Oliver Ressler, VALIE EXPORT, Adela Jušić, Thaer Maarouf, Cengiz Tekin
In a world, where the impossible seems possible, when something that has been repressed for a long time, steps out of the unconscious and seems to get radicalised through the extreme right, artists are more than ever prompted to dedicate themselves to a future, where anti-intellectualism is at stake and critical thinking no longer accepted. What will come after Trump, Brexit and ISIS? Which forms of radicalisation are constituted and how has our perspective on a liberal, open society changed? How can artists reclaim this open society and which conflicts arise along economic, technological and medical progress, which makes us want to live longer but prevents us from thinking critically?
Artists are in constant need of demanding new models of gauging how the world can be seen from a different perspective than the one, which is determined, by dominant models of power, politics or religious beliefs. The latter often cause unexpected turns that shift societies into different directions, which might not even be accepted by a majority of voters and/or the population. Ever again, societies and certain population groups are trapped in a "state of exception", as Giorgio Agamben put it in 2005. This state of exception, however, has continued to the present day and rather turned into a "state of emergency, which might not be overcome in a near future.      
The artists whom are taking part in the exhibition tackle these questions implicitly and try to generate various models, which claim for a different status quo to open up new possibilities and areas of thought at the prelude to further urgent hopeless transformations and the voids that carry certain disappearances within unexpected turns.
Artistic positions and info:
Zanny Begg & Oliver Ressler
Anubumin
Film, 20 min. (2017)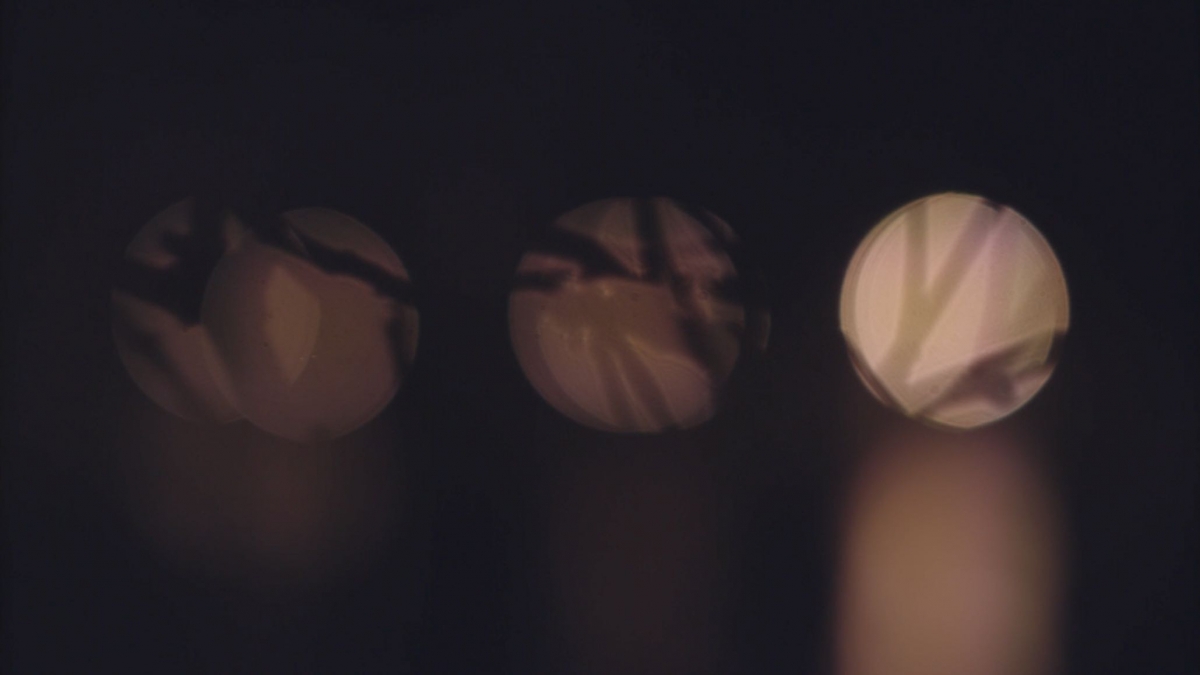 In their fourth collaborative film Zanny Begg and Oliver Ressler focus on Nauru, a tiny remote island in the Pacific with 10,000 inhabitants. The title "Anubumin" is Nauruan for "night" and symbolises a certain darkness that surrounds the island.
The film combines a poetic narration written for the film with conversations carried out with whistle-blowers in Australia. The narration discusses different voids that have shaped the islands past and future. The largest void is a physical one, the island is a raised reef consisting of calcite and phosphate on a volcanic base, which since 1906 has been mined and exported to Australia, to fertilise the former colonisers' farms. When phosphate extraction came to a stop in the 1980s, Nauru was bankrupt and 80 percent of the land area uninhabitable and infertile. In an attempt to generate income, in the 1990s Nauru became a prime money-laundering haven. After the disappearance of soil and money, today Nauru involves in the "disappearance of people" – housing one of Australia's offshore refugee detention centres.
In a reaction to the criticism on terrible human right situation in the detention centre, Nauru severely restricted access to the island. Four whistle-blowers, who worked as doctors and nurses in the detention centre, describe the institutionalised human rights violations in the offshore detention. They uncover a truth the Australian government tries to cover through intimidating people into silence.
Today a new void threatens the island, rising sea-levels threaten the coastal edge, which is the only area left for its inhabitants to live. The people who warden the political and economic refugees of today may well become climate refugees of tomorrow. The night is always darkest before the dawn.
VALIE EXPORT
I turn over the pictures of my voice in my head
Video, 11min, 38sec (2008)
Courtesy: Kontakt. Die Kunstsammlung der Erste Group und ERSTE Stiftung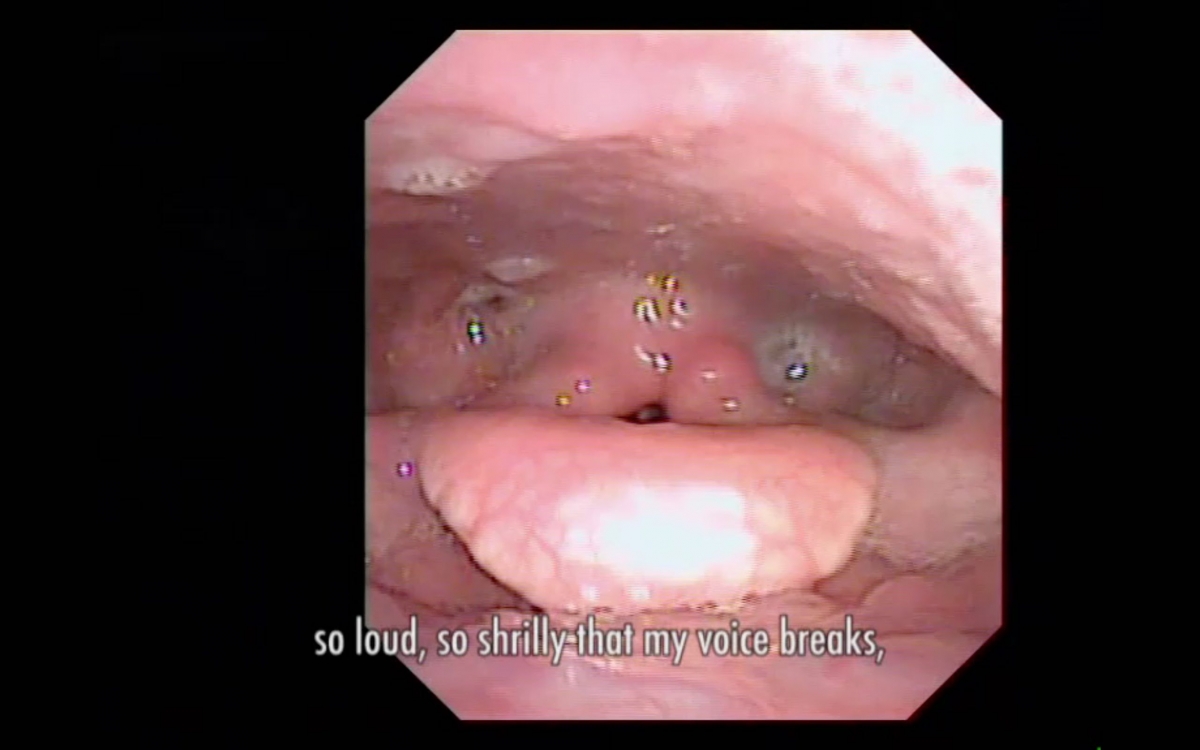 Unlike "The voice as performance, act and body," this video doesn't show the entire room during EXPORT's live performance at the Venice Biennale, but only a close-up of the image recorded inside the body during the body action. We see the opening and closing of the glottis and the rippling surface of the pink mucous membranes. And we hear EXPORT reflecting on the relevance of the voice as "sign of sensuality", as "sign of symbols": "It is my event, it excites me, I excite my voice, the voice is excitement, it is built out of fragments, its architecture is vertical, horizontal, in diagonals and spirals it oscillates between culture, wilderness, civilization mythologies, it splinters in the seams, in the grooves of the excesses."
Adela Jušić
She went to war - Original title: Ona je otišla u rat
Sound installation, 00:06:41 sec (2017)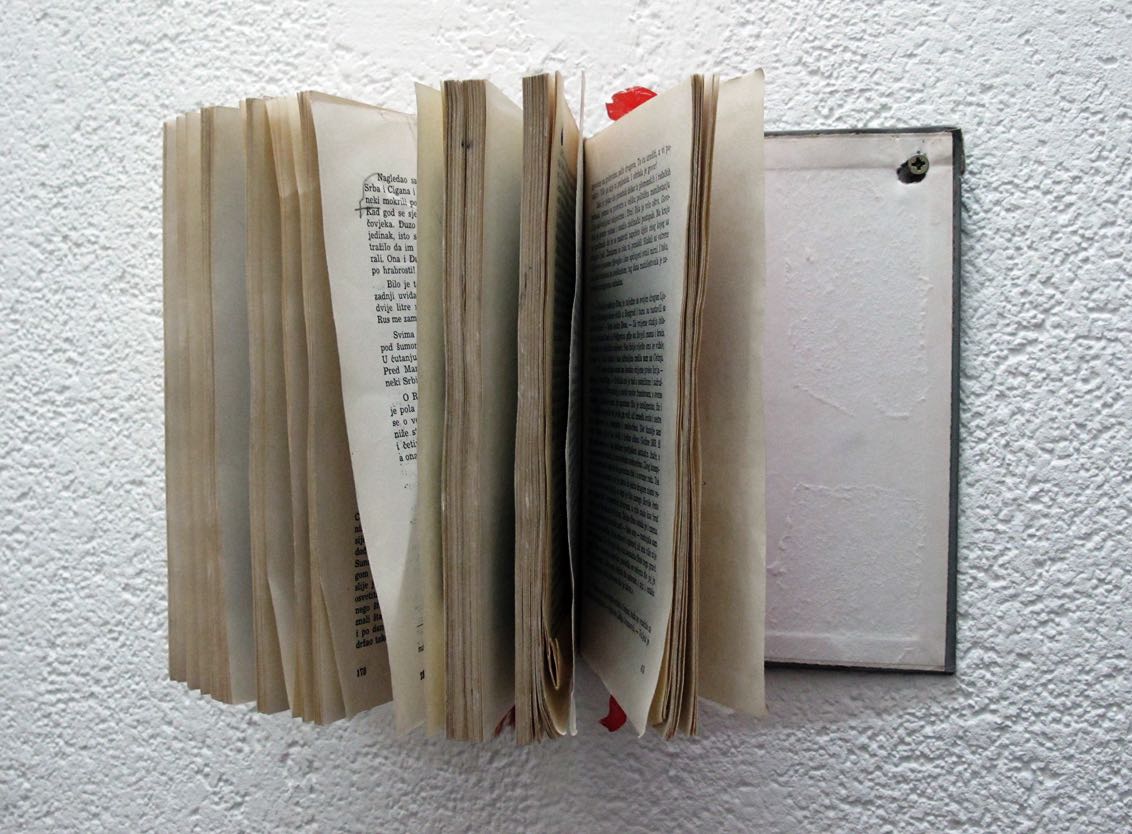 Adela Jušić has a primary focus on the subject of Antifascist struggle in Yugoslavia and the role of women within this context covering their position in regard to political, economical and social rights in between WW II and break of Yugoslavia. Yet, this also revolves around the subject of the war in Bosnia and Herzegovina and post-war politics in the ex-Yugoslavian countries. This is mostly rooted in personal experiences while bringing socially engaged art practices to the surface.
Text for the "She went to war" sound work is written by the artist herself and it is inspired by the stories about lives of WW II war heroines from Bosnia and Herzegovina based on the book "Heroines" (Žene heroji) edited by Mila Beoković in 1967. The sound work consists of music and narration covering famous German Fascist song "SS marschiert in Feindesland" that is slowly changes into Antifascist song from Yugoslavia "Padaj silo i nepravdo (Fall,oh force and injustice)" and changes back into the previous one. This text however, is dedicated to all those women who fought and to those who died fighting for freedom from Fascism and freedom from patriarchal oppression.
Thaer Maarouf
Dirty Messages
Installation (2017)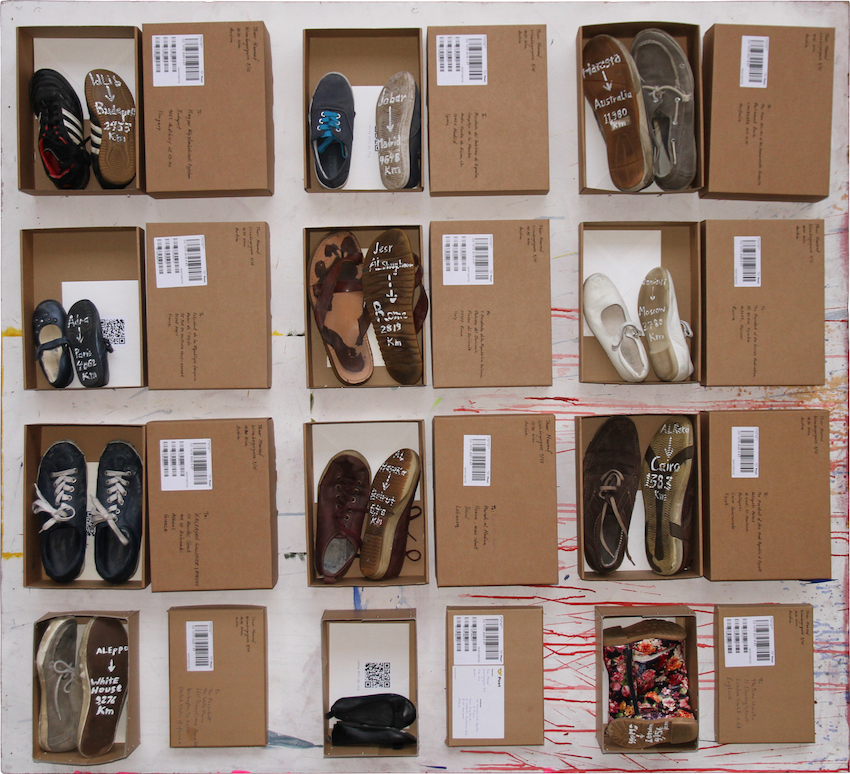 Thaer Maarouf tackles the current problematic of migration and issues of asylum seeking that refugees have to face in a multi-facetted project called Dirty Messages.
Maarouf sent twelve parcels out to The President of the United States of America, The Prime Minister of the United Kingdom, The President of the Republic of Poland, The President of the Russian Federation, The President of the Arab Republic of Egypt to some random addresses in Hungary, Greece and Lebanon; each containing a pair of worn shoes from a refugee. The shoes carry a symbolic gesture and belong to those who crossed several borders on foot in order to flee from war and death in hope to search for a "better" and "safer" life while bringing the topics of migration from a fresh and different perspective altogether in terms of their "tangible" to "intangible" state. Dirty Messages has another layer to it, requesting the recipients to forward the shoes with a participatory element to it, creating almost an utmost performative quality to its constant move where the destination becomes more important than the arrival.
Cengiz Tekin
Normalization
C-print, 90 x 120 cm (2009)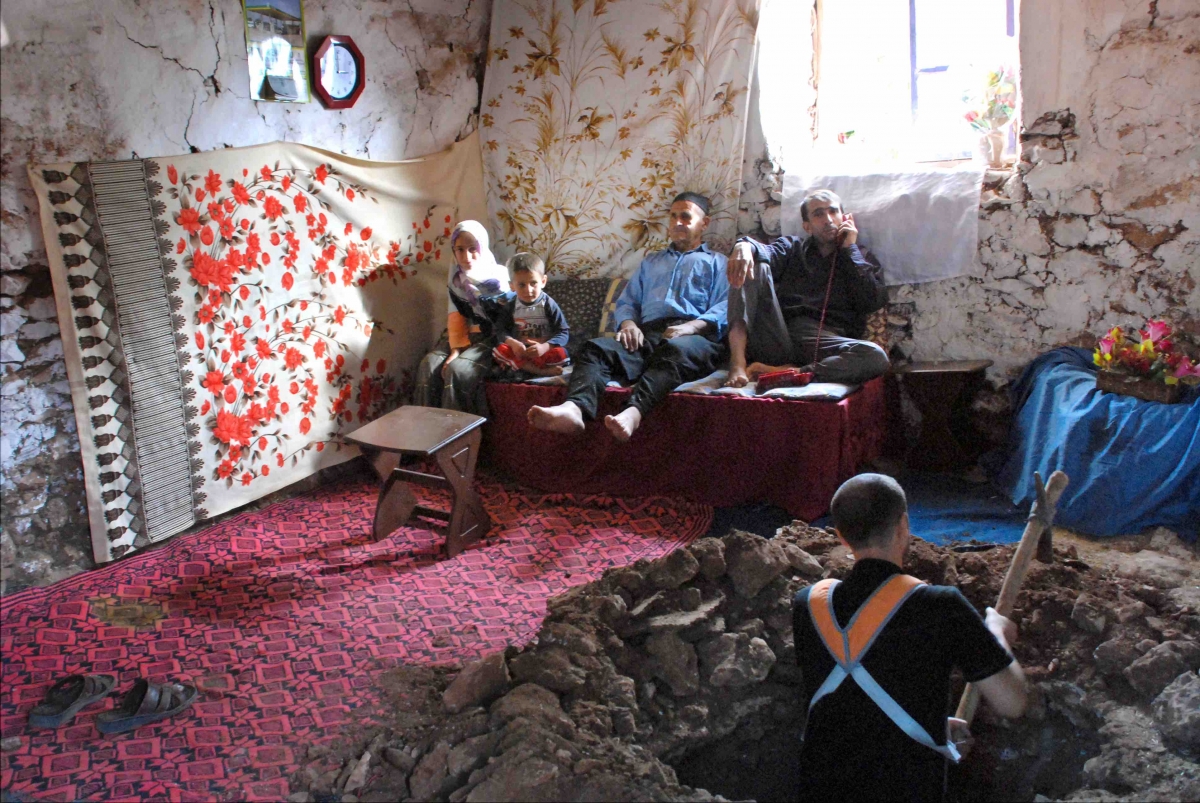 Cengiz Tekin usually tackles issues such as family, religion, tradition, and death to their most vital basics and even the matters clandestinely by opening small cracks in grasping those very topics through the way he introduces them from different angles. His art works have the quality of sheer directness that is produced within a wide range of events from contemporary art's internal matters to daily politics leading to the fact that his artwork speaks critically engaged and politically. 
His photographic work Normalization points out the issues of geopolitical fragmentation where we are confronted with the deficiency created by the retreat of its existing politics of intrinsic-normalisation rendered unanswerable. As such, the work deals with some of the most challenging issues of our time in laying out the sense of community within its seemingly daily life setting in which those are the matters not only be taking into consideration with the East but the West as the process of normalisation is associated with dangerous aspects of current political effects that we are facing on a day to day basis as symptoms of society.
Supported by:
Stadtteilkultur, Interkulturalität und Internationale Angelegenheiten
Kulturabteilung der Stadt Wien
Magistratsabteilung 7 – Bildende Kunst
In kind support by:
Kontakt. Die Kunstsammlung der Erste Group und ERSTE Stiftung
cyberlab - Digitale Entwicklungen GmbH
PİLOT Gallery
KUNSTHALLE EXNERGASSE
Venue: philomena+
Heinestraße 40
A-
1020 Vienna
° About us:
Open: Friday, Saturday 13.00 - 18.00 and viewing is available by appointment only for the rest of the weekdays. Admission free
(+43) 699 115 286 32

for more info: office@openspace-zkp.org
Open Space - Verein für ein neues Forum von Kunst und visueller Kultur aims to bring diverse creative practices together to encourage exchange and joint projects with its visual arts programme within its long established history in Vienna in which a certain creative agenda offers new potentials in the field of contemporary art.