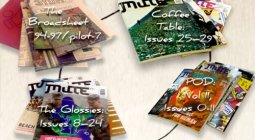 The Mute Magazine Archive
a special box set of Mute magazine back issues
Original copies of nearly every issue* of Mute from 1994 to 2010 - a total of 45 issues spanning the years from early web utopianism to the pungent fallout of the financial crises. The set includes special inserts, CDs, software and specially commissioned artworks.
Mute has been publishing on culture, politics, and technology since 1994, earning an international reputation for critical enquiry, future-casting research and unconventional perspectives. The first incarnation of Mute was a barely disguised replica of the Financial Times, printed on the same distinctive pink newsprint. Since then Mute evolved into a colour, highly graphic magazine, and finally into the hybrid print/web publication it is today. Featuring many of the writers, artists and photographers who came to epitomise London's status as a creative hotbed, the Mute Archive is a great addition to an academic or personal library; a cross section of cultural and political history.
The PODs: The themed issues in this set consider the knowledge economy, multiculturalism, the global expansion of slums, Web 2.0, green politics, capitalism and crisis, migration/visibility and bio-politics. Highlights include: Peter Linebaugh's 'Charters of Liberty in Black Face and White Face'; Loren Goldner's 'Fictitious Capital for Beginners'; Owen Hatherly on 'urban renaissance and its discontents'; George Caffentzis on 'edu-struggles'; J.J. Charlesworth on 'Crisis at the ICA'; Nina Power on Paolo Virno; Brian Holmes and Marco Deseriis on 'recuperative semio-capitalism'. Further contributions by, among others, Dmytri Kleiner and Brian Wyrick, Anna Dezeuze, Paul Heliwell and Mark Saunders. The set also includes Artists Projects by Nils Norman, CVA, Martin Howse, David Osbladeston, Plastique Fantastique.
Coffee Table: Highlights include Mute's 'Systems Upgrade' series on the historical feedback loops between the information based arts of the 1960s and 1990s; Michael Corris' eponymous essay and an interview with APG; Jean-Jacques Lecercle on Slavo Zizek; Simon Ford on 'computer art', Alan Toner's 'Dissembly Language: Unzipping the World Summit on the Information Society', Tiziana Terranova and Marc Bousquet's 'Recomposing the University' and Luciana Parisi on 'abstract sex'. Plus special sections on the political and financial upheaval in Argentina (circa 2003), the South Asian politics of nuclear power, Self-Institutions Survey, European Social Forum and Precariousness. The set also includes artist's projects by, among others, Eyal Weizman and Anselm Franke, Université Tangente, Emma Hedditch, Ron Silliman and Zeigam Azizov.
The Glossies: Highlights include an early Cyberfeminism special (with Faith Wilding, Caroline Bassett and Josephine Bosma), Matthew Fuller and Ewan Morrison's 'Ten Reasons why the Art World Hates/Loves Digital Art', extensive discussion of the corporatisation of culture (Chris Darke, Anthony Davies and Simon Ford, and Benedict Seymour), coverage of art, activism and 'artivism' (eToy, Critical Art Ensemble, Reclaim The Streets, Coco Fusco & Ricardo Dominguez); plus, the digital commons, ICANN and surveillance post-9/11 as well as a regular column by CCRU. The set also includes The Junction's Torkradio's compilation, Kate Rich's Fallout Radio CD and JODI's Untitled Game.
The Broadsheets: Highlights include Suhail Malik's 'The Immateriality of the Signifier'; Richard Barbrook and Andy Cameron's 'The Californian Ideology'; Franco 'Bifo' Beradi's 'Proliferating Futures'; Geert Lovink's 'From Speculative Media Theory to Net Criticism'; Artist Group Bank in conversation with John Stezaker; Simon Pope & Matthew Fuller's 'This Computer has Multiple Personality Disorder'; plus several contributions by the Bureau of Inverse Technology and early writing by James Flint and Hari Kunzru.