reviews
Glue Of Years
By Flint Michigan

,

18 April 2012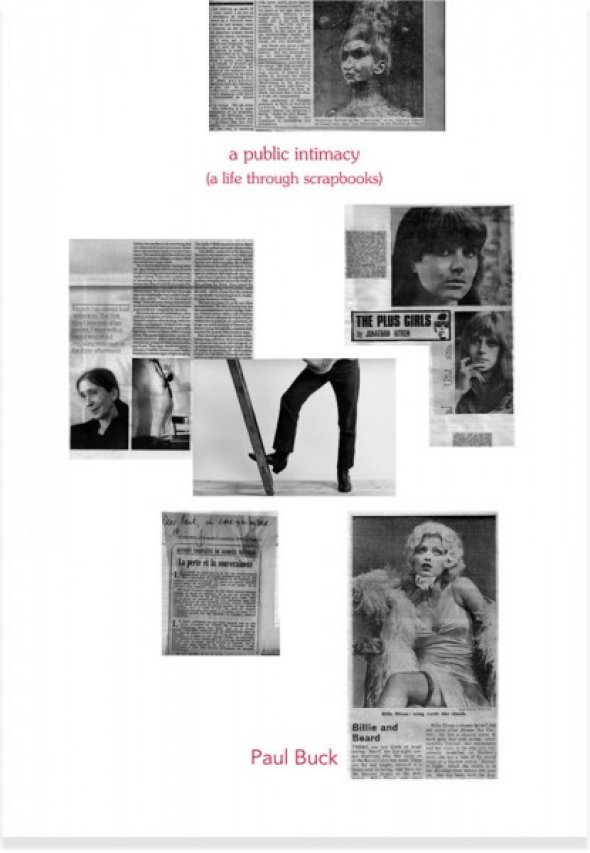 A Public Intimacy (a life through scrapbooks)
By Paul Buck. Bookworks 2011. ISBN: 978 1 906012 29 8
It often gets lost how we arrive at certain points that open up other points and cross over other paths that take us on a fresh trip. This 'scrapbook of a scrapbook' is just one means of arresting 'development' and settling down into a still activatable past. Stretching out from the mid-1960s until the present day we here encounter a writer (or more aptly put: a cultural catalyst) as he sifts through his scrapbooks and includes us in the private musings of a cultural life lived more or less on the margins.
Paul Buck is more than just a writer: 'writing was never to become a writer [...] writing has been an exploration, following wherever the interests dictated, through forms and disciplines' (p.47). Hence his scrapbooks are here returned to as if they were an improvisation, a lived-again trip through a labyrinth. As he suggests himself he is an autodidact and the disciplinary boundaries have melted for him: he has written poetry, plays, lyrics, erotica, novels, cultural reportage and crime books such as The Honeymoon Killers. He self-published a small press magazine in the '70s called Curtains through which he translated still-to-this-day unknown poets such as Bernard Noel, Joë Bousquet and Danielle Collobert (a work given re-exposure in the first volume of Frozen Tears).
This scrapbook, then, is full of neglected names. From obscure edgy poets and under-read crime writers to cultural journalists whose pieces found their way into his scrapbooks. Such an endeavour, such a means of presenting an archive, could easily have slipped into a self-aggrandising and self-historifying mode but, throughout, it's as if Paul Buck is here paying his dues to those who influenced and switched him on in the first place. In the process he highlights the lag that besets English culture and, it could be said, highlights our own cultural lag as we seem to forget and repress aspects of our interests that we have 'superseded'.
It's interesting that Paul Buck's 'meta-categorical' approach leads to an erasure of the line between high and low culture. This line may have been gradually eroded over the years, but as we turn the pages of this book which moves through straight lists, scene settings, extended reminiscences and thoughtful reflections on the archival nature of the scrapbook we encounter not only the desire-fuelled wanderings of the counter cultural '60s but an almost sensual concern with the materiality of his scrapbooks: their shape, what backs them, how the cuttings are folded, how the glue stains interfere with the print, etc.
Indeed, as his collaborations with Kathy Acker and friendship with members of Throbbing Gristle might suggest, as well as his prescient embracing of Bataille in the early '80s (cf. the Violent Silence booklet and event at the Riverside), Paul Buck is drawn towards what pushes at the boundaries of a traditionally deemed decency, towards a writing and cultural practice that could be called, after Alexander Trocchi, 'sexistential'. The nether regions of human experience shrouded as they are in repression and locked away as a 'form-of-value' in our private safes, never seem to date as such and it's maybe this factor that has led Paul Buck to be a writer who is not affixed in any one period or known for any single 'achievement'. It is to be hoped that this publication sparks off some re-prints.
Buy online
A Public Intimacy (a life through scrapbooks)
By Paul Buck. Bookworks 2011. ISBN: 978 1 906012 29 8