your posts
Simon Tyszko: The Unfun Fair Too
By Beaconsfield

,

12 July 2013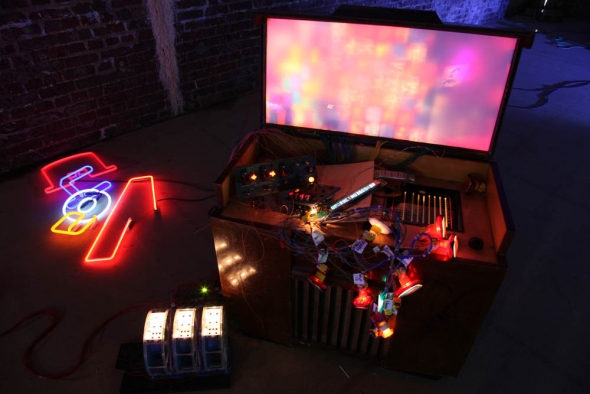 Image: Simon Tyszko, The Unfun Fair, 2013, mixed media installation (detail), image courtesy the artist and Beaconsfield
Simon Tyszko
The Unfun Fair Too
Exhibition: 10 July – 10 August, Wednesday – Saturday, 11am-5pm
The Unfun Fair expands in our Arch Space as Simon Tyszko develops new pieces within the second half of his sonic sculpture exhibition. 
Tyszko's mixed media practice constructs narratives that originate in the joys and tragedies of his colourful personal life. The expression of poignant emotional experiences finds form through a variety of physical materials. Discarded machines are rejuvenated and linked to other objects creating new hybrids animated by sound or light. Through its evolution, the original core impulse acquires gravitas as a reflection of the experience of the wider social body. 
The composition of sound and light currently exhibited in the Arch is bound together by neon – a core symbol of consumer culture – and 10,000 volts.
Simon Tyzsko is notorious for disrupting his domestic life by installing a full-scale Dakota aeroplane wing in his West London flat, in acknowledgement of the events of 9/11. He is a regular broadcaster on Resonance FM. 
22 Newport Street
London
SE11 6AY