R & D
Progressive Publishing System
By mrchristian,

17 December 2011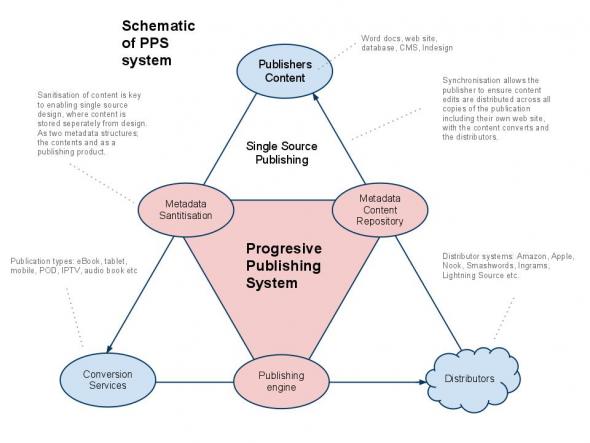 An Open Source multi platform publishing software project.
Progressive Publishing System acts as a content repository enabling publishers to access new ePublishing platforms, like tablets and eBook Readers, as well as increase their reach by connecting to sales distributors like Amazon, Apple and Ingrams. The project looks to support publishers by removing current barriers to production and distribution, offering them a one-stop-shop web service to achieve a healthy ePublishing presence and revenues.
The barriers preventing publishers entering into ePublishing are; publishers' workflow tools corrupting or not handling metadata, the cost of having to revise layouts for each new platform, and having to publish separately to multiple distribution platforms.
Our system works by holding two types of publication metadata: firstly, information about the publication for sales distribution purposes; secondly, a structured XML schema of the internal document structure readable by platform conversion services. We look to synchronise these two metadata types with the core processes of parties involved in the post-production life cycle of publications: publisher's workflow, distributor's sales services and platform conversion.
PPS facilitates publishers large and small, who are looking to get up to speed with the ePublishing markets, but also enables further markets for independently produced, web-originated content from a variety of creators, including non-professional bloggers, artists and authors.
Jan 2011, contact: simon@metamute.org
Further reading URL http://linkme2.net/pd
PPS is funded by the Technology Strategy Board and is a partnership between Mute Publishing's sister company Skyscraper Digital Publishing, with LShift and MiniBar Ventures. The project is planned for a March 2012 beta completion.
MBV http://www.openbusiness.cc/