articles
The Metamap: a pull-out global map charting Surveillance and Privacy projects
By mute,

1 September 2001
The Metamap
surveillance and privacy
Map ISBN 978-1-906496-60-9
PDF version
http://www.metamute.org/sites/www.metamute.org/fil...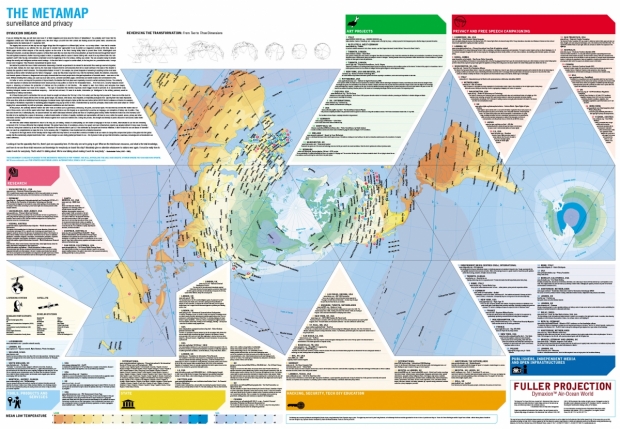 DYMAXION DREAMS
Pauline van Mourik Broekman
If you are holding this map, you will have seen issue 21 of Mute magazine and know about its theme of 'dataveillance'. You probably won't know that the magazine's contents and 'Total Paranoia' strapline were, like other things cut adrift from their context and floating around the public realm, conceived and completed before the fateful date of 11 September 2001.
The tragedy that occurred on that day has cast bigger things than this magazine in a different light, but we – as so many others – have had to consider the impact of the attacks on our editorial. We, too, have had to consider how 'appropriate' it was to publish our magazine's contents at this time. Many of Mute's pages carried critical analyses of the security regimes we live under in the West: having totally failed to prevent New York's, Washington's and Pittsburgh's disasters, would any attempt to unpick or criticise them seem like one more step in the wrong direction, an insult to lives lost through their failure? The anti-capitalist movement, another recurring subject in Mute, is repeatedly allied to causes it shares nothing with: would it be any different after this 'anti-capitalist' event? After the day commentators scrambled to dub the beginning of the 21st century, nothing was certain. The sole exception being the drastic change the security and intelligence services would undergo – in the short term to support a counter-attack, in the long term in a preventative mode. In ways we had never imagined, 'Total Paranoia' characterised the public mood.
We decided to publish this issue of Mute unamended: disavowing a thematic we perceived to be relevant to democratic life a week ago seemed misguided, to say the least. Instead, the more days went by, the more clear it became that the self-censorship that will no doubt continue in the wake of the disaster is precisely the opposite of what it demands. The interpretative flatland of most TV, for example, has proved incapable of answering to anything but the most basic responses (a literary editor remarked upon its 'failure of language' – rarely has that phrase rung more true). After the numbness abated, the collective, compulsive rush towards spaces of discourse, disagreement and enquiry demonstrated how much people desire divergent explanations of traumatic events – even ones on this scale. Without elevating them unduly, you could say local radio call ins, comment and letters pages, internet lists and bulletin boards were all testament to this.
For better or worse, and beyond the passions of injured hearts, the debates that took place were repeatedly moored to certain cautionary themes. The solidarity
this event required on national and international levels would put day to day politics on hold for the foreseeable future… From here on in, security measures would require a balancing act between the protection of civilians and the protection of civil liberties… We needed to learn from history and recognise how deeply interconnected globalisation has made all its subjects… The logic of escalation that hardline responses would trigger should be pictured at an unprecedented scale, involving biological, nuclear and conventional weaponry… And last but not least, if it were to be lawful, information (or 'intelligence' in the military parlance) would be fundamental to military intervention.
All of these themes point to continuities that can and should be sought out between the 'first day' of the 21st century and the days that preceded it. There can be little doubt in anyone's mind that 2001 already felt like a time of crisis: global hunger, war, disease, child labour, mass migration, an impending ecological crisis - ignoring them was nearly impossible. At the same time, while at an institutional level the language of universal human rights enjoyed a higher profile than ever before (at the UNHCR World Conference on Racism for example), the majority of institutions responsible for facilitating global integration only pay lip service to them. Overdetermined by economic principles, these bodies were under attack for 'crimes' ranging from unaccountability to profit-led principles, unbalanced constitutions and short-termism.
At this juncture, the continuity between 'before' and 'after' rests on notions such as governance, democracy, the public, and human rights. The last week has showed the relative value of each of those words, but so did the weeks before them. Many have urged that we use this tragedy as an opportunity to examine our language, our conception of history and of politics. They have also shown how, in attempting this, we seesaw between old, nation state-based reference points and those of a mythical global society. Neither framework holds true at the moment, but if the latter is to be anything like a space of democracy, a radical transformation of notions of equality, mediation and representation will have to occur; online free speech, access, privacy and other information oriented 'rights' will have to measure their relevance against more social and material ones. During this process, the strength and diversity of public discourse in and across nation states will be instrumental.
And with this rather inflated statement we return to the map you are holding. Instead of contemplating our own failure of language in the face of events, Mute decided to use the one remaining component of its 21st issue differently than originally intended. This global freeze frame of surveillance, privacy, free speech and open infrastructure projects was already deficient in many areas: focusing on the net, having been selected by us and thus being and reflective of the networks Mute is part of, it was dominated by European and American initiatives. It didn't broach the use and abuse of 'biometric' data, nor was it as comprehensive as maps like to be. As for accuracy, after 11 September, it was transformed into a historical document.
In response to the tragic events of that Tuesday and the tragic events that may follow it, we would like to extend an invitation to all our readers to change this compromised picture of the globe into their global society: like the unashamedly utopian Buckminster Fuller – whose designs we were kindly granted permission to use – this Dymaxion holds up hope that information, awareness, knowledge and communication can make a difference.
'Looking at it as the spaceship that it is, there's just one spaceship here. It's the only one we're going to get. What are the total known resources, and what is the total knowledge,and how do we use those total resources and knowledge for everybody on board this ship? Absolutely give no attention whatsoever to nations ever again. It must be really how to make it work for everybody. That's what I'm talking about. We're now talking about making it work for everybody.' – Buckminster Fuller (1895 – 1983)
THIS DOCUMENT IS BEING UPLOADED TO THE METAMUTE WEBSITE IN PDF FORMAT. WE WILL HYPERLINK THE URLS AND CREATE A FORUM WHERE YOU CAN ADD AND UPDATE. GO TO www.metamute.org FOR UPDATES AND FORUM LINKS. ALTERNATIVELY, EMAIL US AT <services@metamute.org>