video
Momentous and Deflationary Times
By Caroline Heron and Anthony Iles

,

5 February 2014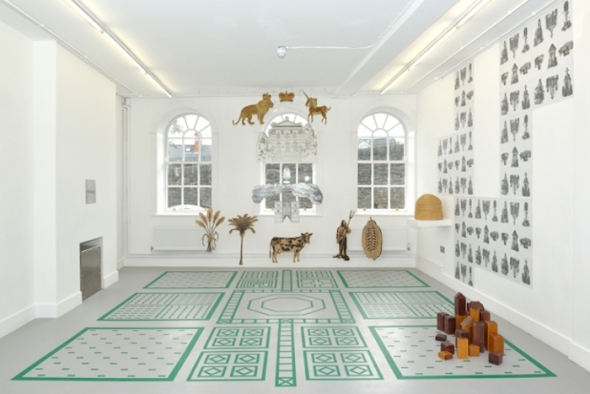 Image: Installation shot, Momentous Times, CCA Derry / Londonderry. Work by Olivia Plender in foreground
A short video conversation between Anthony Iles, Aileen Burns & Johan Lundh, in the context of CCA Derry's Momentous Times exhibition, which brought an internationalist and confrontational edge to the 2013 UK City of Culture celebrations. Directed by Caroline Heron and produced by CPVN
Momentous Times - Anthony Iles in conversation with Aileen Burns & Johan Lundh from Common Practice Video Network on Vimeo
Momentous Times marked the Centenary of the 1913 Dublin Lockout, which was the culmination of a wave of strikes and industrial disputes beginning in 1907 significant for the history of organised labour in Ireland and a precursor to the wave of militant nationalism which eventually brought about Irish independence from the UK. The Lockout was commemorated with a number of associated events, exhibitions, talks and projects which took place in art centres in Derry/Londonderry, Dublin, Limerick and Belfast coordinated by a free newspaper publication distributed at each venue.
The 1913 Dublin Lockout, as described by historian Eamonn McCann at one of the events, represented the defeat of a major attempt to organise one of the poorest workforces inside the British Empire, and can be seen more broadly as part of a current of activity which swept across Europe at the beginning of the 20th century that was narrowly diverted from revolution by the catastrophic nationalism of World War I. Despite being a centre of the global textile industry, radical trade unionists efforts to organise workers in Derry in 1913 met with disinterest and even hostility. A tradition of conservative unionism, corporatism and sectarianism seemed to maintain this profitable calm. Similarly, since the onset of the 2008 crisis and the austerity which has been imposed in its wake, oppositional struggles around labour-related issues in Derry remain relatively quiescent. Throughout 2013 Derry was UK City of Culture, hosting the Turner Prize and a number of festivals and related events. Thus the small fortified city continues to be, at least for its rulers, at the heart of the little British Empire which remains.
For the organisers of Momentous Times, the project was an attempt to draw upon the 'perennially vexed' relationship between art and labour to activate speculation and reflection across three potentially 'momentous' dates 1913, 2013 and 2113.1 Therefore, the associated events drew a parallel between labour struggles as they were, are and might be, as moments of both defeat and potentiality. Works in the exhibition, rather than affirming any 'natural' equilibrium in the relationship between aesthetic pursuits and wage labour, tended to render this relationship as strange as possible. Whether through the registration of politics as seemingly abstract information in the work of Hito Steyerl, Colin Darke and Toril Johannessen, or in the denaturalising appropriation of televisual and office conventions in the work of Melanie Gilligan and Marianne Flotron, these are differential artistic formulae that return to us the alienated products of the globalised debt-labour-finance equations we all live under.
I visited CCA Derry/ Londonderry as a respondent at the second of two discussion forums taking place during the course of the Momentous Times exhibition. The video, directed by Caroline Heron, takes the form of a conversation with curators Aileen Burns and Johan Lundh as we toured the exhibition.
Footnote
1 Marina Vishmidt, 'Momentous Times: Forums', Working Times: towards a future history, Issue 1, 2013, p.5.