articles
Pyramid Dead - The Artangel of History
By Christopher Jones

,

17 April 2014
The Heygate Estate has stood partially empty for several years, a living monument to the expulsion, AKA 'regeneration', of working class populations from the centre of London. Chris Jones reports on the entrance onto this sorry scene of public art commissioning agency Artangel, and the class, art and housing politics which surround their hasty exit
Myself and many other former Heygate residents have moved to inferior accommodation, thinking that we would have the right to return to brand new homes when the new flats were built. Now this will never materialise – we have been deceived. The council has been unscrupulous since the outset of the regeneration in everything they have done. This whole scheme has been a shambolic act of deception on a grand scale.
– Dylan Parfitt, ex-Heygate Resident
We hope the Pyramid will be a valuable addition to the cultural landscape of Southwark for the time that it is there, and a work of art that will continue to be talked about long afterwards.
– Artangel Planning Permission Statement on proposed Mike Nelson Pyramid on Heygate Estate, October 2013
(Re)-possessed By Art
All over London, council estates are being emptied of their tenants on the grounds that large concentrations of working poor and unemployed people need to be moved out and replaced by mixed communities of owner-occupiers and private renters. Artangel, the prestigious London-based public art commissioners, working with artist Mike Nelson, spent over three years looking for a site for a big new work.1 When they found the emptied Heygate Estate in Elephant & Castle, South London, it perfectly fitted Nelson's criteria for a 20th Century municipal building awaiting demolition. They decided to step heavily onto that site despite being advised not to by local housing campaigners, and sought to re-arrange one of the maisonette blocks into a 'pyramid'-shaped public artwork.
But the site was becoming infamous. The removal of the Heygate residents was central to a wider and longer-term regeneration project at the Elephant. Without demolishing the estate and freeing up this land for private development not much could even start in this scheme. The struggle by residents against being shafted was a long protracted one stretching back to the late 1990s when the regeneration plan was just beginning to be drawn up. One of the important factors in these bitter struggles was to make sure that a counter-narrative could be maintained by residents against the spin and soundbites of the Council. Any press coverage secured by the Council was certain to contain its own double helix of justification for getting rid of the Heygate: the estate was a failure, full of crime and anti-social behaviour; its 'revitalisation' meant a much more positive arrival of thousands of new homes, hundreds of new jobs and a new park.2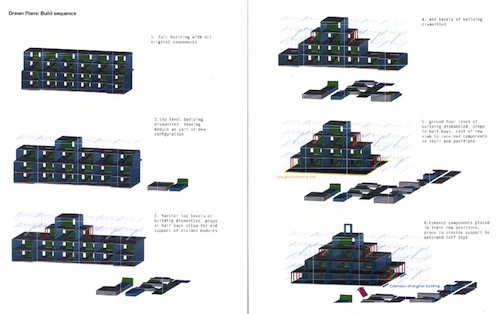 Image: Diagrams for Mike Nelson's Artangel pyramid scheme
Like most art projects made about estates, Council-sponsored regeneration likes to zoom in on the aesthetics of Council housing. This is an easy but dubious mode that highlights how an estate looks and how it is imagined to feel (by non-residents) while avoiding any understanding of how it is actually lived in, produced and experienced (by residents). It was normal for the Council to insist that the estate was not only ugly but also structurally unsound – 'The Heygate is not fit for human habitation'; 'It is not safe to allow people to live there' – as if one must follow from the other.3 However the flats were large, well designed and popular and the Council's commissioned survey of the buildings in 1999 reported that the buildings were structurally sound but needing loving care after years of neglect. Disinvestment by Councils is the standard strategy for creating ripe conditions for pro-demolition arguments to be put to the larger public.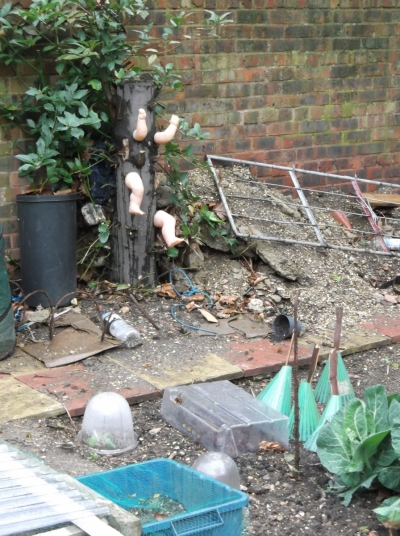 Image: Community gardens on the Heygate Estate, 2013
The point here is that aesthetic focus on 'ugly' estate architecture incubates an assumption about the kind of people who might live there. Ugly buildings contain ugly people.4 Council leader Peter John described the estate as 'a byword for social failure, for crime and anti-social behaviour'.5 What gets lost is the simplest point: the residents had done nothing wrong. They were secure tenants renting a home or leaseholders with mortgage on a flat, not criminals. However, because they had long ago been politically judged to be 'the wrong kind of residents' it was much easier to justify their removal, which had more to do with a future private development than with re-housing anyone in a dignified and fitting manner.6
Bad Publics Be Gone
Part of this regeneration argument is that 'unlocking' the mega-value of land benefits the local area more than having an Estate and its communities remain. Servicing the economy justifies all possible slurs, indignities and exclusions. Questioning why residents needed to be removed or why promised homes weren't built to house the decanted tenants also comes to be seen by the Council as anti-social if it delays the regeneration process.
Alongside owning the actual physical properties of the estate buildings and land, the Council treated tenants and leaseholders as a kind of property that it could discard, sell or trash when it wanted too. The Council's use of Compulsory Purchase Orders against some leaseholders came with public scrutiny of those residents who refused to leave because they were seeking a reasonable offer for the homes. The brutal and unnecessary CPO process legitimated a compulsory disenfranchisement of residents, performed on behalf of the Council and developers by the State as a kind of final legal rite of exorcism. Such storytelling about public housing and its residents was always part of New Labour's concepts of social exclusion, anti-social behaviour and strategies of Neighbourhood Renewal.7 Reliance on stories of crime and decay 'legitimated the displacement of public housing residents by systematically representing them as threats to the social body rather than as part of it'.8 With the emphasis placed on pseudo-scientific governance of 'social exclusion' and its reliance on its own half-truths of indexes and statistics, the agenda of 'inclusion' constructs a non-public who must be publicly disciplined. Personal attacks and blanket untruths attempt to de-legitimise public housing residents with a view to removing them entirely from the public, or rather from the wider understanding of who makes up a public. Being a public housing tenant marks you out as an irritant or pest. The expression 'hygienic governmentality' seems apt here.9 Some people's opinions count but others' must be disqualified on the basis of their mythologised status, i.e. because they're council tenants. Regeneration seeks support for its social cleansing on the grounds that 'abjected populations' threaten the 'good life' that regeneration must promise: new private homes, new shops and new spaces; the thrill of an 'urban lifestyle'. The implication that existing residents are the unlovable modern demons of the underclass – fatty single mothers of three, skinny junkies lurking on the landings, professional claimants living it up – enables the Council to displace its own brutality onto a supposed demand from a mythical general public to 'sort it out'.
The Angelic Conversion: Artangel's Housing Hits
When Artangel came to the Elephant with their plans for a new artistic wonder of the world, the site that was slowly coming to be known beyond the Elephant area as one where regeneration meant gentrification and social cleansing. What's interesting is that Artangel's desire to work on Heygate can be seen as part of their long track record of commissioning public artworks that use public housing and the 'idea' of home as their foundation.10 Their most famous hit is probably Rachel Whiteread's casting in concrete of the inside space of a terraced house in Grove Rd, Bow, East London in 1993. Although the cast house may have looked impressive, there was very little to get your teeth into about London and its houses, their production and use in this very specific East End location. Any controversy and subsequent debates were more situated in local reactions from Tower Hamlets Council – who hated it and couldn't wait to demolish it – than in anything 'House' was struggling to say.11 It was another step on the property ladder of casting for Whiteread, who has gone on to make negative space casts in repetitive and grander form ever since.
In 2007, Catherine Yass was commissioned to produce the work 'High Wire' at the soon to be demolished Red Road flats in Glasgow. Tightrope walker Didier Pasquette twice attempted to cross from the top of one tower to another but ultimately decided he would prefer not to. For Yass 'the dream of reaching the sky is also a modernist dream of cities in the air, inspired by a utopian belief in progress'. This is an instrumentalisation of Red Road that does not attempt to explore what is actually in situ at the housing scheme. The art weakly balances itself on the symbol of a metaphoric tightrope walk. This is especially crap as the housing scheme remains incredibly contested along the lines of public housing histories, the myths of regeneration and latterly also the domestic politics of migration and resistance to the UK's Border regime.12
One year later, in a further twist of 'art saying nothing concrete', Artangel enabled Roger Hiorns to make Seizure at a Southwark Council flat in Harper Road, near Elephant. Forty thousand folks travelled from all over London and beyond to visit the emptied council flat, now filled with growing blue copper sulphate crystals.13 Hiorns spoke of highlighting contradictions in public housing, where 'in the great social experiment these buildings inferred[sic], they provided no room for movement, zero mobility to move further, they are completely static materially and emotionally'.14 Hiorns appears ignorant here and has probably never experienced the dynamic tensions, emotionally good and bad, of living on estates whereby day-to-day affinities grow, shatter and recombine perpetually as people come and go. Individual and collective pains or joys, problems or pleasures are shared both as product of the design but also how people choose to negotiate and use space materially. It can be an odd mix of the informal and porous cheek by jowl with the private and the aggressive but it is never 'static'. Many reviewers would also describe the site with similar ignorance, e.g. as 'well out of the way, in a part-abandoned social housing project in a part of town nobody goes to unless they happen to live there'.15 In a strange portent of the later Mike Nelson plan, these Harper Road flats were earmarked to be one of sixteen replacement sites for homes for those decanted from Heygate: homes that were never built.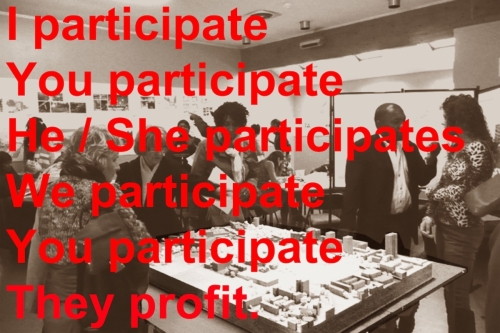 Image: Counter-propaganda by Southwark Notes
Public Art, Private Wealth
So what is Artangel? Over thirty years it has managed to earn maximum credibility and props for commissioning and producing large-scale or 'different' on-site or site-specific pieces. Under James Lingwood and Michael Morris, Artangel takes State and private funding.16 It receives an annual Arts Council grant of roughly £750,000 but also relies on patrons contributing an unknown amount.17 'Company of Angels' benefactors give a yearly donation of £600-£900, allowing access to Artangel-commissioned artists, openings and parties and annual 'exclusive' limited edition artworks. Or, for £5000 a year, the 'Special Angels' get all of the above plus an invitation to the annual Artangel dinner. A more significant funding stream is the much more loaded patronage of Artangel's wealthy 'International Circle of Friends'. There is also Artangel America for 'private and charitable' US patrons, operating with 501(c) 3 status so that gifts are 'tax-efficient'.18 And Artangel has a board of Trustees including artists and curators as well as property developers, fund managers and private equity company founders the latter happy to reproduce the fine art of dispossession and displacement globally. Since many art institutions' neoliberal turn, it no longer seems questionable to mix artists and high-end business people around the trustee table. This relationship between art and capital, once kept behind closed museum doors or in private artworld parties, is now happy to expose itself.19 Looking over some of the Circle on the internet there was a repeated motif of new money meeting mid-price modern art at auction and being very public about it. The urge to display the results of this collecting results in a refurbished multi-million pound house-cum-gallery and articles about it in newspaper supplements. A MYseum that exhibits the most tasteful parts of yourself to your peers. Your property and your art remain sound real asset investments with steady good returns. You will probably not be subject to regeneration and displacement.20 Elsewhere the crisis of housing and wages has a positive effect on those investments, as Ben Davis has noted sharply: the more low incomes are forced down, the more the rich art market expands.21 Full circle back to Heygate!
What better materialisation of the relationship between art and the current economy (and different classes' relationship to property) than Artangel wanting access to Heygate's concrete slabs – which were people's homes – for use as components for an artwork? That this might come to be legitimised and permitted says more about property relations and value, however, than it does about the content of art per se. The fact that in shared decision-making with the Council Artangel had the prestige and privilege that local people definitely lacked was hugely symbolic of where real power lies and with whom and for what.
The Pyramid Scheme
The Heygate, now privatised, secured and to become only nominally public again, in part as a 'semi-private park', in the future Lend Lease development, was not given up lightly. Many local campaigns are still active at Elephant: Better Elephant, Elephant Amenity Network, People's Republic of Southwark, Southwark Notes and 35% Campaign. All have been tireless in writing, publishing, holding meetings, film nights and anti-regeneration walks and, significantly, forcing the Council to account for itself through the Information Commissioner's Office. These activities attempt to increase awareness not just of Heygate but also of what is happening in the wider Elephant & Castle 'Opportunity Area'. Southwark Notes, for example, has been engaged in a research drive on the realities of Heygate displacement. Working with Heygate Was Home, a phenomenal web archive of bitter and sad testimonies from people who used to live on the estate, the displacement research was able to log and demonstrate through maps the real extent of the displacement.22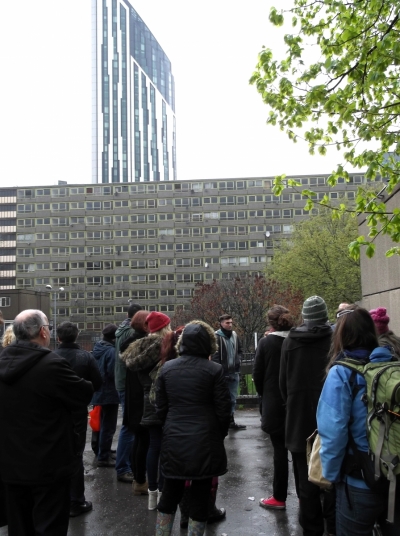 Image: Heygate anti-regeneration walk, 2013
What was also unique on the Heygate during the decant was the takeover of the public land for continued communal use. Set in motion by some ex-Heygate residents and local people, there was an up and down flow of gardening, growing, allotments, polytunnels, parkour, graffiti and other imaginative outbursts, keeping chickens, pond-making, anti-gentrification walks, talks, meetings, poetry readings, sunbathing, dog walking, film-making, exploring, parties and so on.23 This was a small-scale and funny guerrilla war against the Council who were not best pleased with this common use. The occupation was also a very self-conscious practical strategy of defence of the estate's history, maintaining its context as public housing but also keeping open the public and communal spaces.24 Without all this, less public discussion and knowledge of Heygate as a continuing example of what gentrification actually looks and feels like would have happened.
The news of Artangel's designs upon the Heygate was only discovered by local groups as they were working with leaseholders on the estate. Artangel had contacted the last remaining leaseholders, more or less to tell them what they were hoping to do. There was no attempt by Artangel to seek genuine advice or comment on the plan from residents or local campaigns. In October 2013, some of the Southwark Notes group did force a meeting with the commissioner at Artangel responsible for the Nelson project after sending a long letter breaking down their opposition into two connected arguments. Firstly:
The Heygate Estate site contains both a serious and well documented history of poor judgement and poor treatment of residents by the Council and a well documented history of the struggles by those residents to maintain their dignity in the right to be treated fairly and rehoused in a manner befitting them. Just because a site becomes empty does not mean that it exists in a neutral vacuum. It contains a local memory and a local desire. In the same way we would say that art cannot then be produced on this site in a vacuum. If art is to be able to represent or make commentary on the world it is produced in, it has to be produced in some kind of context and that context is both in the realm of its production and its later reception.
Secondly:
A new and popular art work made from the material structure of the estate put on show for a publicly invited audience in a space where the space itself has been so hotly contested by residents for their homes and by those using the space for interim uses, would sound like it had been created with certain privileges that public art commissions can easily access but that local people could not. After the shoddy decant and resultant displacement of residents, the constant argument of the Council to clear the estate so that the much needed regeneration could happen, the recent fencing off of the estate denying access to numerous autonomous interim uses, we would view the then siting and invitation to an audience to view a new public artwork in this space as a gross act of symbolic violence that erases the long history and battles of local residents.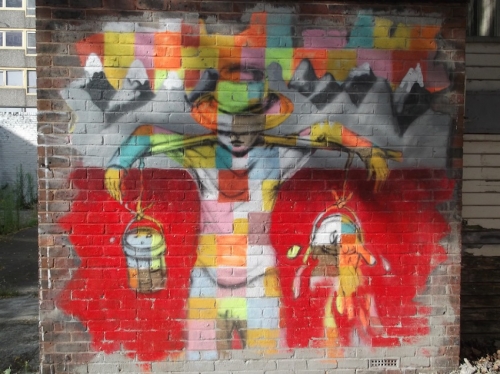 Image: Heygate Estate graffiti, 2013
Accompanying the letter were four short extracts from ex-Heygate residents' testimonies outlining their anger and sense of betrayal about the decant programme.25 The meeting was held at Café Nova, upstairs at Elephant Shopping Centre. Two of Southwark Notes reiterated why it would be insensitive to those displaced to continue with the Pyramid project. It was a friendly if intense exchange. One proposal was to put Artangel directly in contact with the local campaigns, so that the curators could hear of the campaigners' involvements on the Heygate and their feelings about the Pyramid. Southwark Notes also asked that Artangel send a reply to the initial critical letter.
Artangel finally replied that they
don't believe that Mike Nelson's project, if and when it materialises on the Heygate Estate, will be inappropriate or disrespectful, and want to reassure you that what he has proposed to do is not intended to erase or aestheticise a particular political agenda, nor as a branding device for local regeneration [… ]. We've only recently begun to make connections locally, mainly due to continuing uncertainties as to whether we have the capacity and the resources to realise the project within the tight timeframe available. Now, having reached a point where we can make a formal submission for planning permission, it does seem like the right moment to broaden our connections.
Southwark Notes now feel that the meeting and this 'fob-off letter' were only really about sounding out the opposition after Artangel had been confronted with a problem. They never followed up on the contacts offered. They simply couldn't understand why the Pyramid was an insensitive project from the get-go. Mirroring the Council, Artangel sought no practical accountability to the site and its discontented residents and locals. Now that they had finally found a site for Nelson they were happy to go ahead with their desire to produce a 'monumental and mute' artwork on the Heygate. But in searching for a location (after they were previously set to go in another location that didn't work out), they encountered the social housing context built into any work with the raw materials of people's homes. Here the word 'monumental' is apt: the role of Artangel as enabler means an artist can come up with anything on the back of an envelope and Artangel cash and contacts can set it in process. But although such 'art' is in appearance an incredible feat (of building contractors!) it remains fairly superficial on a level of what it might mean or be about apart from being a monument to itself. There is certainly very little being said about the global increase in eviction and displacement as played out in one part of South London. It is doubtful that this even came into it for Nelson or Artangel.
Build Pyramid and They Will Come: A Day Out in the New Colonies
Local feeling was clear that this was a site that should not be opened up to an art audience for a day out. Any audience would only enter the site after it had first been made sterile, de-territorialised and re-territorialised as an artwork and place of cultural grazing. It would exist for a superficial and vile pleasure rather than an artistic engagement with the Heygate site and story and the wider housing economy story of London-wide regeneration, privatisations and displacements. 'Art' with such discontents displaced becomes only the material form and container of a modern consumer lifestyle. As with art, probably so with regeneration – 'It's all good!' As such, art that's as uncritical and bland as this mirrors how regeneration is also made to seem apolitical, a-historical and context-free. Regeneration place-makes non-places and in the same symbiosis 'public art' makes non-art.
London already has an ever-increasing number of these diverting spectacles either in temporary or permanent mode. The blog Homelesshome has described these public spectacles or faux-social spaces as 'thingification': 'The law of the thing is that it must remain temporary. In this way it can easily be replaced by a new thing. And another. And another... Are you going to the 'thing' this weekend? Have you seen the 'thing'? 'Have you seen The Pyramid?'26 Measured more through numbers than critical commentary, success was guaranteed by the Artangel brand before the thing was even built or visited by anyone. Pure 'experience' and totally touristic, the artist acting as 'the future engineer of entertainment, an activity that has no effect whatsoever on the equilibrium of social structures', as Brazilian artist Lygia Clark put it in 1971.27 The empty site of Heygate and the Pyramid within offers up something more disturbing than just an emptiness or a void of meaning and intention. The site signals something more like a kind of modern impotence when faced with such degradations, a perfect symbiotic corollary for an audience on an artistic day out.28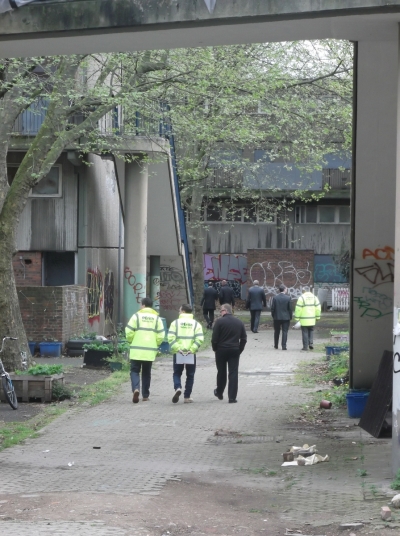 Image: Men in suits, Heygate Estate, 2013
No Like Your Babylon Ziggurat
In the midst of the prospective monumentality, the actual ruination of the Pyramid came about as a bit of a surprise. Less spectacular than the Pyramid itself, its demise was more the result of a series of little chips and taps from articles, blog posts and open letters. On 12 December, The Guardian nationally rubbished the scheme in a very good piece, 'Heygate pyramid: London estate's evicted residents damn art plan', placing ex-residents' and local people's views centre stage.29 Former Heygate resident John Colfer was precise in his criticisms:
We were the first people in, at the start of 1974 […] My father made the home a home, fitted new floors, everything. My parents never planned to leave the estate. So when you're talking about using those same materials to make a pyramid, you just think: what is there to show that this was a well-loved home? These are our memories being turned into an artwork.
Later, poet Niall McDevitt's 'Open Letter To Artangel' was also good.
No one doubts that the project will be artistic, but it is highly unlikely to be angelic. Artangel has not, in this case, given enough thought to the suffering of the victims of social cleansing or to the symbolism of the pyramid in such a context.30
He knew Heygate from poetry readings on the estate in 2011, reading his poem 'The Human Elephant (In The Inhuman Room – For the Socially Cleansed)' one evening amongst the trees. Artangel replied in private to Niall's public 'thoughtful letter' with more fob: firstly, the 'Pyramid', as described in their own planning application, was actually a Ziggurat! Also, 'within this context, Nelson's project will activate a field of possible meanings rather than assert one in particular. If realised, it may be considered thoughtful, thoughtless, contentious, elegiac or any number of any things, but we struggle to understand how it would be seen as "aesthetic airbrushing".' They signed off with: 'we welcome the measured nature of your letter and hope the discussion can continue in a similar tone'.
Between Artangel's need to ascribe some importance to the Ziggurat and now non-Pyramid, their desire for nice and polite conversations about it and their own flagging up of the fact that they just didn't get it, lies the reasoning at the heart of all opposition to the project. Art, its production and its reception, is again placed in a supposed neutral or non-implicated place whereby only the act of interpretation gives it legs (or takes them away). The production of art trumps any valid reasons for art or artists or Artangel actually staying away; art must be all good because by default it must say something about a situation. Ignorant of their own class power and the cultural capital that oils it, they still want to place art wherever they choose, even when told quite forcefully why it's insensitive and dodgy by those who suffer the material consequences of demolition. It is of no value to these people that the Pyramid might be viewed as 'contentious'. It is of less value and somewhat violent to say the Pyramid might be either 'thoughtful' or 'thoughtless'. What was important was exactly that the Pyramid project was 'thoughtless' in relation to the history of the site and the people there.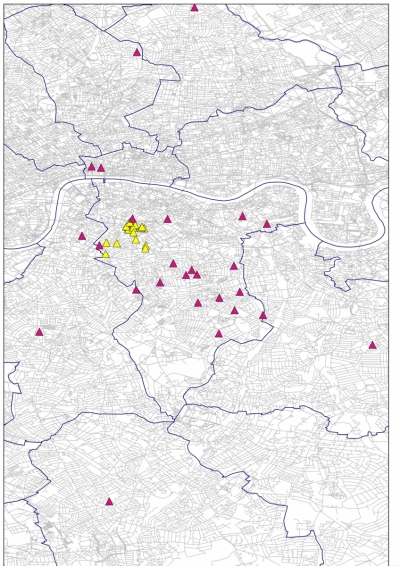 Image: Map of Heygate Estate leaseholder displacees, 2013
Heygate Lives! The Pyramid Dead And Gone
On 20 December, the 'Artangel Go Home – Pyramid A-Go-Go' Twitter site was opened as another line of pointed inquiry into Artangel's lack of understanding, and as the first indication of a public campaign working behind the scenes.31 On the same day, breaking their own and Council's silence, Artangel let it be known that it was all over:
Over the past few months, we have had productive conversations with Southwark councillors, officers, and different interest groups in the borough. We are very disappointed by Southwark Council's decision to stop Mike Nelson's proposal progressing. We feel a great opportunity has been lost.32
It's clear they had been dumped at the altar by Southwark and that they wished the Council had stuck to its initial enthusiastic support for the Pyramid. All that remained was a bizarre series of Tweets from then Artangel Chair Paul Bennun: 'people like PyramidAGoGo royally screwed London & themselves'. Bennun, the boss of a new media company in Shoreditch, later continued in a frothy mode: the Mike Nelson piece 'was one of the most important artworks of 21st C. And COMPATIBLE with residents' understandable fury at gentrification'. Later he wrote that the opposition to the Pyramid was 'conservative' and 'reactionary' and that the Pyramid was a 'GIFT' to the campaigns and would have been 'an incredibly beautiful testament to those forced to leave, keeping it in memory for all time'.33
Calling public art 'compatible' with the Heygate saga shows that there is no real understanding of the personal and collective stakes in this long struggle over public housing, public space, and still less of future struggles through which people might maintain themselves against such repression on top of austerity.
It was jarring that after cancellation Artangel tried to turn their insensitivity around by hinting that the work would have been a bonus for the local campaigns and that this was their, or Nelson's, intention all along – the heavy political critique presumably going with the art territory. The Council's support for it, though, was certainly not based on a pitch from Artangel telling them the artwork would send more negative PR vibes the Council's way when thousands of art-goers had an epiphany about the social cleansing at work. The Pyramid project unintentionally says more about the actually existing un-niceties of regeneration, demolition, displacement, despair etc. Looking through the lens of how it was to be made says more about who has power than whatever it pretended to say to a discerning audience about estate living, housing policy then and now, poverty, domesticity, class and so on. Insisting that the age-old 'autonomy of the artwork' would do its magic work at a higher level cannot obscure the fact that only economic privilege can set in motion such an illusionary independence in the first place. Increasing your cultural capital and cultural value is often the bastard son of power and poetry.
What is interesting, though, is how little work it took to get the Council to go into damage limitation mode and pull the Pyramid. But it's not like any other negative publicity around the decant, the consultation process, the wild activities on Heygate and the more disruptive protests at the two Planning Meetings in early 2013 had put them off doing anything they wanted before, so this is somewhat enigmatic.
On the Significance of a Refusal?
The last thing the Heygate needed was a public artwork and the claim that some random public reflections on the whole saga would serve anyone locally. The decant, demolition and privatisation of the Heygate Estate is a significant loss of necessary public housing and of political confidence among those with the least, who were attempting to keep hold of some small part of it. Although the dead Pyramid is a minor victory in the face of a much larger defeat, attempts to think about its significance can point to something radical and organised about this little refusal.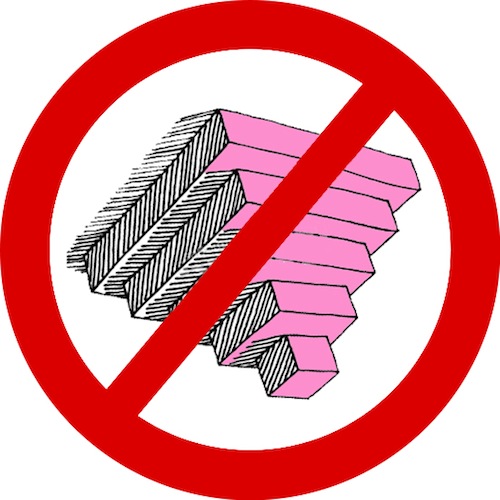 Image: Counter-propaganda by Southwark Notes
From the Council's and developers' point of view the loss of the pyramid is just an error or a blip in the overall programme. Artangel publicly tried and failed to produce another spectacular but were brought down by a Council fearing loss of control of their regeneration narrative. Behind that fear was the long work of local people, ex-residents, artists and writers and campaign groups in maintaining opposition to gentrification at the Elephant. In the miserable world of art and regeneration hybrids this was definitely one of the worst attempts yet, so it would be nice to think that this could be a kind of limit point, enabling more confidence in local counter power to the usual smooth ruining of things. It would also be useful for other sites of future displacement to see that refusal as a mode of resistance might take you further against gentrification than engaging in staged and faked consultations. This is certainly true at the Elephant, where next to nothing that benefits local people long-term has been wrested from the Council and its developers.
Turning up at a site of class cleansing, wanting to use what was now an empty space for art, Artangel created the perfect conditions for forgetting the prosaic, mostly poor lives of Heygate tenants, however they were lived. To describe those people as having a 'cause' only really highlights how alien their life is to some. Being thrown out of your homes is not a 'cause', it's an effect of the ever-present global economy. Those people have also not gone away, they are merely living those same lives displaced to some other place. For the majority, being decanted to some other home has not improved or benefitted their lives. The Pyramid at best would have only abstracted any of these class relations or re-presented them aesthetically. It's important to question and to map who is able to put this amnesiac magic into practice. The nub of this class question is simple: who has power, privilege and access to other money to make things happen and how do they try to avoid this misery being made genuinely public? Be it Artangel, the Council or developers, we find that the class question is the last thing they want to exhibit.
That's why it's important to maintain that 'Heygate Lives' here and now and in the future. This is not to obsess and be nostalgic or stuck but to keep that past very much activated to try to unstick what more may come. The fabric of the estate may go, the residents may be elsewhere, but the life of the place actually and symbolically remains and there are people locally holding onto that to maintain a politically live site against further monstrous regeneration.
Christopher Jones is a long-term volunteer at 56a Infoshop in The Elephant and a member of the political sound art group Ultra-red
Footnotes