articles
Can We Recapture London?
By Josephine Berry

,

9 May 2018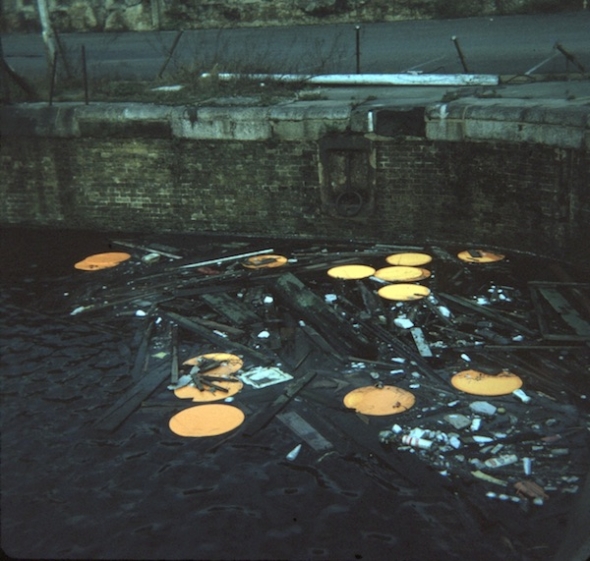 Image: Rasheed Araeen, Chakras (waterdiscs), installation shots of performance, St Katharine Docks, 1969-1970. Photo: © Rasheed Araeen
Artists in the City is a deep red and surprisingly meaty anthology covering 50 years of SPACE Studios' activities in London. Josephine Berry's review balances the claims for a struggle for freedom in the arts with a critical eye towards the emergent modes of the neoliberal city
'the present is not sustainable and any futures will require many hands and a lot of rebuilding'
– David Morris, 'DIY', Artists in the City
We badly need some activist optimism injected into discussions of the nightmare that is the neoliberal city. Rather unexpectedly, it has taken SPACE, a charity providing artists with studios, to publish a largely retrospective 50th anniversary anthology for this to be achieved. Its contemplation of history helps sharpen our tools for operating on the future. Artists in the City: SPACE in '68 and Beyond throws a bouncing discursive bomb all the way down the Thames into the heart of London, citadel of empire and finance, like some counter-cultural remake of Dam Busters minus the moustaches. Indeed, this once wholly artist-run initiative was conceived in the embers of post-war London by Bridget Riley and Peter Sedgley who had both grown up in the war's austere atmosphere. In 1968, finding themselves in a greatly changed world of deindustrialisation and the emerging cultural industries, the two artists spied an opportunity in all those dilapidated ex-warehouses and ex-factories. Graced with the art of persuasion and good connections, largely thanks to Riley's recent fame, they talked Britain's first Minister for the Arts, Jennie Lee, along with prominent benefactor Henry Moore, the Greater London Council and the Arts Council of Great Britain (ACGB) into helping them score 100,000 square feet of warehouse space at St Katharine Docks on a two-year lease and a budget to do minimal renovations. Amongst other practicalities, this involved shovelling a 6-inch layer of pigeon crap out of the old ivory warehouse. Thus began the admirably long and unexpectedly compelling history of SPACE. It seems telling that today we find the soixante-huitards' spirit of self-reliance and empowerment so refreshing; the radicalism of SPACE's, by now elderly, founders, whose articles on the organisation's early years open the book, can seem more potent and youthful than the institutionalised dependencies and political pessimism of later generations.  
And yet, and yet… nothing is ever so simple. That the problems of space, art, economics, identity and activism are woven with such complexity by this book, edited by SPACE chief executive and long-term curator Anna Harding, places it head and shoulders above those institutional hagiographies which simply genuflect to their founders and their official ethos. If the community of artistic self-management that supported Riley and Sedgley's idea is given plenty of props and attention here, its entrepreneurial self-confidence is nevertheless set into relief by subsequent essays that take up questions of race, space and class within processes of artist-led regeneration as well as counter-cultural DIY practices more widely. These later discussions play off interestingly against earlier ones in which, for instance, Sedgley teasingly contrasts SPACE's method of 'coaxing the establishment' with the sit-ins, occupations and protests of their contemporaries which he gently mocks as 'aping Che Guevara'. As against the struggles of '68 in art departments at Hornsey[1], Guilford and Brighton, Sedgley describes SPACE as operating a 'form of disguised protest.'[2] While such claims of mild social antagonism are backed by the brief glimpses we gain of the awkwardness of visiting dignitaries – who pick through the chaos of studios like partridges in hat and gloves, or briefly touch-down in helicopters for an inspection – the founders' very ability to operate nepotistically belies their relative social privilege. Something that makes this activist model hard to generalise. Beyond a vague sense of their exotification of the desolate Docklands and its semi-criminal elements (which by this point had apparently been neutralised by the imprisonment of the Kray brothers[3]), the wider class tensions of SPACE's move into previously working class space go largely unremarked in the essays by Riley and Sedgley. Undoubtedly, the organisation's espousal of colour, age, medium and style blindness, as well as encouragement of 'artists of all nationalities working in the visual arts'[4] in matters of artist-tenant selection and exhibition at their sister AIR Gallery, demonstrates a commitment to a radically democratic and non-discriminatory politics. Yet it seems to take the consciousness of a younger generation of writers to illuminate how class and race also function within this radical history – subjects that the book is unafraid to amplify.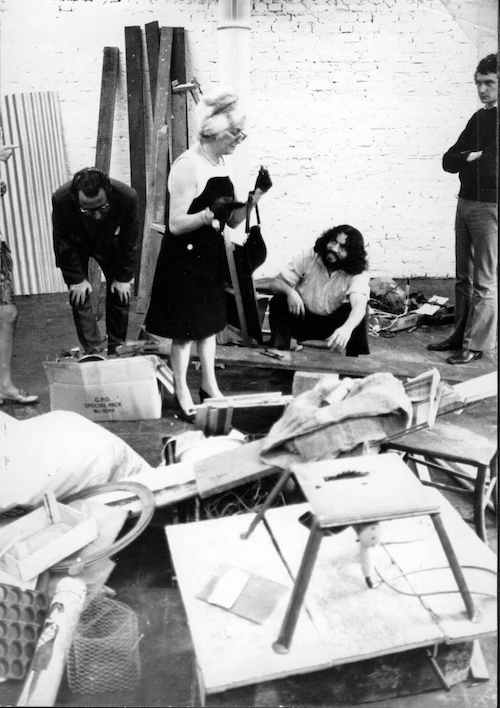 Visitor to St Katharine Docks studios, c.1968-70. Photo: © Douglas Smith
In her essay on Pakistani artist Rasheed Araeen who was a SPACE tenant at St Katharine Docks during the late '60s, art historian Courtney J. Martin connects the site of London's Docklands to Britain's imperialist history and its post-war reflux. The collapse of the Docklands is connected to the collapse of Britain's colonial empire too in the aftermath of WW2, and Martin describes how the goods that once flowed into London through its docks became a flow of immigrants from Britain's former colonies: 'By 1968, London was a city whose past had returned to it in the form of new citizens.' She adds that although the British government largely saw immigrants as manual labourers, 'SPACE recognised that some of these new citizens were artists who might share in their ideas about art-making.'[5] The constant recalibration of identity and status as an effect of geography, migration and ethnicity is registered, for Martin, in Araeen's 'interstial' practice. This link between race, class and art sets up a later discussion by Larne Abse Gogarty in which she exposes how the seemingly self-reflexive art world critique of artist triggered gentrification employs the 'presumptive unspoken'[6] that all artists are white and middle class, and that the soon to be displaced working class community is by extension devoid of artists. In Martin's account, Araeen's migration to London exposed the same presumptive unspoken which would increasingly become the subject of his work. A former British Petroleum engineer, he 'moved continents and sacrificed material comfort' to become an artist working across media, sites, communities and genres. This experience made him view the docks in a very specific way. Araeen became fascinated with the plastic and wood detritus floating in their waters, the backwash of production and consumption processes that reflect the global space of capitalism.  This bobbing flotsam inspired his project Chakras for which he produced 16 fluorescent plastic discs which were thrown into the water to sink, swim or reach the sea by friends and passers-by. Here, participatory art is inserted into a larger space of flows and migration that connect the hard limits to its full realisation ('everyone is an artist') to the global divisions of labour. For art to become truly democratised, he would later state, 'it is essential that first the monopoly of one particular class to own and appreciate the work of arts must be destroyed.'[7]  Yet Martin's claim that Araeen's art attempts this by becoming 'intangible' strangely neglects the impending transformation of the city and its clearances by the equally intangible forces of finance whose massive expansion (creating a divorce between the 'real' economy and the speculative allocation of capital) would turn London into a global centre of financial services and property speculation that, while desiring the cultural capital of artists, would devour their means of reproduction.
This latter predicament is addressed both obliquely and directly in much of Artists in the City. Directly, through discussions of practical spatial strategies, examined further down. And obliquely through the question of art's relationship to the space of its production, the analysis of which helps reformulate the more direct question over how space may continue to be 'captured', to adopt Sedgley's word, by artists (amongst others) without exacerbating the creative city dynamics which ultimately displace them. Through the book's inclusion of numerous, often unfamiliar photographs of inflatable artworks (largely by Graham Stevens), environmental pieces like those of Araeen's, participatory and performance work (with much focus on COUM Transmission and the Laceys), it deftly illustrates the relationship between the advent of deindustrialisation and the mutation of art into what was called 'experimental art' in the 1960s and '70s. To put it briefly, it poses the chicken or egg question of whether experimental practices outgrew conventional (largely domestic) studio space and elite galleries as an effect of their internal dynamics ('it simply wasn't big enough for the geodesic dome he was planning to make'[8]), or whether the rent-pressured relocation of artists into abandoned industrial buildings invited art practices to expand and transform as an effect of spatial abundance. Further if, as Sharon Zukin forensically demonstrates in her 1982 book Loft Living, artists in Manhattan helped create the lifestyle appeal of lofts which was crucial to the ultimate gentrification and development of Lower Manhattan, Artists in the City also shows how Manhattan loft living directly inspired its imitation by London artists such as Riley and Sedgley. The couple had visited Manhattan for the MOMA's Responsive Eye exhibition in 1965 (during which Riley's work met with a media frenzy) and first encountered the repurposing of industrial space by artists, notably Fluxus 'leader' George Maciunas. Moving into deindustrialised space was always as aesthetic and mimetic as it was pragmatic.[9] The lines of causality are multiple since the trajectory of art's overcoming of its limits (medium, genre, social and spatial boundaries) leads to its continued self-development as much as threatening to undermine its ability to reproduce itself. This paradoxical idea is formulated by Anna Harding in her introduction where she remarks: 'the challenge of affordable space for artists is more critical than ever. Lack of affordable living and working space for low-waged people in London is forcing many to reconsider their future in the capital.'[10] She then suggests that artists' practices have changed in step with their shrinking studio spaces, and concludes that, 'London's pre-eminence as a creative city is at risk.'[11] The interlinking of these three ideas – the right to the city, the relationship between changing studio space and artistic production, and the commodification of art by the 'creative city' which then expels artists – produces a kind of conceptual and historical ratchet that the book aims to unwind. However, the question of how contemporary tendencies in art reflect and address our present urban crisis is never tackled as directly as one might wish.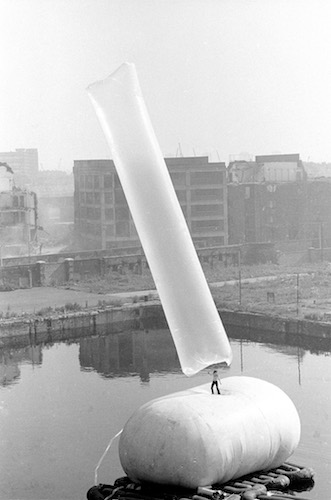 Image: Stuntman Eddie Bowery on Graham Stevens' inflatable at St. Katharine Docks during the shoot of Atmosfields. Photo: Andrew C. Tweedie, 1968-1970. © GASACT
Yet the contemplation of the creative city's Gordian knot makes the breezy confidence of '60s counter-culture instructive all over again. This is a generation who hadn't yet developed a political auto-immune disorder against its instrumentalised role within capitalism, who knew how to strike a balance between tactical action and not overthinking things, and how to have serious fun. William Fowler's tales of SPACE's Martello Street building, an old trouser factory notoriously occupied by Genesis P'Orridge and Cosey Fanni Tutti during the mid-late 1970s, along with performance artists Bruce Lacey and Jill Lacey (now Smith) amongst others, give an acute sense of what cheap and unregulated space allowed in terms of experiment, neighbourliness and defusing the nuclear family. While hard-core experiments in sexuality, performance, technology and industrial music were blurring the boundaries between the arts, the lines were also fraying between family life and creative friendships, play and conceptual thought, private and public space. The fact that there was no clear definition for the experimental practices within the art bureaucracy and gallery world was reflected in the way the trouser factory's common parts became transitive points of activity, with the courtyard functioning as a fulcrum of construction and messy experiment. Kevin, one of the Lacey's kids, who lived in the building from 10 to 17 years old, gives a sense of the free and easy atmosphere: 'You'd know, they were maybe in their studio and you'd knock on their door and go in and maybe hang out with them for half a day. I spent quite a lot of time with a guy called Jules Baker, and he used to do these sort of blow-up things that were like inflatables […]'.[12] Bruce Lacey's other son John from a previous relationship was more than a youthful companion for artists, acting as 'an influential figure in the formation of Throbbing Gristle, assisting technically and conceptually, and also performing with them before they solidified as a quartet.'[13] Eventually ACGB would professionalise these practices through their demands for genre specification, driving COUM and the Laceys away from performance art into other areas as funding criteria grew stricter and attitudes concerning publicly funded culture straitened. [14]
Drawing conclusions from this book is difficult. There are clear signs of how many of the counter-cultural developments of the '60s and '70s, which filled the vacuum of industry with the inflatable dreamscapes of cultural experiment, were later integrated by neoliberal urbanism through its use of culture as an economic and governmental dispositif. For instance, Sedgley mentions the Pavilions in the Park (PIP) initiative of 1960, headed by sculptor Su Braden, which tackled the problem of getting hold of exhibition space for 'work of an unestablished nature' by creating art programmes in open spaces and parks, or sites awaiting development. It's easy to see how this imaginative solution distorts into the creative city in which culture and community are illegitimately wed to produce images of 'vibrancy' with which to lure inward investment and tourism. It also presages the 'city of projects' in which precarity and flexibilisation are legitimated through their association with art and repackaged as progressive experimentalism. Indeed, on this point Harding's own caution over the property bubble's threat to the creative city is at best ambivalent – for what is the creative city if not the ultimate expression of financialisation and globalisation? Two forces which are anathema to the city as lived by actual people amongst whom we must count artists.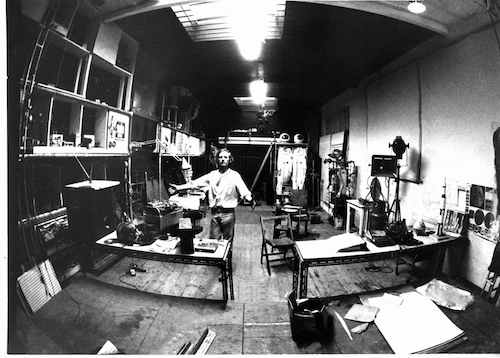 Image: Bruce Lacey in his studio at Martello Street, early '70s. Photo: © Ingeborg Sedgley
Many of the book's theorists are also gloomy about the long-term viability of purely artist-led organising, with Alicia Miller's text 'Artist-led Initiative to Arts Charity' exploring the tensions in SPACE's history 'as the artist constituency became distanced from the COM [council of management]',[15] while also pointing out how, due to 'poor negotiating skills', the charity's rather flaky management during the 1980s had resulted in badly negotiated leases and rent reviews. The utopia of self-management quickly evaporates when translated into sizeable rent increases or evictions. Rebecca Gordon-Nesbitt gives a comparative overview of SPACE's different contemporary strategies for capturing space – working with a regeneration agency, housing association, private developer or buying freeholds – yet her highly factual account shies away from pronouncing any clear verdict as to which might be the most productive, democratic and futureproofed approach. Each one seems to entail some kind of drawback. Six years into a contract negotiated between SPACE and the regenerate Olympic Park Legacy Company for the use of the White Building, a canal-side building in Hackney Wick at the edge of the Olympic Park, the landlords invoked a break clause in the lease, bringing the arrangement to a premature end. Work with the private developer Alumno to procure a 25-year lease on 12 studios in Havil Street has resulted in the highly selective offer of a bursary, 'in the form of a rent-free studio for a year, to an artist graduating from Goldsmiths.'[16] This looks like a case of the charity having to compromise on SPACE's founding principle of unbiased inclusiveness to please their commercial partner and its generic quest to be associated with 'excellence'. Squaring the circle between keeping rents low for artists and building up reserves with which to acquire freeholds and so gain some autonomy from the market is likewise impossible to resolve. From these conclusions one might well think that Artists in the City presents a downward curve from glorious heyday to compromised, professionalised and thwarted contemporary moment. Yet there are other prospects and conclusions on offer here too.
A continuous thread drawn through the book is the consideration of collective endeavours and how, in the face of the art market's hyper-individualism and capitalism's creation of ubiquitous competition, conditions for artists, as for workers in general, can only be improved through collectively established strategies, infrastructures and standards able to reflect conditions and support the struggle for change. Anna Harding clearly understands SPACE as belonging to this wider ecology of organising, yet as with other commissioning decisions, is also unafraid to show its limits and question its future. There is much focus on SPACE's other sister organisation AIR (Art Information Registry), a documentation registry and information network established by Sedgley in 1967 and intended to democratise art by connecting it directly to its publics and collectors, removing the need for the gallery. Another focus is on the first Artists' Union (1972-83), and its inspiration for the recent Artists' Union England (AUE) established in 2014 and still running. In her essay on these two artists' unions, Ana Torok quotes AUE founder Katriona Beales' retort to those who would disparage artists' professionalisation, asserting that today, emerging artists 'can't afford to be unprofessional'.[17] The thorny question of professionalisation and its risks (that, as was hotly debated throughout SPACE's history, organisational power might end up in the hands of detached managers not practitioners) is elegantly dissected by one of the book's closing essays on DIY by David Morris.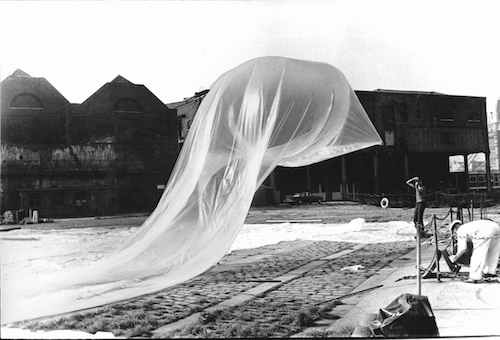 Image: Artists at St Katharine Dock, c. 1968-70. Photo: © Douglas Smith
Morris acknowledges straight away that 'a DIY ethic parallels "creative class" values of entrepreneurship, hyper-individualism, gentrification and advanced capital accumulation.'[18] Self-organisation and activation border on the entrepreneurial and DIY continuously risks dignifying the logic of human capital, but is also, he insists, 'communal, utopian, modest, transformative.'[19] This wavering power hinges on the 'it' in DIY that, as Morris concludes, is always under construction and in motion: 'its 'it' is an action that is collective and constructive […] the 'it' is in the doing. Do it!'[20] This sounds a lot like making art. Clasping these multiple strands of history, tactics and critique together, one might say that the book articulates artistic DIY as the dark side of neoliberalism's self-exploitative moon, holding the power to sever the common association of entrepreneurialism and individualism. Amidst post-Fordism's deliberate strategy of discontinuous change and generalised precarity, DIY's own messy and precarious way of producing objects as an effect of actions can be a similarly agile and molecular counterforce. It also offers a way to think group efforts outside of the binaries of professional or hobbyist, individual artist or collectivised worker, expression or infrastructure. Artists in the City is a crucial manual for thinking through the (mess)thetic politics of systems, and the professional infrastructures of art. In this, it is able to dissolve the boundaries between art and organising and offer some hope for withstanding the devastation of neoliberal life and financialisation's total commodification of space. If the Situationist dream of a hacienda made of glass briefly existed in Manchester thanks to the efforts of Tony Wilson, the future artistic struggle for the city must now entail dismantling the glass towers in which our financialised futures are stolen from us and stored up as value for speculators. DIY's 'it is in the doing' keeps the future uncertain so as to return it into our hands, while improvising structures that temporarily withstand the overarching forces of expropriation. SPACE admirably embodies this dual power of organisation and inventive uncertainty. Long may it wobble!
Josephine Berry is a member of the Mute Editorial Collective and lecturer at Goldsmiths College. Her book, Art and (Bare) Life is forthcoming from Sternberg, September 2018.
Info
Anna Harding (ed.), Artists in the City: SPACE in '68 and Beyond, London: Space Studios, 2018.
Footnotes
---