your posts
Spectres Of Modernism: Artists Against Overdevelopment
By Artists Against Overdevelopment

,

24 October 2017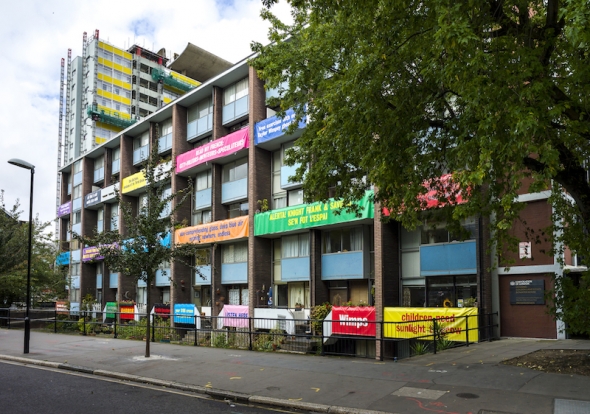 Image: Bowater House, Golden Lane Estate, London EC1Y 0RJ. View from Fann Street, EC1. October 5 – December 10.
Spectres of Modernism is an installation of protest art banners emblazoned with slogans dreamt up by leading artists and writers including Turner Prize winners Jeremy Deller and Elizabeth Price and Booker Prize nominated author Tom McCarthy. The banners will hang from the balconies of flats in Bowater House directly opposite The Denizen, Taylor Wimpey's planned luxury apartment block on the corner of Golden Lane and Fann Street, close to London's financial centre. Slogans such as 'Zombie Investors Take Stock', 'Homes for Heroes', 'children need sunlight to grow' and 'parasites will starve in this carcass of culture', oppose the new development and draw attention to the failure of neo-liberal economics in Britain's cities; its legacies of social cleansing, housing crisis, and damage to modernist architectural heritage, as well as the art-washing of urban devastation.
The Denizen has planning permission from the City of London council and will overshadow local homes, the adjacent Jewin Welsh Chapel, Fortune Street Park, Richard Cloudesley and Prior Weston Schools and the Golden Lane Children's Centre. Sunlight is being stolen from children, residents and local workers to create ghost homes for investors who won't live in them. The community in Bowater House who will lose up to 70 percent of the light coming into their flats have collaborated on the exhibition. The entire installation has been designed by Fraser Muggeridge Studio to appear as a colourful, high impact collage of architecture and text. The exhibition is curated by Clare Carolin.
Bowater House is part of Golden Lane Estate, an ensemble of grade II listed social housing designed in the 1950s and occupying a former World War II bombsite. Taylor Wimpey's development entails the demolition of Bernard Morgan House, a classic example of civic modernist architecture completed in 1960 to accommodate 110 key workers; the new building has no social housing provision to replace any of what will be lost from this stock inside City of London boundaries. The Taylor Wimpey development is massively over scaled and completely out of keeping with world-renowned architecture it will be situated between, the Golden Lane Estate to the north and the Barbican complex to the south. Both these internationally recognised modernist icons were designed by Chamberlin, Powell and Bon.
Artists: Mark Aerial Waller, Fiona Banner, Deborah Curtis, Adam Dant, Jeremy Deller, Arnaud Desjardin, Margarita Gluzberg, Patrick Goddard, Pippa Henslowe, Stewart Home, Siu Lan Ko, Tom McCarthy, Fraser Muggeridge, Katrina Palmer, Cornelia Parker, Esther Planas, Elizabeth Price, Anjalika Sagar – The Otolith Group, Iain Sinclair, Gavin Turk, Eleanor Vonne Brown.
Local art context: The northwest corner of the City of London — including Golden Lane and Fann Street — was recently rebranded Culture Mile by this local authority. Two Banksy murals appeared at the southern end of Golden Lane on the Barbican complex on 17 September 2017; this is 2 minutes walk from Bowater House. 5 minutes walk to the north on Norman Street, Burnhill House is flying hand painted protest banners against the Finsbury redevelopment plan; these were produced by local artists Riah Niaf and Liz Rever working with St Luke's Community Collective.
Spectres of Modernism Part 2: is a second stage of the project in which artists are invited to document the banner installation on Bowater House. Together with the banners their work will be auctioned to fund the exhibition and the Save Golden Lane Campaign. Artists included in Part 2 are: Anthony Auerbach, Zoe Brown, Justin Coombes, Rut Blees Luxembourg, Sarah Dobai, Chris Dorley-Brown, Arturo Soto Gutierrez, Eva Stenram, Nina Wakeford and Students from the MA Visual Sociology, Goldsmiths. Auction:   December 10, Kunstraum, 21 Roscoe Street, EC1 8PT.
Fraser Muggeridge Studio: (Fraser Muggeridge, Luke Hall, Jules Estèves, Rachel Treliving, Joe Nava and Elena Papassissa) is a graphic design company based in London. Throughout a wide range of formats, from artists' books and exhibition catalogues to posters, marketing material, exhibitions and websites, the studio prioritises artists' and writers' content over the imposition of a signature style. http://pleasedonotbend.co.uk/
Clare Carolin: is an internationally active freelance curator from London. Previously she was Exhibition Curator at the Hayward Gallery (South Bank Centre, London), Senior Curator at Modern Art Oxford, and Deputy Director and Senior Research Tutor in the Curating Contemporary Art Programme at the Royal College of Art. She has lived in Bowater House for 20 years. Spectres of Modernism reflects her specialist interests in modern architecture and the aesthetics of protest.
For more on the local context see:
https://www.crowdjustice.com/case/save-golden-lane/
https://opengoldenlane.blogspot.co.uk/
https://reclaimec1.wordpress.com/
http://www.knightfrank.co.uk/properties/residential/for-sale/the-denizen-43-golden-lane-london-ec1y/tgw171737
https://www.change.org/p/redesign
In association with Kunstraum: http://kunstraum.org.uk/
Supported by Omni: http://www.omnicolour.com/
There is a Spectres of Modernism related protest fiction project with novelists producing horror stories set in The Denizen. These are beginning to be posted anonymously on the anti-lit blog The Denizen EC1,but will eventually be collected in a published anthology Denizen of the Dead, where the writers will be named: https://denizenec1.wordpress.com/
"A spectre is haunting the cynical overdevelopment that characterises London's buy to leave property boom, the spectre of modernism!" #savegoldenlane
The Artists & Slogans
Iain Sinclair: this sets the positive force of life against the avarice of the Corporation of London, for whom, to quote one Bowater House resident, 'money is their only God'.
Katrina Palmer: is invoking the 1989 horror movie Society directed by Brian Yuzna; in it the upper classes are aliens who suck the nutrients out of their human victims and they call this shunting.
Arnaud Desjardin: "city = thieves = liars = speculators". This artist, who lives close to The Denizen site, recently had to take legal advice to prevent a developer from getting the local council to grant them a compulsory purchase order on his right to light in the premises at which he produces his work.
Cornelia Parker: normally for a shadow to fall, the object casting it must fall too. However, The Denizen is already casting a shadow over life around Golden Lane without construction having even begun, and so the darkness surrounding it could be dispelled by stopping it from being built.
Siu Lan Ko: Marx and Engels often used dialectical reversal to make points and in The Communist Manifesto they state: 'all that is solid melts into air, all that is holy is profaned, and man is at last compelled to face with sober senses, his real conditions of life, and his relations with his kind'; many now associate the first part of this citation with its reuse in the title of Marshall Berman's book All That is Solid Melts Into Air: The Experience of Modernity (1982).
Stewart Home: ghost homes are residential properties which the buyer neither lives in nor rents out, but on which huge profits can be made due to rising house prices.
Stewart Home (loosely translated): a Bowater House resident liked Stewart Home's English slogan so much he asked a friend to render it in Chinese. Since a literal translation didn't work well, the friend suggested 陰地上的豪宅 or yīn dìshàng de háozhái, meaning 'mansion on shady land'. The translator said shady in this instance meant haunted and the phrase had an eerie and poetic vibe; it could almost be advertising for a ghost movie. Purchasing a Denizen luxury apartment will haunt you forever!
Tom McCarthy: quote from Dante's Inferno.
Mark Aerial Waller: S106 refers to legislation requiring developers to include affordable housing in their schemes subject to 'commercial viability'. Taylor Wimpey's The Denizen – like many other developments – manipulates the loose rules about this.
Margarita Gluzberg: French slogan appropriated from Paris, May 68: "No replastering; the structure is rotten"
Fiona Banner: a contraction of the final stanza of the Philip Larkin's 1967 poem High Windows,seemingly replacing the original's ambiguous treatment of transcendence with a positive endorsement of inner experience, something that isn't possible in 'air-conditioned nightmares' like The Denizen. As Lautréamont (Isidore Ducasse) noted in Poésies (1870): "Plagiarism is necessary. Progress implies it. It holds tight an author's phrase, uses his expressions, eliminates a false idea, and replaces it with the right one."
Pippa Henslowe: many new builds in the EC1 City fringe are bought as buy to leave investments, while in the computer game Black Ops II a denizen is a kind of zombie.
Gavin Turk & Deborah Curtis: Taylor Wimpey's The Denizen development will steal sunlight from 2 schools, the Golden Lane Children's Centre and Fortune Street Park; as well as plunging into darkness many of the flats the children who use these community assets live in.
Liz Price: has used the title of both a tune and an album by Eddie Harris (1934-1996), the godfather of jazz funk; and one which highlights the fact that both the City of London and Taylor Wimpey have to date turned a deaf ear to the interests of both local residents and those who work in the vicinity of The Denizen site.
Jeremy Deller & Fraser Muggeridge: invite us to ponder whether there is much difference between Taylor Wimpey's building construction and the aftertaste of burgers sold by fast food chain Wimpy; while also offering an opinion about the moral robustness of corporations.
Adam Dant: British post-WW1 slogan 'Homes Fit For Heroes' in Chinese.
Patrick Goddard: a contraction of a slogan from an earlier text/image work by this artist; the original piece invoked Grant Morrison's graphic story The Invisibles (1994-2000), as well as drawing on rapper Jehst's City of Industry (2002). Here the suggestion is The Denizen's ghost home investors will lead lives that are emotionally and intellectually barren, rather than enjoying cultural riches that echo those of William Shakespeare and Ben Jonson, as Taylor Wimpey ridiculously suggest in their promotional material for the development.
Esther Planas: "Warning! Frank Knight & Savills Don't Give A Damn About Our Space" in Catalan. Frank Knight and Savills are the main agents selling Taylor Wimpey's The Denizen development.
Anjalika Sagar – The Otolith Group: developers are attempting to rebrand the Finsbury/Bunhill/St Luke's area as East Clerkenwell, to create a 'hipster central belt' running from Hoxton and Shoreditch to the east to the real Clerkenwell in the west. The Denizen lying mere metres over the border from the old borough of Finsbury (now a part of Islington) fits this pattern of hipster gentrification although it is situated just inside the City ward of Cripplegate Without. The Denizen is NOT located in the ancient heart of the City of London as Taylor Wimpey have falsely claimed in advertising material, since it lies well outside the old city wall.
Eleanor Vonne Brown: slogan from luxury apartment hoarding in Haggerston.
Artists Against Overdevelopment: a hashtag so that people seeing the banners and wanting to know more could look it up online. #savegoldenlane
The typeface used on these banners is Bureau Grotesque 37, it was also used on all the original 1950s signage on the Golden Lane Estate.
"A spectre is haunting the cynical overdevelopment that characterises London's buy to leave property boom, the spectre of modernism!" #savegoldenlane
Sisters flying the flag of protest in EC1 & beyond

Current protest against the redevelopment plans for Finsbury Leisure Centre, just north of that site on Burnhill House in Norman Street, London EC1. The hand painted banners were produced by artists Riah Niaf and Liz Rever working with St Luke's Community Collective. Sign the petition against plans that will block light to this tower, the park to the east and flats on Mitchell Street to the south: https://www.change.org/p/redesign

In 2016 anti-overdevelopment banners appeared on railings and a tower block on the Forest Estate in London SE23. They were produced collectively. The slogans used were decided through discussions between residents on the Forest Estate, and the letters were made individually by different people. The project was in part inspired by Greenham Common Women's Peace Camp banners. The 'Save Our Field' slogan shown above was made by members of the Forest Estate Residents Association to protect green space in the centre of a social housing project built in the 1960s. The letters fade and the committee create a new banner every year to celebrate the estate. The banners on view last year were made to honour the greenery at the heart of a space the council deemed 'unused' and to campaign against a proposed 16-storey block of flats as 'infill' housing. The campaign was successful. The slopping piece of open ground known as Eliot Bank, partially shown here, has been preserved.

Spectres of Modernism reunites Chinese artist Siu Lan Ko and curator Clare Carolin. They found themselves at the centre of a French media storm in 2010 when Ko's banners were removed from the exterior of the Ecole Nationale Supérieure des Beaux-Arts, where they were supposed to hang as part of a show Carolin had curated there entitled The Seven Day Weekend. The banners displayed the words 'earn', 'less', 'work' and 'more' – as a play on then President Nicolas Sarkozy's slogan 'Work more to earn more'. The image above is a composite of the two banners seen from each side so that all four words are visible. The work was deemed politically explosive and censored. Here is some English language coverage from The Guardian explaining that the Ministry of Education insisted the banners were removed shortly after they went up. The Guardian story is from a day or two before the authorities tried to put an end to the ensuing political scandal by reversing their earlier edict and ordering the college to reinstall the work: https://www.theguardian.com/world/2010/feb/12/sarkozy-art-row
"A spectre is haunting the cynical overdevelopment that characterises London's buy to leave property boom, the spectre of modernism!" #savegoldenlane
Support Our Commnunity, Fight Overdevelopment!
Save Golden Lane crowdjustice fund raiser - please help if you can or spread the link: 
https://www.crowdjustice.com/case/save-golden-lane/
We urgently need to raise funds to pay for an independent sunlight/overshadowing report and to obtain specialist legal advice on the prospects of an application to the Planning Court for permission to judicially review the City's decision.
Save Fortune Street Park
Among other things threatened by the Denizen is  Fortune Street Park, It's up for best park award. Please vote and pass this on if you can! <http://www.fieldsintrust.org/bestpark/london [1]>
PRESS COVERAGE
<https://www.theguardian.com/commentisfree/2017/oct/10/developers-culturehousing-luxury-homes-art-artists>
<http://www.islingtongazette.co.uk/news/golden-lane-estate-campaigners-hang-banners-protesting-luxury-block-being-marketed-in-hong-kong-at-725k-plus-1-5229006>
<https://www.a-n.co.uk/news/spectres-modernism-banner-installation-opposes-new-development-londons-financial-centre>
<http://theartnewspaper.com/blog/let-there-be-light:-london-artists-take-on-encroaching-property-developers>
<https://reclaimec1.wordpress.com/2017/10/22/officially-its-the-denizen-but-to-locals-its-the-turd/>