your posts
Anti-World Cup and Anti-FIFA Protests in Brazil
By Anon.

,

17 June 2014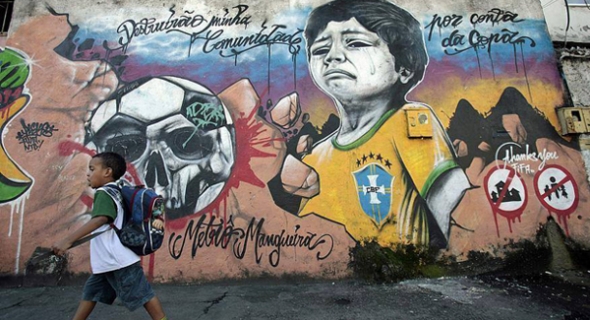 Here are two sites that are updating regularly with infos around the anti-World Cup, anti-FIFA protests in Brazil. You can see that there are a lot of non-demonstration stuff happening such as massive projections of anti-FIFA images in the downtown of Rio as well as other interventions.
- An aggregate site from lots of different (media) collectives and others. Has English stuff but mostly is in Portuguese although there is lots to see and figure out even if you don't speak Portuguese. At the top of the page are links to the collectives involved so you can go right to their sites eg RioNaRua, Coletivo Mariachi etc.
The
arrest
and beating til unconscious of Karinny de Magalhãe from Midia Ninja group is pretty scary and indicative that those filming / recording for the small collectives are being targeted by police. Media activists are being accused of violent actions on the demos and then arrested: '?At the end of the demonstration against the World Cup in Copacabana, Nadini Carega Collective activist from Mariachi (independent journalism) which until then was doing livestream is accused of setting fire to a dumpster. Another activist of the same group, Wilson Ventura, hugs to protect a more violent approach to the officer who wanted to take the precinct. At this time, fifteen policemen begin to encircle and Wilson tries to protect the cowardly attack with his body. He is with several wounds from the blows and kicks. She is well despite some bruises. But perhaps she would not be alive if he had received any blows directly."
- A site for lawyers involved in the struggles. Same as above re: Portuguese.
They write 'Observers documented the first day of repression during the World Cup: 47 people were arrested, 37 wounded by the military police who attacked anti-FIFA demonstrators in Sao Paulo. Police deliberately assaulted and beaten even a 9 year old child who was on the streets. People were attacked with rubber bullets, suffocated in tear gas, punched, beaten with batons, searched illegally, persecuted because they were filming or taking pictures; police even threatened to kill one of the observers; almost all observers were intimidated by police. ?A Spanish legal observer , with international action on Human Rights, was hit in the leg by shrapnel from a bomb exploded moral effect sparse inches from his body and other observers of the group; another one ?. 
Video
of 12th June Battle of Tatuapé, the district of Sao Paulo where the demo / confrontation was.
Video
of police attacking June 12th demo in Rio in Lapa, one of the main downtown hang-outs and tourist drinking spots.
Video
of anti-FIFA demo in Porto Alegre with usual things - carnival atmosphere, BB breaking windows, people with flares etc.
--
In the week before the World Cup began, police attempted to arrest a dozen or so Rio activists after house raids as 'preventative detention'. As I understand it, everyone is now out and the police were unable to 'prove' a case for this. In Sao Paulo police have been saying they will make arrests based on photos they scoured for 'Black Bloc' people from last year's demos. They have identified 100 people, they say. There were also similar raids and hassles for activists in Brasilia. A demo in Belo Horizonte saw a 6 hr kettle and more than 20 arrests as en estimated 10,000 cops hassled the demo of roughly 500 people!
Sources from Brazil say there have been 68 arrests so far and 37 people wounded.
This
video
from A Nova Democracia, Rio, is very good and talks to locals in the streets around the time of a demo there including a great water seller suffering from the ban on selling around the Maracana stadium-  English subtitles.
Another video from Sunday 15 june FIFA protests in Rio (with subtitles for the interviews). At 1:53 you can see the new Darth Vadar riot gear the police got for the World Cup
Thursday 19 June there are more demos in Brazil across many cities and later in the week another Rio Copacabana demo and then another one to try and go to Maracana Stadium the same time as the match.
Tough times in Brazil with some sense of the main Left supporters toeing the line of the PT (Workers Party - eyeing up the elections) and the activists feeling marginalised as the usual line is brought out that to criticise PT opens up a space for the Right to triumph.