your posts
Jimmy Mubenga's inquest verdict - G4S and BA must now be prosecuted
By All African Women's Group

,

10 July 2013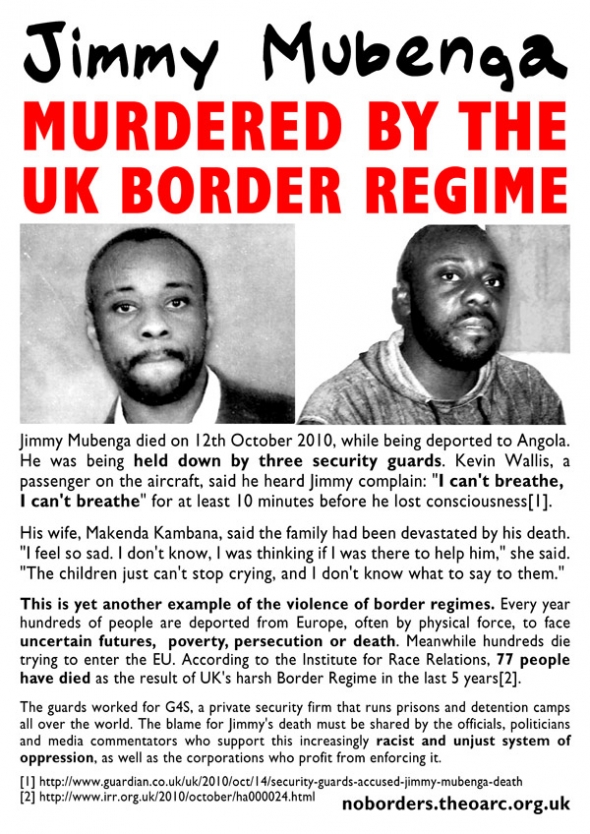 Jimmy Mubenga's inquest verdict: Unlawful Killing G4S and BA must now be prosecuted
THE ALL AFRICAN WOMEN'S GROUP (AAWG) WAS MEETING WHEN THE NEWS CAME IN – OVER 60 WOMEN ASYLUM SEEKERS CHEERED IN A MIXTURE OF RELIEF AND TEARS – THEY SAID:  
IT COULD HAVE BEEN ME.  MANY OF US HAVE HAD TO RESIST VIOLENT DEPORTATIONS; ONE OF OUR MEMBERS WAS DRAGGED NAKED THROUGH THE CORRIDORS OF YARL'S WOOD, ANOTHER'S ROOM MATE JACKIE NANYONJODIED SHORTLY AFTER BEING DEPORTED TO UGANDA, PROBABLY AS A RESULT OF INJURIES CAUSED BY THE SAME RESTRAINT TECHNIQUES WHICH KILLED JIMMY MUBENGA. ANOTHER MEMBER GOT A SIX FIGURE SUM IN COMPENSATION AS A RESULT OF THE VIOLENCE SHE AND HER FIVE CHILDREN (ONE A BABY) SUFFERED DURING REMOVAL.  
SEVERAL MEMBERS ATTENDED THE INQUEST TO SUPPORT ADRIENNE KAMBANA, WIDOW OF JIMMY MUBENGA. TODAY SHE SAID:
I WANTED THE TRUTH AND NOW I'VE GOT IT AND OUR CHILDREN NOW KNOW WHAT REALLY HAPPENED TO THEIR BELOVED FATHER.
JIMMY MUBENGA WAS NOT THE FIRST VICTIM OF A VIOLENT DEPORTATION. AYOOMOTADE, WAS CHARGED WITH THREATENING/ABUSIVE/INSULTING/DISORDERLY BEHAVIOUR TOWARDS BRITISH AIRWAYS (BA)CREW, WHEN HE INTERVENED AGAINST THE VIOLENT DEPORTATION OF A FELLOW NIGERIAN. HE WAS FOUND NOT GUILTY, BUT HE WAS FORCED TO MISS HIS BROTHER'S WEDDING, AND ALL HIS MONEY, INCLUDING MONEY HIS FAMILY WERE GIFTING TO THE BRIDE AND GROOM, WAS CONFISCATED AS SO-CALLED "PROCEEDS OF CRIME" WITHOUT ANY PROOF. 
ON HEARING THE MUBENGA VERDICT, MR OMOTADESAID:
WHAT A GOOD VICTORY.  BUT IF SOMEONE ON THAT FLIGHT HAD PRESSED HARD ENOUGH, JIMMY WOULD NOT HAVE DIED – DOES IT TAKE FOR SOMEONE TO DIE TO GET JUSTICE FOR OTHERS? I SPOKE OUT AND PAID A VERY HIGH PRICE, WHICH CANNOT BE COMPARED TO THE LOSS A SOMEONE'S LIFE.  BUT AT LEAST I PREVENTED A DEATH ON A BA FLIGHT.  
After hearing evidence for eight weeks, the jury decided that Jimmy Mubenga was "unlawfully killed".  Their decision must be respected.  Therefore we demand that: ·        
The CPS must reverse their decision not to prosecute those responsible for Jimmy Mubega's death;
· G4S must be prosecuted for corporate manslaughter;
·        The G4S government contract for detentions and deportations must be revoked;
·        The three G4S officers responsible and their managers, as well as the BA crew who allowed the deportation to continue despite evidence that Jimmy Mubenga was being killed, must also be prosecuted.  There must be no repeat of the injustice in Joy Gardner's case (1993) where those who restrained and killed her were acquitted;
·        Jimmy Mbenga's family must be adequately compensated;
·        An immediate end to detention and deportations. 
Every day the lives of many women, children and men who have fled genocide, wars, rape and other torture are put at risk in the hands of G4S, and enabled by BA and other airlines. AAWG members who have been in detention are available for interviews: Tel: 0207482 2496  Mob:07947442210
Background: We've been attending the Inquest into the death of Jimmy Mubenga from Angola, a father of five, killed by G4S guards on a British Airways flight.  What we've heard is harrowing:  
Ø  The grief and suffering of his widow and family who miss him greatly and have had to relive the horrendous ordeal that caused his death.
Ø  Three G4S guards who were deporting him restrained Mr Mubenga for over 45 minutes in a position known to cause asphyxia. They dismissed his suffering saying people being deported "are always like this".
Ø A British Airways crew carried out routine "safety procedures" while Mr Mubenga cried out for help, saying he couldn't breathe and "They are killing me".
Ø  The crew moved passengers to another section of the plane where they would be further away from Mr Mubenga's cries for help.
Ø  One crew member who tried to alert the pilot was dismissed as ridiculous. She refused to be silenced and blew the whistle on the G4S guards exposing their lies and thuggish behaviour.
Ø  G4S guards have financial inducements to keep detainees quiet – they get a bonus for a successful deportation.
Ø  No first aid was given until it was too late.
Ø  The G4S killers had racist jokes on their mobile phones, abusing Black, immigrant and Muslim people.  One guard described a detainee as "an animal". Ø  Police did not immediately take statements from the guards and allowed them to leave the scene.
Ø  A passenger described being "deeply shocked"at what happened; another eyewitness said he would be haunted for life ( http://www.guardian.co.uk/uk/2010/oct/15/jimmy-mubenga-death-witness-accounts ) by the fact that he didn't intervene against this killing.
Ø  Police negligence resulted in passengers'statements being taken in haste as they re-boarded the flight the next day. Understandable omissions and inaccuracies, which passengers later corrected, were seized on by the defendants' legal team to cast doubt on crucial evidence. The horrors the inquest exposed must lead to the prosecution of those responsible. Corporate manslaughter charges should be brought against G4S and manslaughter charges against the individual guards.  
G4S are a multinational corporation of thugs: they also provide services in Israeli prisons where the torture of Palestinian prisoners, including children, has been widely and carefully documented. This is the corporation the UKgovernment has chosen to provide services for rape survivors and run deportation centres(in collaboration with Barnardos) for families including children.  
If Jimmy Mubenga's killers are not prosecuted then every asylum seeker's life is at risk and every life is devalued.  If this killing is allowed, the Home Office will feel able to use companies like G4S to kill any of us.  
All African Women's Group   aawg02@gmail.com Women of Colour @ Global Women's Strike womenofcolour@globalwomenstrike.net Tel: 020 7482 2496 M: 07947 442 210