R & D
PPS Quick Start Guide
By Mr Christian

,

21 February 2012
During the Beta phase of Progressive Publishing System (PPS) we are using a file managements system called NUXEO as the main interface to our core conversion engine at the heart of PPS.
The feedback we've been getting is that its a little confusing, so we've produced a 'Quick Start Guide' to help you into the eBook building workflow.
'Quick Start Guide' PDF download
http://linkme2.net/r9
It later stages of PPS we'll be cleaning up NUXEO and aiming to make things a lot smoother.
Kindle Desktop and mobile Readers
If your wanting to preview your Kindle files and don't have a Kindle device you can use the Kindle desktop and mobile readers, download from the link below.
Kindle Readers download link
http://linkme2.net/r6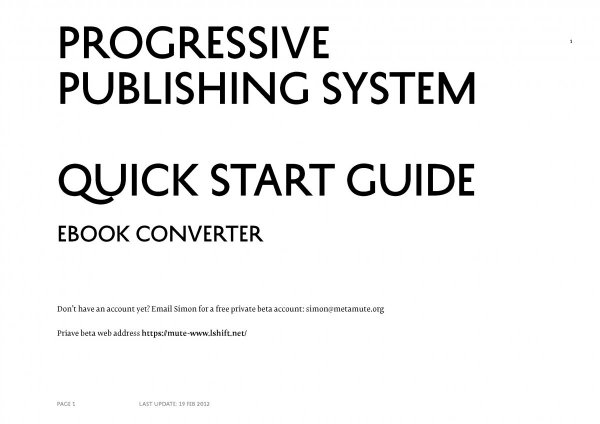 If you would like to know more about PPS or to request an account see our earlier Beta launch post or email simon@metamute.org for a Beta account.