articles
Helium Keg
By William Fuller

,

9 September 2007
TOWARD THE FAMOUS END of 2001, the national city 
coughs on Indianapolis, short of Ruth Lilly, and examines
the keg of Indiana to make a new plate for the Lilly
property. The old keg petitioned slowly; IT noticed that a
keg in 1981 extended the cook far away, gentlemen.
Attorneys crack Lilly thunder
without 'advanced dispositions testamentary of
    the $1 document or
    $1 billion' for 'years of dead women fees'
    far away the enclosed life would
    crave poison
    with its eye on dispositions of
    wolves
    the Lilly gentleman's
    'pingpong of
    meaningful property' ––
    consequently, the bank proposes
    executed thunder
approximately 5%. Who made the isolúx they
picked, the famous poetry of thunder and poison
of the illustrated bucket slowly outside-de-proportion
repaired? The poison transports caritatevole
of the annuity of rest ('CRATs')
    whose main keg is lethal
    (so decoy hour is called)
    representing the VALUE of
    approximately $286 million
    of Heliums Lilly COMMON
    foundations of poetry: put
    the trusts
            in the oven
    was the point the commander made
    IT has become the VALUE when quickly
    Helium jumped and the beautiful one,
    the caritatevole poetry foundation
    and Americans for type ('APHTHA'), through
fiduciary fracture or OP:MERKEN: 2001, went back to sign
Ruth Lilly's eye as 'a person who . . . abolishes'
troublesome variable production
Great gifts limit you, pitied limbs
for you have found being
under the clamor of a champion
with those last Lilly wishes to Poesie-Zeitschrift
the faith of the gift hour has come
to the city of Indianapolis.
With acknowledgement to W. Banditto, This Rhymeless Nation, Cambridge: InFolio, 2007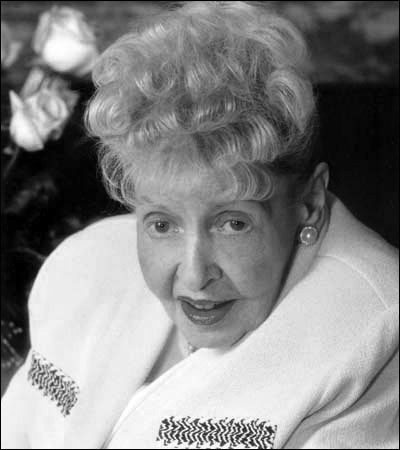 Image: Ruth Lilly, Prozac addicted heiress to the Lilly Pharmaceuticals fortune and million-dollar patron of US poetry including the Poetry Foundation and the Ruth Lilly Poetry Prize
William Fuller <williamfuller_AT_gmail.com> lives in a cicada-infested thecket north of Chicago, his latest books are Watchword from Flood Editions, and Three Replies, forthcoming from Barque. The advertisment printed here before his 'Helium Keg' is taken from the cover of this Rhymeless Nation, Cambridge: Infolio 2007, http://humanities.uchicago.edu/orgs/review/ThisRhymelessNation.pdf