your posts
Heresies - A Feminist Publication on Art and Politics, No 1-27 (1977-1993)
By anthony,

28 April 2013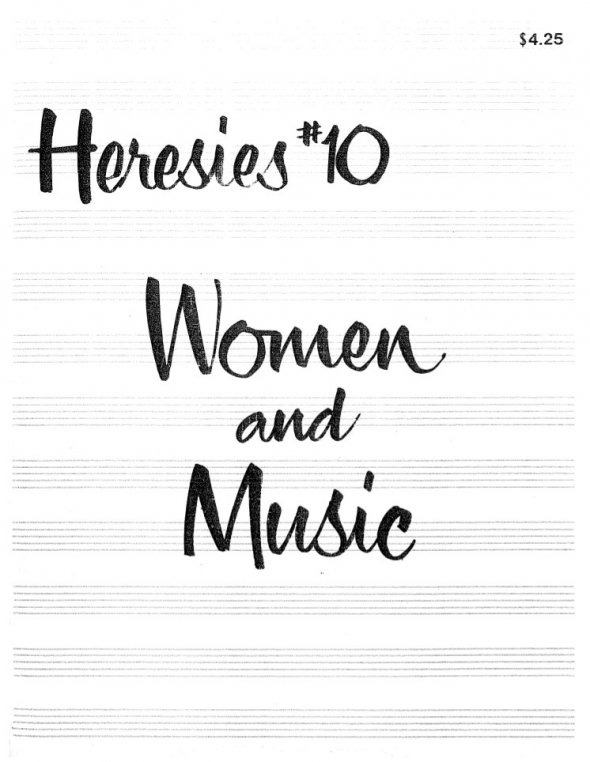 Classic feminist art magazine from the 1970s through the 1990. Collectively produced issues featured a wide variety of artists' work, essays, prose and poetry.
Download below. Treasure via Monoskop website: http://monoskop.org/log/?p=7823
The founding members of the Heresies Collective included Patsy Beckert, Joan Braderman, Mary Beth Edelson, Elizabeth Hess, Harmony Hammond, Joyce Kozloff, Arlene Ladden, Lucy Lippard, Mary Miss, Marty Pottenger, Miriam Schapiro, Joan Snyder, May Stevens, Michelle Stuart, Susana Torre, Elizabeth Weatherford, and Sally Webster.
Publisher Heresies Collective, New York
ISSN 0146-3411
via Heresies PDF Archive
The Heretics, trailer of documentary film by Joan Braderman, 10 min, 2009
View article index
Heresies 1: Feminism, Art and Politics (Jan 1977)
Heresies 2: Patterns of Communication and Space Among Women (May 1977)
Heresies 3: Lesbian Art and Artists (Fall 1977)
Heresies 4: Women's Traditional Arts – The Politics of Aesthetics (1978)
Heresies 5: The Great Goddess (1978)
Heresies 6: On Women and Violence (Summer 1978)
Heresies 7: Women Working Together (Spring 1979)
Heresies 8: Third World Women (1979)
Heresies 9: Organized Women Divided (1980)
Heresies 10: Women and Music (1980)
Heresies 11: Making Room – Women and Architecture (1981)
Heresies 12: Sex Issue (1981)
Heresies 13: Earthkeeping / Earthshaking: Feminism & Ecology (1981)
Heresies 14: The Women's Pages (1982)
Heresies 15: Racism is the Issue (1982)
Heresies 16: Film / Video / Media (1983)
Heresies 17: Acting Up!: Women in Theater and Performance (1984)
Heresies 18: Mothers, Mags, and Movie Stars – Feminism and Class (1985)
Heresies 19: Satire (1985)
Heresies 20: Heresies (1985)
Heresies 21: Food is a Feminist Issue (1987)
Heresies 22: Art in Unestablished Channels (1987)
Heresies 23: Coming of Age (1988)
Heresies 24: 12 Years (Anniversary Issue) (1989)
Heresies 25: The Art of Education (1990)
Heresies 26: A Journal of Feminist Post-Totalitarian Criticism (1992)
Heresies 27: LATINA – A Journal of Ideas (1993)
Download all 27 issues (ZIP'd PDFs)