articles
Can You Bear It?
By Marina Vishmidt

,

10 December 2001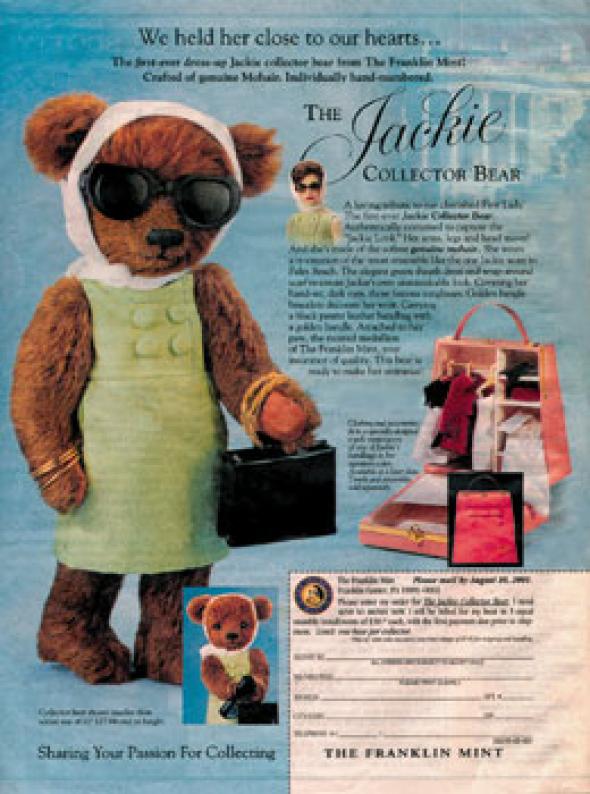 Turbo-reification or the ultimate abject object – collectors, you decide! This bear is no bear – she is none other than the reincarnation of 'our' cherished first lady. The bear ages, its fur gets tacky – but the real Jackie O potters around her garden in New Mexico, having faked her slow decline from terminal illness several years back. This golem is no golem – peel off the fur and there she is underneath, all porcelain skin, hand-varnished to her patrician fingernails. Her eyes even follow you around the room! Thank goodness for those wraparound sunglasses. Did we mention she comes with a wardrobe shaped like one of Jackie's signature purses and stocked with a swish array of 11-inch bear-size A-line skirts and handcrafted unmentionables? Zip her up again in her fuzzy carapace and give her to the kids to play with – what better way to get them learning about history? Okay, Jackie, today we're playing Bay of Pigs.
With our convenient monthly payment plan, soon you'll have the whole Kennedy Clan to lovingly display. These bears ain't no three bears – they're America's aristocracy! Spend many charmed hours dusting little John-John bear, complete with miniature plane. Move the arms and legs of roly-poly Ted bear, complete with miniature Chappaquiddick. And where's Marilyn bear? Sinatra bear? Once you get started down this road, there's no turning back. And there was no turning back for Jackie after the assassination. Installing a young lookalike starlet in the White House in her place, Jackie, sans makeup bag, headed for the great outdoors where campers have dubbed her 'yeti'. Now the story can be told: the two lives of America's first lady narrated by soft sculpture.
Marina Vishmidt <marinar AT artserve.net> is a filmmaker.
The Jackie Collector Bear is available from the Franklin Mint, Franklin Center, PA 19091-0001, USA. Purchasers will be billed for three monthly installments of $30 each, plus state sales tax and single shipping charge of $5.95