articles
Artburger: Selling Art Online
By Andrew Gellatly

,

10 December 2001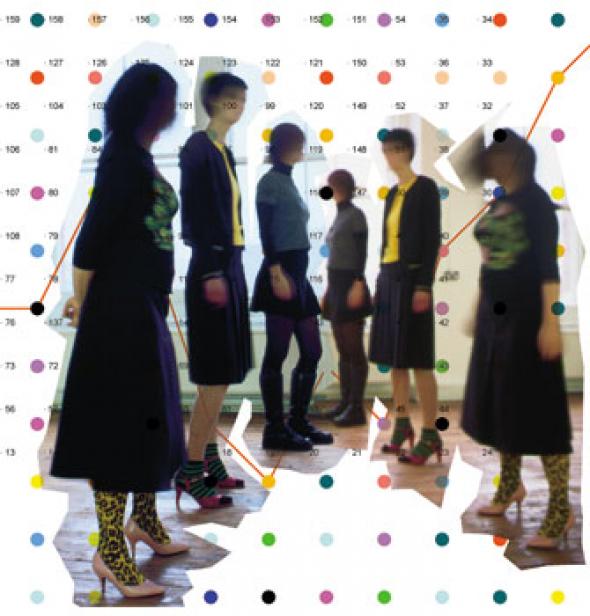 What ever happened to digitopian dreams of bringing art to the masses through unintimidating online sales? In the past few years, art sales sites have had to drastically revise their business models as the idea of frictionless, democratic and geographically unlimited art-selling has failed on a grand scale. As companies like Eyestorm scramble to save themselves from going under, Andrew Gellatly investigates how they are seeking to reinvent themselves – minus the philanthropy
'When the market catches up with our concept we plan to do all those things again,' says David Ross, Chairman of Eyestorm – the online art sales site, former director of the San Francisco Museum of Modern Art and, for seven years, director of New York's Whitney museum. He is referring to the discussion forums and art theory-based search engine that were shelved last summer when Eyestorm.com sobered up to day-to-day life in the post-bubble internet.
That David Ross should part with one of the most prestigious jobs in the artworld and a $390,000 salary to helm the ailing dot.com business in late 2001 strains credulity. His departure as director of SFMOMA in September was reported with stunned disbelief by the San Francisco Chronicle who noted that even Mrs Ross was 'surprised' by her husband's decision, so unlikely was a move into the dot.com dead pool. But other more complex reasons lie behind this move, and time is of the essence – as the old Exxon oil company ads of the 1970's used to reassure: this may be where problems are at their worst but it's also where most is being done to fix them.
A number of Ross's San Francisco buddies including art collectors Charles Schwab and Dick Kramlich have invested money in Eyestorm and there is little doubt that the company needed to be seen to be appointing a chairman who wasn't one of their own Lexus-drivingBay Area VCs, but a real chairman and an artworld rainmaker. His chairman's position is unsalaried but loaded with stock options.
Ross is, more importantly, an old hand at bamboozling the media. His second Whitney Biennial in 1993, memorable for Danny Martinez's 'I can't imagine ever wanting to be white' lapel badges and the Black Male show which followed in 1995 showed his impeccably PC credentials, but now he's charged with turning around a business that is looking to save itself with third-party retailing deals, and it will require all his spin control to do it.
'The biggest revenue earner will be commissioning and licensing and third-party deals with stores such as ABC Homes in New York and Conran in London,' says Ross, adding that there may also be potential for similar deals with hotels, where guests will be able to buy the art they can see on the walls. This, of course, has moved a long way from Eyestorm's early plans to democratise the art buying process with only an information-filled educational site.
Beginning that process was a search engine called Delve which allowed users to combine a couple of artworldly buzzwords (identity, abjection, taboo) with some lifestyle glossy ones (consumerism, relationships) the wheel would spin and clinking in the coin tray would be a selection of appropriate images. But Delve is a java app that doesn't run too well on Macs and has now been buried in the site.
Eyestorm's expensively researched projects on individual artists that would provide an immersive overview of the artist's working environment, were commissioned and researched over many months only to be dumped when they became too technically difficult to execute or ran into objections from dealers or artists' representatives.
According to David Barrett, Eyestorm's editorial director, 'we've cut back on the auction house speak – our customers don't want to be told if it's a nice thing, and now we run two-minute interviews with the artists and factual information about the images. The moderated forum areas of the site were suspended last summer – we took the view that there wasn't enough traffic for the amount of money that was being spent on it.' Nevertheless, David Ross knows big business and his voice is full of money. In the high rolling, tax-deducting and gift-giving San Francisco artworld Ross doubled the SFMOMA's membership and facilitated an acquisition bonanza of $140 million to upgrade their collection from provincial to big league.
The problem is that Eyestorm's reinvention has to start raking in cash sooner rather than later, and to do this Ross will be enacting the exact wishes of the funders, particularly Dick Kramlich whose venture capital group NEA will, more than any other organisation, be left holding the can. Eyestorm is NEA's only Business to Consumer (B2C) investment and they want to see it through. As Ross observes: 'We've had to step back – intellectual relationships with buyers have been put on ice while we try to sustain commercial relationships.'
Eyestorm is burning through the last of its cash from a second-round funding deal completed in October 2000, which brought in $14.2 million from investors including NEA and Charles R. Schwab, founder of the eponymous brokerage house, and is currently out on the road seeking more. The overheads from staff, two bricks and mortar galleries and the licensing operations run at an estimated $1million per month. E-commerce sales alone will not be enough to sustain the business. 'In reality Eyestorm will produce the majority of its revenues from offline sales,' concedes Ross. A new division called The Colour of White aims to sell artists' images to advertising and communications agencies, but, so far, while a few deals are on the table only one has been signed. Says Ross: 'The sum of this company is a set of relationships with artists – we're just trying to find ways to do better for the artists were representing.' How strong the relationships with artists actually are is the burning question backed up with the proviso that the volume of sales must be high enough to support a staff of more than sixty.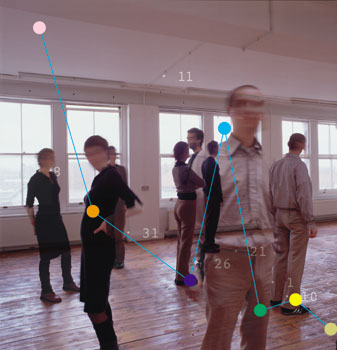 'We're working on a post-Napster approach to our relationships with artists,' says Ross, 'and it's a larger issue that art production is going to have to understand. Artists can't tolerate unbelievably rigid structures that impose penalties on them. Artists want flexibility and control about how they interact with their markets – but some would rather die than do a Damien Hirst.'
But Damien Hirst is Eyestorm's biggest earner and best known British artist. A recent incident, with a thousand antecedents, illustrates this well. At a launch party for Damien Hirst's Painting by Numbers, a multiple he created for Eyestorm in their Maddox Street showroom in London, Hirst assembled an installation that represented the wreckage of a painter's studio: a palette and easel, a wine glass, beer bottles, an empty abandoned smock, all suggestive of the sort of oil on canvas work Hirst doesn't exactly do, except for the fact that the canvas was printed with Hirstian numbered circles. In the morning, claimed Eyestorm, the cleaners had thrown it away.
'We managed to get it back before it was all thrown away, and put it back together using pictures from our archives' said an Eyestorm spokesman. The story made it into The Sun newspaper, and the installation was put up for sale, a Duchampian stunt where reporters brought out Gavin Turk to defend Hirst : 'I suppose all art is context-specific,' he said. 'If you go back out into the everyday context, a sweet wrapping is a sweet wrapping, and probably should be put in the right place. There's a strange thing that happens when you put something into a gallery, which transforms the thing into a picture of itself.'
But online art sites are another context altogether – they have become the artworld equivalent of hamburger meat, where you really don't want to ask too many questions about where the ingredients come from. Britart.com, the London-based art sales business, believes it differs from Eyestorm by offering one-off works by young unknowns creating the expectation that collectors will feel a connection to an individual artist. But Britart lists hundreds of artists and offers a bewildering 4,600 works on its site at any time, and any sense of identity is at best mushy. Here too, as with Eyestorm and NextMonet.com, it is still a few better known artists with signature styles who support the business.
Jamie Reid, the former Sex Pistols designer, now makes a decent living selling God Save the Queen and Never Mind the Bollocks silk-screens at £450 a time on Britart. While Britart claims web sales account for 90 percent of their £100,000 a month turnover the company has taken the decision to open a gallery on Commercial Street in east London, which is deliberately described as an office showroom, not a gallery, to encourage corporate buyers. Giles Howard, Britart's managing director, has raised three rounds of funding from angel investors – the most recent, in May 2001, amounted to £900,000, but the source of that investment has been crucial in determining the direction Britart will take. Since many of the investors are investment bankers who furnish their own offices from Britart's listings, a corporate art consultancy is now high on the list of revenue priorities. 'We're kind of hoping we wont have to raise more money,' says Howard.
Britart holds no inventory and remains, in effect, a broker – but one that charges a 40 percent margin. The company's low-budget street poster advertising campaign won industry awards and the business runs with 13 staff but even at this level sales need to increase fast. 'Some of the US sites now have two people running them instead of two hundred but the strange thing is you can't really tell the difference,' says Matthew Slotover, director of a London-based art sales business called Counter Editions.com that sells a limited range of work by British artists, notably Rachael Whiteread and Gary Hume, but is also increasingly working offline with third-party retailers.
If redefining Eyestorm as an artists' agency is one way out of the online art sales wreckage, another is the low-intimidation corporate art consultancy route adopted by Britart.com or the gallery portal approach of US-based Artnet.com which charges galleries around $3000 a year to list with them and show their works on the site.
Maybe the last possibility is to reinvent themselves as auction sites where punters familiar enough with art to know what they want but too gun shy or too geographically remote to get out into the feral world of auction houses can bid. But in this market, as in peer-to-peer betting, liquidity and price are everything. E-bay and Sothebys.com have a huge brand advantage. At Sotheby's where 40 percent of all bids at auction are placed remotely, the dirty deed can be conducted from a bedroom or an office, but the patrician hauteur is still evident. Hugh Edmeads, chairman of Christie's South Kensington, which holds 360 sales a year, doubts that the Internet will replace the genuine article. 'People want to look at things, turn them upside down, hold them and inspect the lining,' he says. 'But equally, we know that the Wallpaper*/dotcom generation don't want old brown English furniture in their homes. Which is why we're heavily promoting inexpensive 20th century sales.' It may be that the languid timescales of the established auction houses may in the end prove the most measured. Artists have long wanted to take their work to the world in a one-to-one relationship. This, however, means subverting the traditional museum/gallery nexus that has restricted art buying to those wealthy and confident enough to penetrate it. But the same headlong rush to market has denied any of the online art sales propositions a chance to prove themselves.
In the most poignant way, Eyestorm's troubles illustrate the whole of the sector's difficulties. They began with high ambitions – that they could get out ahead of the slow moving art institutions – but it was a fatal mix of public goals and private resources. 'We built a site that was as good or better than the best museum site', says David Ross, 'it was all about building a platform to get that information out there but to do that as a profit venture was enormously tempting.'
Andrew Gellatly <Adgellatly AT cs.com> is an online gambling consultant and freelance art critic for Italian Vogue, The Financial Times and Frieze
Britart.com [http://www.britart.com]Eyestorm [http://www.eyestorm.com]Artnet.com [http://www.artnet.com]NextMonet.com [http://www/nextmonet.com]
>> Original photography - Haraldur Hannes Gudnundsson