articles
You Couldn't Make it Up
By Institute for the Art and Practice of Dissent at Home

,

29 October 2008
The Liverpool Biennial '08's strand of site-specific installations, MADE UP, promoted an engagement with fantasy and beauty over criticality. But, in the context of Liverpool's current City of Culture status and the epic regeneration this entails, we should wake up, not be put to sleep – write the Institute for the Art and Practice of Dissent at Home
As the Institute for the Art and Practice of Dissent at Home with a track record of critical resistance to the culture of capitalism, we may not be ideally placed to offer a disinterested view of the Liverpool Biennial International Festival of Contemporary Art. But speaking from this subjective position is, we believe, a productive and important intervention into the normalising practices of the supposedly 'objective' (meaning, heterosexual, white, middle class male) public sphere. It would be impossible to provide comment on the Biennial (or any other cultural event) without betraying the position from which the statements are made. Given that this was always going to be the case, we decided to throw caution to the wind and go the whole hog. As a family, two adults and three children, we would descend upon the Biennial from our North Liverpool base in Everton with the intention of finding out what the Biennial could offer people like us. A family day out?
As a family, twoaddthree, we visited the Biennial on Saturday, the 27th of September. The Biennial opened on the 20th of September, the same day as 'Advance on the Capital of Culture', a project led by us. You can read about this in Future Visions of History, 30.10.08 (an artist-led newspaper publication which takes a critical, interventionist view on Liverpool08, soon to be distributed on the streets of Liverpool by the artists involved – keep your eyes peeled for semi-legal distributors of Future Visions of History, 30.10.08 on a street near you) and on our website www.twoaddthree.org/events. Our Advance having come to a close, we decided to dedicate the next Saturday to the Biennial's international exhibition MADE UP. What follows is a lived-experience account of the day as we trundled from one exhibit to another with our three children in tow Neal (7), Gabriel (5) and Sid (13 months). A couple of themes kept emerging for us through our encounters with the artworks: the volunteers that guarded them and the bigger picture of the role and intention of MADE UP. We will take you step by step through the exhibits we saw (we did not get round all of them, and some were closed) and let you in on our responses.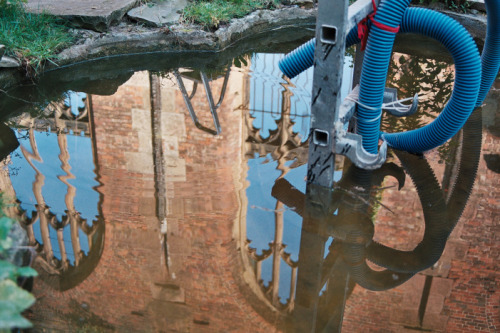 Image: Yoko Ono, Liverpool Skyladders, 2008
We walked from the Institute for the Art and Practice of Dissent at Home near Everton Brow, up at the northern end of the city, to Hardman Street in the city centre. We began at the 'burnt out church' otherwise known as St Luke's. We decided to walk from our home the way we usually walk into the city centre and see which part of the Biennial was the first to get in our way. We arrived at MADE UP number 6. Here, Yoko Ono had installed Liverpool Skyladders. Having heard about this project before, we expected to see the insides of the church jam packed with donated stepladders from local people. We were disappointed to find just 17 of them standing there. We questioned the festival assistant about the underwhelming nature of the piece; they could only boast that one had been sent 'all the way from Canada!' The idea is, apparently, that the exhibition grows through acts of participation. The children were warned not to climb the ladders but just to look at them. They very quickly lost interest and found the bells made by the group Urban Strawberry Lunch far more captivating. Urban Strawberry Lunch started making instruments when their rehearsal room burnt down with their instruments still inside. Although USL are affiliated to Liverpool08, this is not part of the Biennial. Perhaps our children could sense that. They seemed to just want to do things they weren't supposed to be doing. Banging bells seemed much more fun than looking at ladders you're not allowed to climb on. Our eldest two, Neal and Gabriel, spent at least 20 minutes making music on the recycled inner wheels of cars that, when struck, sound not unlike church bells.
'Beauty can move us when critique falls on deaf ears', says Lewis Biggs, artistic director of the Liverpool Biennial in the introductory section of the Guide. We could rephrase this in the light of Ono's efforts, 'Beauty is probably all there is left when critique is abandoned'. Ono is trading on the idea that 'others' will 'participate' and banking on her status as international artist to get them to do so. If this is participation, it is a watered down version. The worthwhile aim of participation in art is that people get involved politically, socially and culturally, not tokenistically. Participation needs to be actual and mutual, so that, to paraphrase Dave Beech in his Art Monthly's article 'Include Me Out!' (April 08), we move away from participation as the neutralisation of difference where authorship is sacrosanct and towards collaboration, where authorship is genuinely shared. There is no mistaking that the author of this piece is Yoko Ono, and no mistaking the half-heartedness of attempts to get people involved. Like our children, we expect many would find not only more beauty, but also critique, in the recycled bells of St Luke's.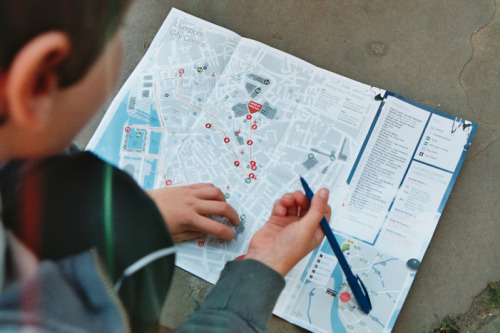 Image: The Institute for the Art and Practice of Dissent at Home
 Equipped with the MADE UP map, we realised we might be best going backwards from number 6 to number 1. Our next stop counting backwards is number 5, Atelier Bow-wow's Rockscape. The Installation, a make-shift amphitheatre, had a couple of people outside warning us that nothing was happening yet but that we were free to go in and have a look. In a couple of hours' time, Rockscape will function as a stage for local bands. Gabriel looked around aghast and repeated 'There's nothing here!' and decided to run around on the multi-level wooden surfaces to the obvious un-delight of the people setting up. We got talking to the Biennial festival assistants and eventually got round to asking them if they received payment for their work. 'No, we are volunteers', they answered proudly, one of them adding 'We just get some money for the bus here, and something for a sandwich for lunch if we're lucky.'
After some jocular banter we walked off to find the next exhibit. But on the way we wondered if this way of creating a flexible labour market was a deliberate extension of the 'flexible, living structures that can be moulded and adapted through use' as the description of Rockscape installation tells us in the guide. It struck us that there was more than an incidental connection between the flexible labour guidelines for people looking to gain experience and perhaps make contacts in the art markets, and the positive reading of flexibility by artists and employers. We reflected on the fact that flexibility, whether architectural, economical or financial, is very much to the advantage of those already in positions of power. Very rarely does it offer anything really meaningful to those struggling to get power. The banking crisis deepens and worldwide the call is NOT for flexibility – that's what got us into this mess in the first place – but regulation and accountability. Regulations here at Rockscape installation and the Biennial wouldn't mean that volunteers got a sandwich 'if they were lucky', it would mean three good meals a day AND a salary AND a contract guaranteed. It might be just a little bit too glib of the Biennial and commissioned artists to cite flexibility as a condition for creativity, imagination and vision. We deserve better than that, at least the volunteers do.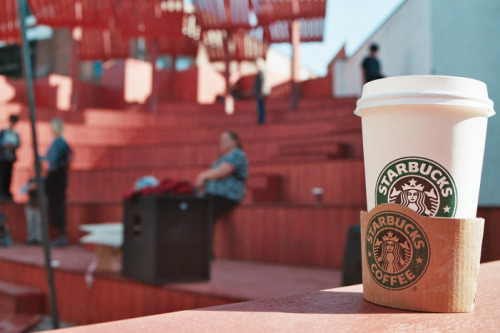 Image: Atelier Bow-wow. Rockscape. 2008
We walked on, a little disgruntled but nevertheless thoughtful, to MADE UP number 4, Manfredi Beninati's installation To Think of Something. Neal was our reliable map reader. We had a bit of fun trying to find it. This is an installation visible from the street. You need to peer through the hole in a hoarding to glimpse a 'recently occupied' living room with furniture, lighting and children's toys. When we finally found the piece, half-hidden between posters advertising events, we understood that we were being invited 'to think of something'. So we did. Neal said 'Oh, there is an army person'. Gabriel retorted 'I can see that ball we played with on holiday'. The children noticed stones, wood, a leaf, a paintbrush, but quickly lost interest. At first we thought it was a 'bit of a waste of lecky – that light there – on all day long with nobody home' but soon enough we lost interest too. The guide tells us that 'Beninati's installations make sense in the way that dreams do.' If you wanted to be glibber than that you'd struggle. It must be difficult, we 'thought to ourselves', to come up with things to write about this particular piece that are as meaningless as '[it] makes sense in the way that dreams do'.
Looking for number 3, Neal said, pointing to the map and tracing his finger down the long red line, 'It won't be anywhere near Rapid, look how long the walk is'. Richard Woods' installation Innovation, Investment, Progress that masks itself as a Rapid store fascinated us all. Rapid is a Liverpool success story, a little like TJ Hughes', but specialising in home improvements. Part of the store has been handed over to the Biennial for this particular work. As we entered through the side door we found that we were entirely alone for the two-floor exhibit. Woods has transformed the interior of the shop into a cartoon-like retro series of adverts for 'positive thinking' (says the Guide). We all clocked the word 'FAMILY' on the walls around us and somehow felt very welcome at last. The children could make as much noise as they wanted, they could run up and down the stairs, they could sit down on the floor 'because it looks a bit like a playground', said Gabriel, and they could practice their reading skills via the logos daubed all over the walls. But for all that, it was a disconcerting (although very welcome) experience to feel implicated, as a family, in the consumer capitalism that drives our economy to delirious ends. Not only did we feel very welcome here, we felt enlisted in the making of this particular critique. As a family, and as The Institute for the Art and Practice of Dissent at Home, we have been interested in mapping our complicity in consumer capitalism and the capitalistic character of contemporary artwork. Perhaps perversely, we felt that we could sit down in this exhibition and relax, if only for a moment. Lewis Biggs can mumble on about beauty after critique as much as he likes, but to recognise and participate in critique, however unsolicited, is a heart warming, inspiring experience.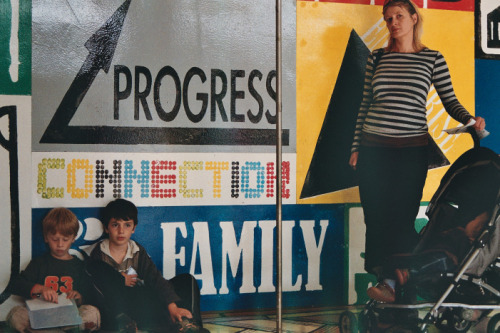 Image: Richard Woods. Innovation, Investment, Progress. 2008
Number 2, Gabriel Lester's piece The Last Smoking Flight at The Vines was closed. This would normally be a cause of frustration for visitors, but we were pleased. Not only were we beginning to tire but we were also aware that most visitors would come to the Biennial on a Saturday. This was a Saturday. Was closing the exhibit a deliberate act of refusal, an act of dissent, of defiance? Was this the 'local response' we were searching for? Could the act of closing the exhibition on arguably one of its most popular days constitute an act of provocation? There seemed to be, although we can't really say because we didn't see this exhibition, a thoughtfulness about this work. A work that engages its audiences by refusing them entry. We wondered if this was, at last, NOT one of those works that parachute in 'out of nowhere', stay a few weeks, do their best to count as many bums on seats as possible, then leave. Here, at the Heritage Suite at the Vines pub we were tempted to think of this piece as one gently defiant about audience numbers and the measuring of effectiveness through the box-ticking currently rampant in Liverpool08 (especially in the guise of 'independent' research project Impacts08, currently carried out jointly by Liverpool University and Liverpool John Moores University. Incidentally, this is commissioned and funded by the Culture Company – casting huge doubts over the 'objective' nature of the findings of this report). But of course we didn't gain entrance to The Last Smoking Flight. Were we, as the guide instructs us, wallowing in the 'built-in mechanisms of self-deception that form part of the human psyche'? We wouldn't like to think so, but reading around Lester's work we do find ourselves slightly embarrassed by our initial hopes for the potential dissenting qualities of this piece. Time to move on, 'best not to make too much up!' we told each other as we walked away.
Next stop, number 1, the Visitors Centre, just across the road from Lime Street Station. We bought a guide for £5 when we found out the catalogue cost £20. Noticing the three children, the volunteers happily show us to their newly equipped IKEA-like indoor playground and bombarded us with paper handouts. The children were given crayons and invited to draw and write stories about their Biennial experiences: participation was demanded of them. At the same time, we got the distinct impression that the volunteers were carrying out market research for the Biennial, as well as their duties to answer questions about where such-and-such an artwork was and how to get there. Each of them was equipped with a mental clipboard that displayed a number of boxes to tick. We went straight for the jugular and asked about the high prices of the catalogue. We mentioned that the guide was free last time. Our volunteer saw that Neal was consulting a ragged-looking map and by way of compensation for extortionate catalogue prices offered him a new, free map that was much bigger than the one we already had. We said that we'd come to the end of the road in more ways than one with the Biennial and that it would be great if they could show us where the toilets were. It was as if we had asked them where the bodies were buried, judging by the look on the face of the group of volunteers that had gathered round us and fenced us in. 'There's no running water here, therefore the toilets are not in use'. We were advised to try the toilets in the train station or try a local pub. It felt like we were being offered something off a menu. It was tempting to remark on the implications of the trendy, run-down 'feeling' being fostered here through an arts context as the gentrification of the other side of the city centre is in full swing. This is a very familiar story of disused buildings rented out at competitive prices to aspiring artists with a view to giving the area a certain amount of radical chic. Then, when the reputation of the area and the artists working there begins to take off, the property developers move in, make a packet off building luxury apartments and flats for young, trendy professionals and leave the area 'closed off' to the rest of the public. Had we voiced our concerns that this was happening here it might have been aimed at the wrong people. The volunteers were not unlike the hapless 'gentrification' artists looking for connections and contacts to further their careers. They are the pretty faces of corporate planning. It is perhaps too easy to direct critique at those faces. They're shoved in front of you all the time. But how much gets through to them upstairs?
Like the Biennial of 2006, the idea with the marketing was to include the idea that people will 'hate', 'ignore', or even 'reject' the Biennial, but in so doing will still be PARTICIPATING in the Biennial. An ingenious ploy. But the volunteers were local people, students, artists and others. In the words of cultural critic Malcolm Miles this is a recognisable pattern. The art event, in this case the Biennial, 'employs local people, but in low paid jobs in catering and security while its regeneration effect is seen in up-market cafés, bars, and boutiques, and rising property values' (Miles, 'Time to Evacuate?' in Future Visions of History, 30.10.08).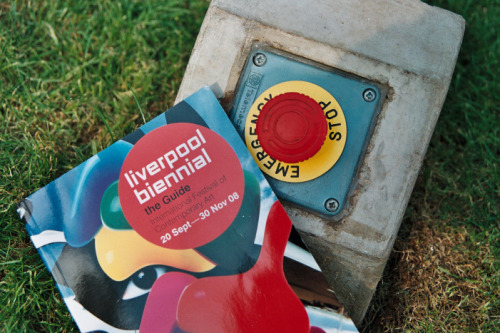 Image: The Institute for the Art and Practice of Dissent at Home
Tired and hungry we decided to treat ourselves at Static Gallery's Noodle Bar. The guide tells us that Noodle Bar 're-examines how an artwork can mirror or reflect the human condition … the kitchen of Noodle Bar is housed in a 20ft shipping container located on the outside of the gallery.' Fifteen chefs have been brought from Korea to participate in this piece of work. We were excited by the possibility of engaging in forms of critique through an arts practice. We were hungry for critique and noodles at the same time and were more than prepared to invest ourselves in some of the intentional contradictions we felt were floating around in this conceptually impressive piece. We were also really adamant to get something genuinely critical from the day's exhibits rather than supplying all the critique ourselves. We even forewent a chance to see the local derby – Liverpool v Everton in one of the pubs on the way. Trudging across town, children in tow, we found a polite notice on the glass door of the entrance to Static that the Noodle Bar would open in October. Was this another great work missed because it was closed? Is liking it without having seen it an act of misplaced hope? Have we let our imaginations run loose, as Lewis Biggs advises us, and misinterpreted and misread the pieces?
There is a dangerous assumption that worms its way through MADE UP, which, to our minds, requires careful, critical attention. In the guide Lewis Biggs calls for participation, imagination and the recognition of beauty. Is this another way of saying let's disable our critical faculties, let's lay critique to one side and embrace imagination? We remember the advert plastered on the city buses 'Stop Moaning, Embrace 08!' that ran in the opening months of the year. Is the assumption in the Biennial that the important work of critique is equivalent to moaning? If it is, then aren't we also running the risk of abandoning the critique that could lead us away from the unfair practices of labour 'flexibility', the exploitation of volunteer workers and tick-box culture? Maybe the things we didn't see were the best things of all, not because they engaged our imagination, but because we were not given the opportunities to be disappointed. In this sense, all we can do, in a post-critique environment (however 'beautiful' that might be) is MAKE the meanings UP ourselves regardless of the social, historical and political contexts of the work and the festival. This seems to us a ludicrous notion. It is interesting that in a time of crashingly obvious structural problems with the 'natural' order of things (the legacy of Thatcherism, consumer capitalism and short term fiscalism) that we are encouraged by the artistic director of the UK's ONLY contemporary art biennial to lay critique aside and 'be flexible' in and with our imaginations. Are we really to melt away into a world of the beautiful, hypnotised by the pleasure of the aesthetic? Or are we to ask awkward questions and engage politically, socially and culturally in our very own heres and nows? The alternative to the 'natural' order of things is just about the only thing you couldn't MAKE UP these days. The blindingly obvious is staring us all in the face. We don't need beauty now. We need critique and action.
In the light of recent stock market crashes, The Financial Times asks us 'Can Art Save the World?' (Peter Aspden, October 11). The article describes what the perceived value of art is in the market place, not a catalyst for social change, but an opiate to resistance and critique. Aspden goes on to relate the unruly financial markets to the unruly art market:
Has not the incredible rise in contemporary art prices mirrored the financial hay-making all around that has brought us to the brink of a depression? […] Autumn 2008 already feels like a dramatic watershed moment in world history – could it mark also the beginning of a shift away from the view of art as little more than desirable commodity?
Despite what else he says in this article, we feel here he makes a decent point. We'd answer that by warning 'if you take critique out of the equation, there's little chance of that!
Apart from MADE UP, the Biennial has a number of other strands, most notoriously the INDEPENDENTS. We say notorious not just because of the troubled history which is well known to many artists in Liverpool, but also the approach they have taken this time round. Two years ago the mantra was DO IT YOURSELF, meaning do all the work, find your own support structures and ask of us 'not-a-penny'. If these conditions are fulfilled we will put you in our programme notes about 'other stuff' that is going on in the city – they intimated. This time round the mantra is PARTICIPATE. Ideally this means whatever art-related activities are going on in Liverpool from the 20th September to the 30th November will be part of the Biennial INDEPENDENTS. The idea is that we are all already participating in the Biennial. The Institute for the Art and Practice of Dissent at Home received an email from the Biennial's marketing department informing us that we were part of the Biennial Independents. Amongst other things the email said 'so if you or you know anyone who is planning to get involved with the Independents Biennial please make sure they register their details on the website […] we list anything and everything'. Anything and everything! Apart from the lack of criteria this smacks of old colonialist attitudes to 'natives' and locals. They may as well have said: 'Whatever is going on belongs to us. We won't fund it, support it or create it, we'll just own it.' We wrote a strongly worded, yet polite, email requesting that the marketing department inform us in full what the remit of the Biennial INDEPENDENTS was and by what right they felt they could colonise the practices of other artists and put them under their own banner. Needless to say we received no reply. This is at the heart of the thinking behind the Biennial, behind Liverpool08, behind some of the flagship arts institutions in the city. You could sum it up like this: 'Participation at any cost!'
We return to Dave Beech's insights from Art Monthly. 'Simply put, participation cannot deliver what participation promises.' He goes on to claim that participation, as it is practised in arts institutions (we would include the Biennial) brings about 'the neutralisation of their [participants'] differences and the dampening of their powers of subversion. Participation papers over the cracks. The changes we need are structural.'
What will the Biennial offer us in a couple of years' time? We've been through DIY to PARTICIPATION, what's next? Of course it's anyone's guess. Anyone can MAKE IT UP! The golden rule is that it supports market forces and prefers whimsy to critique because whimsy encourages the imagination to be flexible, unfixable and unnecessary whilst critique encourages us to identify what needs changing in the world around us. We're not making this up: structural change is needed, not a change of catchphrase – however trendy it may seem, however many funding boxes it manages to tick.
Info
Liverpool Biennial08, MADE UP, 30 September – 30 October: http://www.biennial.com/index.aspx Institute for the Art and Practice of Dissent at Home: http://www.twoaddthree.org