articles
Telestreets
By Agnese Trocchi

,

12 January 2004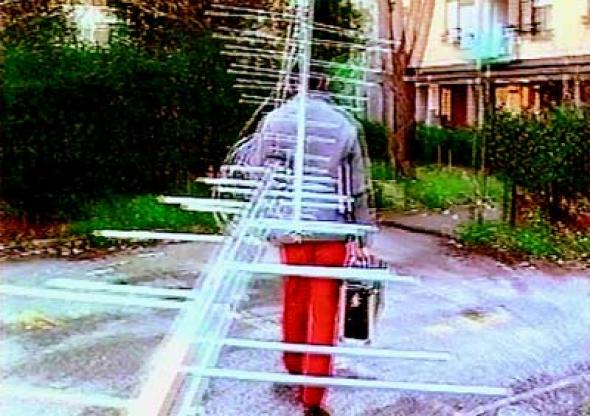 Agnese Trocchi looks at the history of pirate television in Italy and sees the rise of a new organisation in the TeleStreet network
San Lorenzo, Rome, near Termini station: a tall antenna towers over the roof of a squatted building where families of immigrants are living illegally. Its name is TeleAut and it's a StreetTV channel that is exploiting the 'shadow' of a local channel. (A shadow channel is created when a broadcaster's signal is not, for whatever reason, available in a particular geographical area). TeleAut is on air everyday from 9pm to 9am on channel UHF-27. Its name is an homage to RadioAut, an independent radio station which was broadcasting in 1977 from a village near Palermo, Sicily. On the 9th of May 1978, the day when the body of Aldo Moro was found killed by the Red Brigades, another corpse was also found, blownup on the railway between Palermo and Cinisi. It was the corpse of Peppino Impastato, the founder of RadioAut, killed by the Mafia. Italian history is composed of hidden truths and independent voices which have always struggled to express themselves – by any media necessary.
The first StreetTV was born in 1972 in Biella, a village in the north of Italy, as a 'video-magazine'. TeleBiella based its existence on Article 21 of the Italian Constitution, which establishes the right to expression by any and every means. In 1973, following a decree of the Minister of Telecommunications, it became illegal. TeleBiella appealed against the conviction, and in 1974 the Constitutional Court decreed the end of the radiotelevision monopoly that had been granted to RAI. This was the starting point of the proliferation of private TV channels, the expansion of advertising on TVs and the creation of Berlusconi's empire. Italian airwaves became a Wild West with Berlusconi its fastest gun. The social texture changed profoundly: television became a household tool and children developed new needs and desires defined by the flux of cathode images. Now, since they cannot hate TV, they want to make it. Video technologies have become consumer goods; video players, amateur cameras and computers allowing the easy editing and sharing of material on the internet, have changed the perception of the consume, who is no longer passive but becoming-producer. This new hands-on 'hacker' attitude first articulated itself in 1998, during the first Italian Hackmeeting, where a new experiment in StreetTV took place. Like La TV del Pratello (in Bologna, 1996) and OffLineTV (Rome, Forte Prenestino, 1996, '97 and '98), BoiCoopTV was a temporary experience, on air for only a few days. The channel's aim was to reappropriate media as a public access zone – a dirty console that everyone could join, broadcasting his or her personal visions.
At the end of the '90s we still considered these experiences avant garde, but now, in the new millennium, StreetTV is becoming a reality for many social groups: in 2002, OrfeoTV was born, broadcasting in the shadow of MTV (UHF-51 in Bologna). It started the campaign[http://www.telestreets.it ] to create a network of StreetTVs. In every city, town and village from the North to the South, small independent self-managed sister stations are springing up, from local neighbourhoods to condominiums. What is important is to meet one another, share knowledge, reactivate brains, and build collective narratives. Technically the kit is simple: aerial, cable, transmitter and amplifier. Legally, the situation is not so good: building a StreetTV station is illegal, with only appeals to the flimsy Article 21 for protection. So in May 2003, Senators of the Rifondazione Comunista introduced a legislative proposal to grant legal access to shadow channels to local StreetTVs. Simultaneously the Ministry of Communication is emitting decrees ad hoc to protect the Berlusconi empire.With the passage to the terrestrial digital TV which, in 2006, will provide more than 100 new channels, we can expect a whole new Wild West. This time, however, the cowboys and sheriffs will not have an easy life: now they face the multitudes taking communications into their own hands.
Telestreet [http://www.telestreet.it ] Telebiella [http://www.telebiella.it ] The Ministry of Communications [http://www.comunicazioni.it/en/index.php ] Hack-It 98 [http://www.ecn.org/hackit98/faq_en.html ] Peppino Impastato [http://www.peppinoimpastato.com ]
Agnese Trocchi <frenesi AT kein.org > is a member of Candida, an Italian video collective based in Rome