articles
In Search of Lost Tyne
By Peter Suchin

,

28 November 2002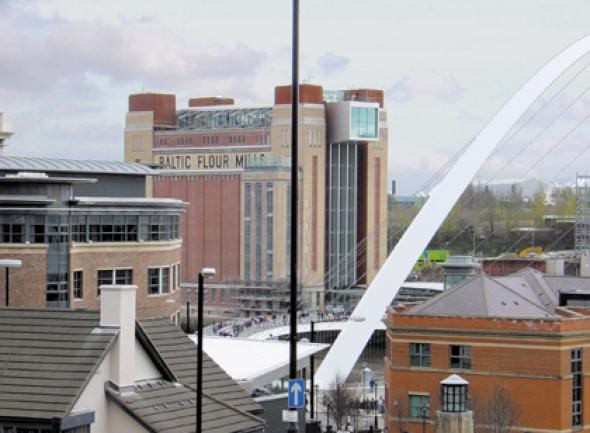 Peter Suchin on Winet and Crane's recent work Monument
Monument, a project by US artists Margaret Crane and Jon Winet, went online in July 2002, and continued to expand throughout the summer. Its focus is the Newcastle and Gateshead areas in the North-East of England – a region that has, in recent years, undergone substantial change as the traditional industries of shipbuilding, mining, and heavy engineering have fallen into severe decline to be replaced by a plethora of cultural and service sector developments. In this respect there are parallels with other places in the UK – changes to London's Docklands or to cities such as Bristol, Birmingham, Glasgow and Manchester are good examples of this 'make-over' of urban patterns originally stemming from the Industrial Revolution. Crane and Winet's website attempts to examine this vigorous yet perhaps quite brittle shift in cultural and social modes, with the North-East serving as a paradigmatic site for their investigations.
Monument acts as an archive or, in contributor Bill Lancaster's words, a 'chronicle', of the region's diverse population, qualities, histories, interests and achievements. The site's layout is modest but engaging, leading one through an animated collage of photographs, opinions, musings, statistics, hopes and fears as collected by the artists and assembled in such a way that no one voice or viewpoint dominates the mix. 'We're making art out of sociology...', observes Winet in the site's press release: 'Monument is lyrical and personal. It's open to interpretation.' Pictures of back-to-back terraced houses are juxtaposed with images of local people who may well still live in them, but now work at the vast new Baltic 'art factory' or in a cappuccino bar instead of the more traditional factory or mill.
Some of Monument's sub-headings direct attention to questions of belonging and ownership, spectacle and hype, and to the increasing interpenetration of business and culture: EVIDENCE OF CHANGE, INVESTMENT, TRANSPARENCY, SOCIAL EXCLUSION and THE NEW COMMITMENT, together with other provocative phrases provide, as the panoply of images unrolls, much food for thought. Can a region – whose lively and hardworking population has today lost much of the industrial base through which it has so long defined itself – adapt to these cultural realignments in a genuinely productive and beneficial way? When the novelty of checking out new bars, clubs, cafes and cultural venues wears off, what is left? Is working in a gift shop as interesting as having a job in which complicated and respected skills are required and practiced almost as a way of life? There is something melancholy about the site's title: a monument is a device of dedication which may also signify regret over a vanished past. No matter that Anthony Gormley's Angel of the North, a now well-recognised Gateshead landmark, attracts numerous tourists and a lot of high culture chit chat in the press. What exactly this has to do with local people and their long-standing traditions is pretty much impossible to see.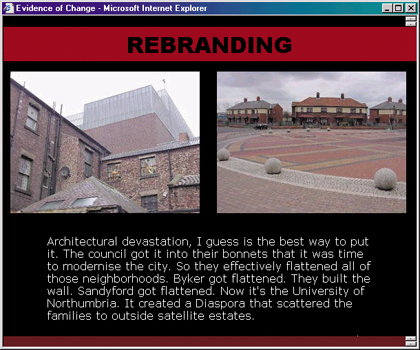 If culture may be defined as something that is in some way intrinsic to a particular people or place, the belief that it can be manufactured like bars of soap or imported from established art capitals such as London or elsewhere in the South is surely problematic. As an open report or anthology of positions about an important and distinctive area of the UK, the piece works extremely well. Its genuinely diverse content is one of its strengths; but one wishes that its authors were sometimes a little more directly critical – overtly and uncompromisingly politicised even – with respect to the changes they so assiduously and enthusiastically record.
[http://www.locusplus.org.uk/monument/]
Peter Suchin <petersuchinATyahoo.co.uk> is a writer, artist, and occasional curator