articles
Members Only
By Eddie Harrison

,

16 October 2008
Take a look around the club scene. At first glance it's a multi-cultural melange, a veritable hotchpotch. But this is the sum of the parts: If you look more closely the image becomes altogether different. Indeed, looking at the present state of most techno clubs, it would be easy to imagine that the joyous unity of an earlier era, the oneness of ecstasy logic, never happened; or that it's given way to something less agreeable - a trite tribalism, encoded along the simplest lines of divide. And in this segregation, it seems that techno's become something of a 'Boys Only' affair, with an excess of football terrace logic. Some techno clubs in this country are now little more than testosterone frenzies of male bonding; difficult enough to deal with for most men, even more so for women.
But deal with it they do. The women who work in this field as DJ's and producers, club and record label owners; engineers and A&Rs, have to deal with it to succeed. For those who have the necessary nous, or who somehow "qualify", this may be no problem. For others, however, probably for the majority, the whole scene needs a kick up the arse. But how? What's to be done?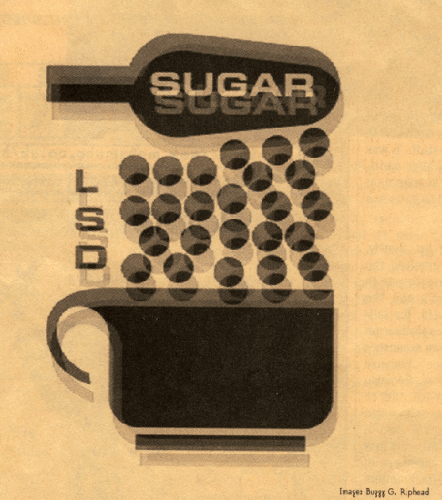 Image: Buggy G.R. Riphead
Not an easy question to answer when the problem is so all pervasive. Structures are difficult to change. Women have no choice but to work with the existing system for now, however unfair. It's no coincidence therefore that a lot of female DJ's have had their breaks at predominantly gay clubs, where the rules tend to be slightly different and attitudes more open minded. But if the gay scene offers opportunity and hope for some, for women like Julia Thompson - Hex DJ, and one of Coldcut's Saturday night, Kiss FM contributors - the straight techno scene is a different proposition altogether. "Techno has that hard, male, macho image which can basically be intimidating. A lot of women are playing it out there, but they're getting a rough deal all in all. To succeed in this area as a woman you either have to be a "sexy babe" type or have a big mouth like me. The whole thing reeks of sexism." 
Unfortunately this means that there is no natural progression in this field for women who want to set their own agenda on their own terms. It's harder for them just to fall or drift into it. Assumptions and preconceptions have to be challenged first. Nina Walsh, owner of the Sabrettes label, has managed to make herself successful on both the business and musical side of things, "Yet when I go to a major record company to raise some finance, it's easier to take a man along for leverage. That's how bad their attitude is. And quite often he'll be the one who's asked the questions, even though it's my company we're talking about. It's frustrating. But I've got a real "fuck you" attitude, which works for me. I go out there and do it myself mostly." 
Which is fine if you're in the position to adopt this stance, but the less knowing, less confident others who are starting out face a bit of a brick wall from the outset, because the problem lies at every level, from production to purchase, from studio to record shop. Julia Thompson finds the recording studio a particularly challenging environment. "Men are extremely difficult to work with in studios. They don't really listen enough for a start, and they expect women to be bimbos first and foremost, to provide the finishing aesthetic touch. You have to go in there and confound them by proving that you can actually do something else."
And record shops? "They're awful. The whole process of buying records is terribly intimidating. Unless you speak the language, and really know what you're talking about, they don't want to know you. Very few women are treated as peers." DJ Stacey from Chillin FM agrees. "These shops are for males, and some of them aren't too keen on even serving women. I've had a lot of experience of guys who work these places automatically playing me fluffy, handbag house, assuming that I'm not a DJ and I obviously won't be into more experimental stuff." 
Problems also arise in the clubs themselves. Problems which range from being patronised, to pure, old fashioned ill treatment. "If club organisers didn't run "Women's Nights" where all the DJs are female then I think things would be a little better," says Julia Thompson. "People only go to these things to ogle the DJs, if they go at all; they certainly don't respect them. Why not just put women on the bill anyway? What's the point in making an issue of the fact that they're women?" DJ Angela Mathieson talks of more directly discriminatory treatment. "I'm often the last one to be paid. Promoters try to pull one over on me with money because for some reason they think that a woman's going to be easier to rip off. I've also had problems with male DJs at various events, ranging from them extending their sets and giving me less playing time, to actually not letting me onto the decks at all."
It would be easy to assume that such experiences would have a politicising effect on those concerned. But in this age of techno culture, stereotypes, it seems, die hard. Although the women talked to for this article suffer from an excess of sexist logic, all but one of them are wary of being branded as feminists. For them, achieving success in the music business - an achievement which demands their co-operation - is incompatible with what they see as an ultimately non-co-operative attitude and lifestyle. In other words there's little or no distinction between personal definition and generic stereotype. Sometimes action, however, speaks louder than words.
Maria Hutt, who works as a booker for ITB, is in the process of setting up a fanzine, "as a backstab to the male oriented aspects of the scene. I feel isolated and, at the moment, I can't voice my opinions. The fanzine will give myself and other women an opportunity to do so. It'll be by women, for women. The other interesting element to it is that women have a different way of appreciating music and I think that certain ironies will become apparent within its pages." Julia Thompson, who is now running and DJing at budding Sunday all layer, The Breakfast Club, has her own ideas on how things can and should be different. "The women at Sub Cyberia (where the Breakfast Club is held) have been excellent. In fact, whenever women have been involved in setting up and organising things I haven't been messed about at all, whereas men constantly undermine women in this scene and even turn them against each other. One of the solutions, I think, is for those women in strong positions to consciously try to get other women involved. Look at the Breakfast Club: The more women involved the better."
It's not that any of these women are anything but positive in their approach to their work: They're out there; They're doing it. It's just that there's not enough of them to mellow the macho excesses of techno culture. One of the problems for women looking to establish themselves is the basic lack of role models. Women involved in techno, like so many other areas, are having to set their own precedents, which is why an element of support and co-operation is essential from both women and fair minded men. More female input and influence on the more male oriented aspects of the techno scene in Britain can only be a catalytic breath of fresh air. Look at Europe. In Germany, techno has provided a cultural bridge between East and West, male and female - witness Berlin's Love Parade - whereas one of the reasons why techno is forever being pronounced dead or dying in this country is that here it's all but ghettoised itself, into a predominantly white, male art form. 
Welcome to the Boys Club? Hopefully not for much longer.