articles
May Day May Day
By Eileen Condon

,

10 July 2000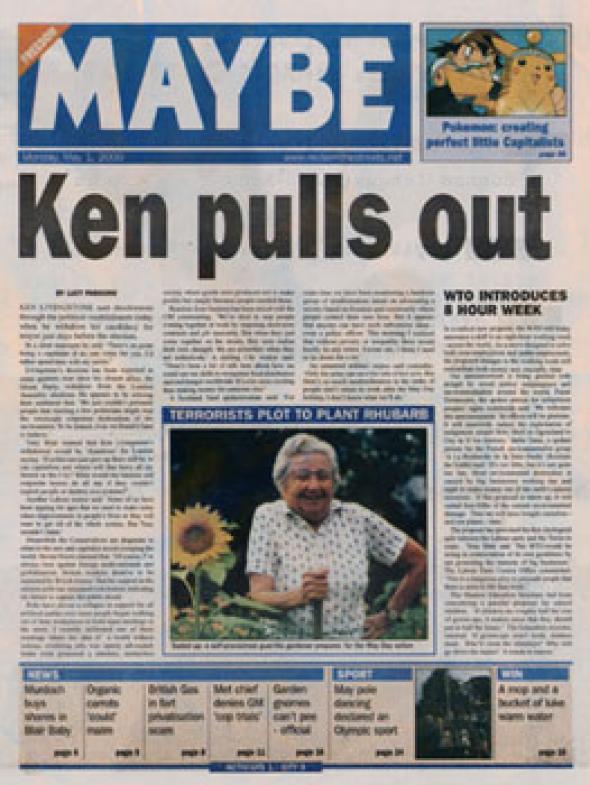 London's May day was fertile, anti-capitalist fun for all the family. Until there was a fight and things turned nasty. And a leader was nowhere to be seen. Eileen Condon on 101 ways to Reclaim The Streets.
In what must seem like an unbelievable resurrection to those in the West who declared street protest defunct, it has resurfaced as a widespread and regular phenomenon. After a period of systematic marginalisation, new forms of protest are gaining serious currency in mainstream politics and media under the recurrent theme of a 'carnival' against global capitalism. Harnessing all niches of modern media and full wardrobe facilities for their symbolic resonance, the protest movement has rediscovered the power of performance.
Despite the 'need for dialogue' campaigns of multinationals (epitomised by recent statements from Monsanto, Shell and McDonald's calling for constructive exchange with their critics), this political influence is not testament to a new sensitivity on the part of the establishment. The underlying success of recent protests is attributable mainly to the manner in which a roster of loose-knit but broadly sympathetic political groups have forged a new type of alliance. Under the aegis of a networked protest 'against global capitalism', they have targeted the institutions viewed as its most pernicious instruments — the IMF, World Bank, WTO, etc. The global remit of these organisations, and the reach of the corporations cast as their only real beneficiaries, has ensured the formation of a broad oppositional coalition that can link groups as diverse as US Teamsters and Earth First, students, anti-road protestors and anarchist groups. As the shareware manifesto of 'J18', last June's large-scale networked protest, stated: 'Resistance is as transnational as capital'.
As the frequency of these events increases, a rush to homogenise and historicise has occurred: J18 (occasion: G8 summit, Frankfurt, June 30,1999), 'N30' (occasion: WTO meeting, Seattle, November 30, 1999) and 'A16' (occasion: World Bank and IMF meetings, Washington DC, April 16, 2000) are now routinely placed in a sort of analytical string of pearls. As a closely connected series, they can be effectively employed — by both protest organisers and the police — as models with which to think through issues of organisation, mediation and security. The meaning of these 'pearls' is as pliant to the strategies deployed by the various police forces as it is to the historical abstractions and political posturing of the protestors ('luddites — Reclaim The Streets').
London's recent May Day celebration is a case in point. To all intents and purposes the Reclaim The Streets performance held on Parliament Square conformed to the non-programme and non-ideology of J18, N30 and A16. However, 'Guerrilla Gardening' (an RTS slogan erroneously used by the media to name the 'mass action') lacked a singular contemporary catalyst symbolic of the 'Washington Consensus' (free market determinism). Instead of protesting against capitalism's crude stand-ins, RTS, the self-styled front '(dis)organisation', chose to celebrate holistic, non-alienated lifestyles of the urban realm under the new banner 'Resistance is fertile'. In equal measure, this was to be a 21st century homage to a pre-modern mythos (May Day) and a modern collectivism (international Labour day), paid in the bright colours of a Situationist carnivalesque.
But the events in Parliament Square can also be seen within the broader counter coordinates of a resurgent and politically reductive form of nationalism. In the face of the socio-economic fall-out of globalisation, the British government and its 'opposition' are reaching for some tried and tested political formulas.
'Guerrilla Gardening' occurred at a watershed moment for New Labour. May 1 was the third anniversary of Labour's landslide victory in 1997; the debacle of an unwanted mayoral candidate being elected in London loomed (May 4), as did disappointing results in the regional elections and Romsey by-election and a disastrous end to the BMW/Rover negotiations in Longbridge, which threatened thousands of jobs and Labour's questionable reputation as a staunch supporter of industry. Adding insult to injury, in a show of Conservative opportunism, Anne Widdicombe and William Hague were making vociferous xenophobic attacks on Labour's 'soft touch' asylum and immigration policies.
It is an understatement to say that New Labour is sensitive to public opinion: it is focus-group and opinion poll obsessed. This tsunami of negativity — itself not extraordinary for a government near the end of its first term — called for a firm stance and a reiteration of its core values. May Day provided the occasion: an event ideologically and structurally malleable enough to represent a win-win opportunity. Showcasing the tolerance in Jack Straw's 'zero tolerance' (digging up Parliament Square was permitted and graffiti was allowed on Whitehall) as well as the subsequent police clampdown when the so-called single radical element violated its predictable target (McDonald's), the government deftly choreographed pro free speech postures with those defending British national identity and security. Neither the liberal nor conservative ends of the political spectrum were to be left wanting. Tony's catch-all outrage was widely quoted the next day: "The people responsible...are an absolute disgrace. Their actions have nothing to do with convictions or beliefs...To deface the Cenotaph...is simply beneath contempt. It is only because of the bravery and courage of our war dead that these idiots can live in a free country at all." The formula is clear: free market values = freedom = Britain.
Cultural War veteran Reclaim the Streets did little to avert this: organiser or disorganiser, by making the seat of government the main theatre of operations, it allowed Labour's nervous nationalism, disguised as a defense of Western democracy, to eclipse its anti-capitalist cause. In anticipation of May Day, financial institutions had criticised the Metropolitan Police's handling of J18, which led to 101 arrests and millions of pounds of damage in the Square Mile, and forewarned of further dangers to London's reputation as a financial centre. By their own admission, the police had been wrongfooted by J18's 'starburst' tactics (see Mute14). Determined not to allow a repeat performance on May Day, they staged their biggest security operation for thirty years.
In the aftermath of J18, large sections of the media managed to build RTS into a quasi-official front organisation. On this occasion it performed that role enthusiastically from the outset. It's a curious stance for a self-declared Situationist entity. Naturally, the media and hordes of observers ignored the RTS call for a 'no spectators' event. As self-styled performance group and front organisation with easy access to the press, it missed a critical opportunity to juxtapose conflicting paradigms of freedom and 'rights'.
In abiding by free market determinism — even the 'soft' type that Labour has — national governments protect the illusion of democracy but waive their power to regulate against the excesses of global capitalism. While they wag their fingers at Haider's Freedom party's xenophobia and racism, British 'social democrats' make full concessions to, and even use of it on their home turf. While they regulate for easier access for high-skilled tech workers, they rely on thousands of Eastern European labourers to toil on their farms illegally, and draft Draconian Immigration and Asylum Bills. RTS does not believe in speeches, leaders, representative politics. But on May Day its oddly centralised carnival triggered a paradoxical slide — away from a confounding atomised protest under one banner, towards a locatable, better containable core, under none.
Eileen Condon