articles
Liverpool − Culture of Capital
By Leo Singer and Clara Paillard

,

30 July 2008
 Reporting on the conference Capital, Culture and Power in Liverpool, Leo Singer and Clara Paillard crash the regeneration party and pose some difficult questions for its hosts
- Stuck in its glare we lose sight of structure
Roy Coleman speaking of Liverpool's urban patriotism
For three days in July, Liverpool University and Liverpool John Moores University hosted a critical conference about urban regeneration in Liverpool. Both its size and the high proportion of activists present were unusual for an academic conference. Of 155 participants nearly half were non-academics: community activists, community workers, artists and working class activists.
The conference was organised by the European Group for the Study of Deviance and Social Control, an association of radical sociologists and criminologists. In the middle of Liverpool´s year as European Capital of Culture, the organisers decided to devote much of the conference programme to dissenting voices.
The city has recently been submerged under an avalanche of discourse dealing with our everyday lives. The 'creative industries' (including the art house cinema, art galleries, and local media) have been especially active in the field of ideological production. They have been commissioned to deliver various cross-class messages to the city residents. FACT (Foundation for Art and Creative Technology) and Radio BBC Merseyside were asking questions such as: Where are 'we' going to? Who are 'we' ? Are 'we' more free than 'we' think? Where are the boundaries of 'our' bodies? What is the identity of this city?, etc. Discourses celebrating the new, post-industrial and cosmopolitan 'community' subtly sweep away the outdated Boys From The Black Stuff-like traditions and any sources of identity coming from the working class world.
A number of readily available and servile 'creatives' ensure that the ideological production of the ruling class is sold to traditionally suspicious Scousers in a non-intrusive and 'cool' way. Various dialogical, participatory, experiential platforms, venues and projects have been developed to achieve this task.
Mutant Patriotism
One example of how cynical inhabitants are turned into participants in the year-long cultural party is the Super Lamb Banana phenomenon. The original work by the Japanese artist Taro Chiezo, commissioned for the Art Transpennine Exhibition in 1998, was conceived as a protest against genetically modified food. The Super Lamb Banana is, as the name suggests, a heroic composite of lamb and banana, a reference to Liverpool's history of exporting lamb and importing bananas. The City of Culture grasped the potential of this piece of public art and turned it into a symbol of Liverpudlian 'wackiness' , thus packaging all sorts of stereotypes about Scousers into a much-celebrated commodity. The Liverpool Echo is exemplary in whipping up this kind of hysteria. One of the top articles recently reported on a group of local scouts who within 24 hours managed to visit all 200-plus Lamb Banana statues scattered over the city! As the scout leader put it:
We've got photographs of every Superlambanana we visited and we're now trying to register the attempt with the Guinness Book of Records and hope it will be made into an official record.
And by the way, the Echo's article makes sure that every reader gets the message that this Super Lamb Banana hunt was sponsored by the companies Honda, Barclays, BBA Aviation and the city's Comet stores...
Experiencing the Lamb Banana hysteria, one immediately understands the concept of urban patriotism, introduced by Roy Coleman during his keynote speech at the conference. He defined urban patriotism as a strategy of rule for regeneration managers that appears apolitical, banal and funny, thus mystifying class relations. Like all forms of patriotism this kind is narrow-minded, focused on simple images, emotive, celebratory in nature and lacking in reasoning. It is organised around a kind of pride and a 'love' of consumption, 'heritage' , iconic buildings or objects like the Lamb Bananas, etc. And like the national variety, urban patriotism glosses over and deflects attention from the less glamorous aspects of regeneration, including class division, continuing poverty and marginalisation of communities. Coleman continues: 'It involves universities, political decision-making, marketing, retail sector, policing' . Despite the bombastic and self-confident language employed in this strategy, it is a sign of both the incapacity to face up to reality and 'a means of defence against those deemed to undermine "the brand" or the strategy' .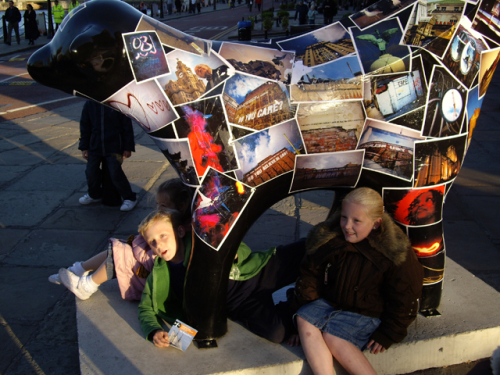 Image: One of the many miniature replicas of Taro Chiezo's Super Lamb Banana
Bubble economics
Private developers and speculators have been playing the regeneration game for years in Liverpool. But it is important not to lose sight of the fact that the bulk of city regeneration has been financed from public sources (EU Objectives 1 and 2, governmental subsidies, New Deal for Communities, etc.) The major private investment is the £1 billion Liverpool One Project, probably the largest single private development in Europe funded by big retail money. This 42.5 acre shopping site in the heart of the city - policed by private security and omnipresent CCTV cameras - was described as a 'retail republic' in a Guardian article from May this year.
Stuart Wilks-Heeg's (University of Liverpool) myth-busting analysis showed that the growth of the city in the last 10 years was not driven by the new economy but rather by the expansion of the public sector (65 percent net job growth). Since 1997, 10,000 manufacturing jobs were lost and 14,000 new jobs in the service economy (call centres) were created. Real unemployment is still around 15-25 percent and the level of skills among workers remains very low. The vulnerability of capital's composition in Liverpool lies in its reliance on public subsidy and cheap credit to sustain the local housing market and construction. So, with 35 percent of city centre apartments vacant even before the credit crunch and the new Liverpool One opening just at the moment that a sharp drop of consumer spending is expected, where is the city heading?
Cue the Quangos
Liverpool has become the theatre for the worst comedy of the century, with luxury flats germinating like weeds and shopping malls flourishing on any land that's grab-able. But behind the private sector's iconic absurdities hide a myriad of semi-public agencies, populating the local political space at great speed. One after another they usurp the stage of local democracy, pushing out elected representatives and local citizens. This new theatrical troop are faithful to the Thatcherite script, albeit in a version reanimated by New Labour and its prophets.
The first quango to appear in Liverpool was the Merseyside Development Corporation (MDC), established after the Toxteth uprising in 1981. The MDC was put in charge of regenerating the Albert Dock, the so-called 'jewel in the crown' of Liverpool's 'renaissance' . The Blair era produced new characters to enrich the local 'quangocracy' with the North West Development Agency (NWDA) set up to help create an environment in which businesses in the region could flourish. This was soon followed by its offspring, Liverpool Vision, an urban regeneration company created to transform the city into one of the UK's leading business destinations by means of an ambitious and far-reaching regeneration programme. Kensington Regeneration, a quango set up to invest in the working class area of Kensington, was funded by the New Deal for Communities. This programme was launched in 1998 as a key part of the Government's strategy for 'regeneration in the 39 most deprived areas across the country' . The package for Liverpool is £62 million. And last but not least the Housing Market Renewal Initiative (HMRI) arrived to deliver the final blow to local inhabitants in other neighbourhoods. Today the stage is crowded with these quangos, disguised as community initiatives and local projects.
But what has been done for the people of Liverpool? Gentrifying the inner city with bulldozers? Redesigning entire communities? Spending millions on 'culture' to allow the high-flyers of the hospitality industry to enter the city? Selling public land to property developers? The North West Development Agency (NWDA) subsidises private profit by handing huge sums of money to speculators. In Kensington, entire Victorian streets are being demolished to allow land assembly to operate in favour of developers.1 People are being evicted without discrimination from both social and private housing by the New Deal. In the city centre, Liverpool Vision has sold the waterfront to any developers able to build over twelve storeys and has made helping the private sector fill its pockets a priority, just in time for the present 'crisis' .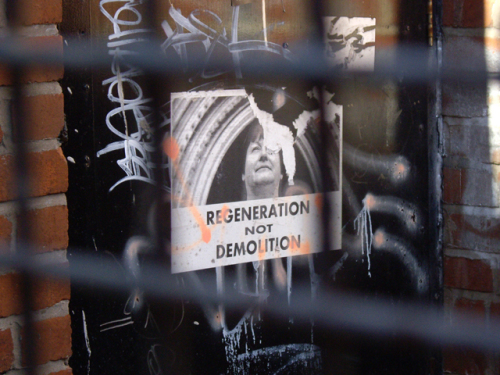 Image: Poster featuring OAP Elizabeth Pascoe who successfully claimed that a compulsory purchase order forcing her to leave her home in Adderley Street breached her human rights, thus delaying an English Partnership project to demolish 500 homes in the area to make way for a widened road into Liverpool city centre
Spoiling the Party
Generally, urban regeneration is led by a forced and false consensus rather than public debate, to the point where there is little discernible difference between marketing and public consultation processes. A key issue at the conference was how policy-driven research is incorporating academics, promoting the selective adoption of academic arguments and the misuse of public consultation.
A prime example remains the saga of the 'Fourth Grace' . A 'tall iconic building capable of attracting more visitors to the city and based on Liverpool's culture and history' was supposed to complement the famous Three Graces - industrial skyscrapers erected to celebrate the city's boom a hundred years ago. A public exhibition was held in 2002 to give the public a chance to have their say about the design. Four projects were presented in a catwalk fashion with models and 3D fly-through visualisations. Visitors were asked to 'vote' for their preferred scheme. When Liverpool Vision's decision was announced, the whole city was stunned: they had chosen the least popular building to be built on the waterfront. However, after two years of public spending to promote it, the project collapsed in 2004.
In this concert of demagogy and commodification, activist voices can rarely be heard. Fortunately, they could at the conference. Nerve magazine, promoting grassroots culture and organising in Merseyside, hosted a session where residents gave their accounts of the hidden face of the Capital of Culture mega-party.
Hazel and Stella from the Granby Triangle testified to the 'lie of consultation' that led to the decision to demolish hundreds of homes in their area:
All what they could ask was 'What sort of houses do you want?' and we kept saying 'the ones we are in now', they never listened.
Their homes are earmarked for a 'regeneration' scheme that will demolish perfectly good Victorian and Georgian houses to make way for new developments that are unlikely to last more than half a century.
Nina Edge, who lives in the 'Welsh Streets' area in Toxteth, told the story of her community of South Liverpool:
On one side of the road, the houses are branded 'Victorian 5-bed houses with view on Princes Park' and are valued at £350,000 and on the other side, they are 'derelict dwellings unfit for habitation' and owners are offered £60,000 for them, how is that?
Elisabeth Pascoe, a campaigner from Edge Lane, is still fighting tooth and nail against the Compulsory Purchase Order (CPO) imposed on her house and those of hundreds of other people in her community. The use of CPOs (based on the 1993 Housing and Urban Development Act) means mobilising the State's brutal powers - originally designed to provide for the re-use of brownfield areas - against a poor community. Pascoe warns that this sets an important precedent relevant to residents in housing areas all over the country.
People in the affected communities have been put under stress and troubling rates of mortality have been observed in these areas (33 people in Edge Lane and 9 in the Welsh Streets). Rather than helping local people get a better place to live, the master planners have bulldozed and divided local neighbourhoods. But local people are fighting back and by the end of the conference a support network had been set up bringing together local residents and researchers for the first time.
While it is true that local people have been organising against the demolition of homes, and to protect local heritage and parks, the opposition has been fragmented, often focusing on individual issues rather than linking together. The strong presence of activists and working class people at the conference would probably not have been possible without the effort and authority of the Nerve. During a period marked by the relative absence of visible class struggles in this dormant, formerly radical city, the magazine has served as a link between area-based groups, un-organised left-wing individuals, artists and academics. It is a rallying point for people with experience of different political generations and movements: the mass workers' struggles in the 1970s, the unemployed youth and squatters' movement in the 1980s, and a more diverse spectrum of social struggles (including anti-regeneration campaigns) from the 1990s on.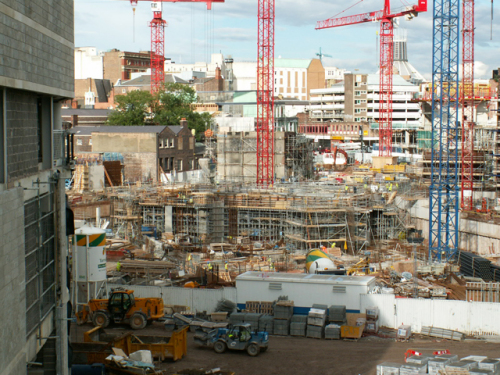 Image: Construction of Liverpool One shopping and leisure district. One of these cranes, the property of Norfolk based Falcon Crane Hire company, collapsed in January 2007, killing a Polish worker, Zbigniew Swirzinski. Since he was self-employed and working without a contract his family hasn't received any compensation. Families Against Corporate Killers (FACK) are demanding a more just investigation. Meanwhile, the same type of crane remains in use
The Role of the University Revisited
The conference was an important statement against the self-congratulatory City of Culture rhetoric. It is a paradox that a radical conference was hosted by two universities which are key partners in Liverpool Vision as well as owners and developers of important properties in the city centre. The universities serve as an informal think tank for the City of Culture project. Only a few metres from the conference rooms, a team of sociologists commissioned by the City Council and Liverpool Culture Company were working on their research on regeneration. This project, 'Impacts 08' , has had little impact on the regeneration debate other than to support its marketing strategy.
We pointed out this split among academics to sociologist David Whyte, one of the conference organisers, who outlined a complex picture of the role of universities today. He argued that they are neither autonomous spaces of open free discussion nor uniform knowledge factories producing analysis for the State or private sector companies. They are rather terrains of constant struggle where the attachment to academic freedom can still provide cover for radical research. For Whyte, academics often exaggerate the oppressiveness of university commodification in order to justify their passivity and pursuit of government grants. Neoliberalism does exert disciplining pressure but university workers still can organise against that:
The fact that critical work emerges from university ground is not a function of the institution itself. It is always a result of struggles that create the space for this work.
Some of the organisers conceived the conference as an opportunity to build up links with working class and social movements. It is questionable to what extent this was achieved. In November 2008 Liverpool's new BT Convention Centre will be the venue for a conference on the city's regeneration entitled 'On the Waterfront' . Sponsored by the city, the quangos and (surprisingly?) Liverpool University, anyone who wants to get into this event will have to pay £250. Of course no potential troublemaker has been invited to this 'intellectual' celebration of policy makers, developers, consultants and other urban patriots. Compared to this event, the Conference on Capital, Culture and Power stands out as a far more democratic enterprise. No entry fees, free food and drinks at a party in the university atrium, and friendly debates regardless of 'who is who' .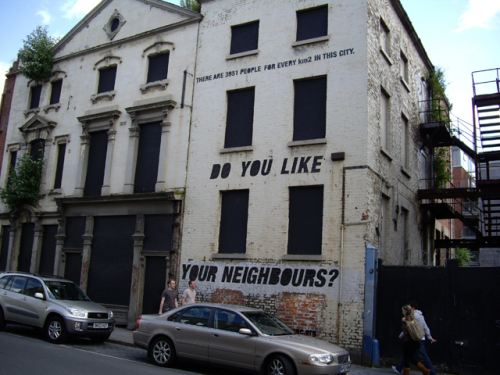 Image: Stockholm artists collective A-APE' s interventions on walls in the city centre. Project commissioned by the Liverpool Culture Company as part of European Capital of Culture 2008 and managed by Liverpool Biennial
On the other hand, the conference 'on Capital' did not really deepen our understanding of how workers, to whom the academics want to relate, produce capital in their everyday lives. Some of the organisers - Gramscian Marxist sociologists - research conditions of work on construction sites in Liverpool city centre and support campaigning families of workers killed at work. But their serious activity can't replace our research into other related questions. What is the class composition of the new industries or 'upgraded' areas? What strategies do call centre, restaurant, or shop workers use to cope with the demands of their bosses or clients? Are there any experiences of or possibilities for struggle here? One can dismiss these questions claiming that 'the conference wasn't about that.' But this is exactly the problem.
New Labour's urban policy project is about delivery of public resources to private projects. To sustain this sophisticated managerial operation the State needs to generate a highly complex web of governance mechanisms. It is exactly here that the plethora of quangos and 'community empowerment' programmes with their own circular languages are located. It seems that most critical academic research follows this moving target, shifting attention away from something more fundamental - the transformation of work in a 'booming' city and how this feeds the drive of capital.
If the academics who participated in the conference want to demonstrate a commitment to the working class, they should spend less time confronting New Labour's urban policies, various local hegemonies and quangos and instead turn toward the everyday processes of the constitution of work. Because, while some of us may become victims of urban regeneration or crime in our neighbourhoods, all of us have to sell our labour power in one form or another.
Leo Singer is a community worker and a drop in the new East European migrant 'wave' to the UK. Together with Clara Paillard, as part of a larger research group, he is researching the class composition of the hospitality sector in Liverpool's city centre
Clara Paillard <c.paillard AT liv.ac.uk> is a French political activist and member of the Campaign for a New Workers' Party. She is completing her PhD on urban regeneration and democracy at University of Liverpool. Clara coordinates an Alternative Programme to the Capital of Culture '08. More info at: www.myspace.com/cityofculture08
Info
Capital, Culture, Power: Criminalisation and Resistance was hosted by the University of Liverpool and Liverpool John Moores University on behalf of the British-Irish Section of the European Group for the Study of Deviance and Social Control, 2-4 July, 2008
Footnote
1 Land assembly is a term used in planning to explain the activity of planners and/or professionals who seek to bring together small parcels of land (private and/or public) to create a larger parcel. This is an exercise often used to provide more space for large-scale urban projects (public or private). Sometimes the public sector can seek land assembly to build public facilities but at the moment it merely provides land to housing developers to create large private housing developments for maximum profit.