articles
Interview with Roman Vasseur
By Josephine Berry Slater & Anthony Iles

,

25 November 2009
Artist Roman Vasseur was appointed 'Lead Artist' to Harlow, a post-war New Town in Essex, in the build up to the town's second phase of regeneration. Josephine Berry Slater and Anthony Iles interviewed the artist about his work there and his refinement of the 'aesthetics of bureaucracy'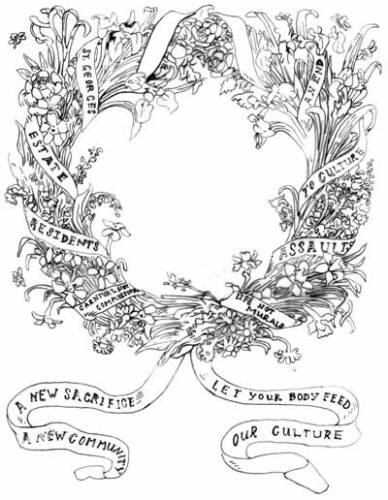 Image: Roman Vasseur, 'Wreath for Sacrificed Artist' from Murder as a Fine Art (the Ritualised Death of the International Mural Artist), 2004
Do you make public art or art about public art?
I make art that engages with a notion of the public which in itself is material.
In what ways have commissioning agencies set the conditions for your work in public space?
They provide the form of introduction.
What aspects of your work depend upon regeneration projects and agencies?
Very few – I am not a 'professional' art and regeneration consultant. I show in galleries and other alternative venues and sites according to the needs of each project. That is the strength of the appointment. However the work is informed and contingent on the work of regeneration in the context of a place born from the mind of a master-planner and made manifest by development corporation in the post war period. The vision was contingent on images and objects that we agree to call 'Art'.
Do you consider the differing roles that constitute your practice as whole or discrete parts – e.g. curator, educator, artist and so on?
Discrete parts, each informed by the artwork.
What is your relationship to earlier work about place and site, e.g. minimalism and Land Art?
Robert Smithson is still a reference, in particular the non-sites, Asphalt Rundown, Partially Buried Woodshed and the writings on monuments and entropy. I'd like to have seen Ballard and Smithson do a panel discussion on the topic of site (non-site) specificity. Richard Prince could have been there to. Or just lied about being there. Smithson saw in sci-fi an intimation of contemporary space that was present, objective and frozen and in doing so, sought ways of occupying those spaces. He also recognised some artists love of horror movies and how this provided artists living in the city with a spectacle of nature and the organic that made trips to the countryside redundant. It was good to be reminded recently of his boycott of Documenta 5 and published letter 'Culture of Confinement'. Both of his actions polarised the schism between an artist-led scene and a curator-led professionalisation of the international art scene.
What are your thoughts on the role of critique in legitimating cultural institutions, agencies and the culture industry in general?
Answering outside of the Harlow project and more generally – this arrangement that you intimate is more active in major urban centres and is derived from the relationships in those centres (e.g. Bloombergs in London and New York). This is less so in the regions. Notions of the avant garde and its ensuing risk taking, openness and emphasis on dialogue, an activated and participatory audience are all factors that have led to neo-conceptual practices having a compatible symmetry with the growth of knowledge economies and the culture industry in recent years. But it is the very 'openness' of these practices that becomes their sole content. One can envisage a future where artists, or individuals with an extensive training in the visual arts and art history will be slowly moved out of this new economy in favour of 'creatives' able to privilege deliverability and consultation over other concerns.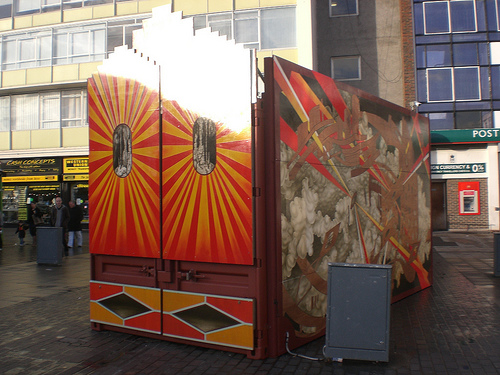 Image: Roman Vasseur & Diann Bauer, Palace of Utopias, temporary gallery located in Harlow's Market Square, 2008. Photograph by Richard Davies, courtesy of Commissions East
Does public art occupy a specific position or fulfil a particular set of expectations in the UK differing to other places/contexts and traditions?
A forthcoming feature by writer and curator Matt Poole in the Art & Architecture Journal about the temporary projects in Harlow begins by suggesting that recent public art in the UK 'occupies polar opposite forms of either monumental statuary or "dialogical art" practices'. Which is in turn a result of a society unable to 'resolve contradictions inherent in a culture indebted and shackled as Western Europeans to both a feudal and (never quite fully) modern heritage'. I think the interesting thing about Harlow is that its inception is so wholly reliant on images of community, democracy and moments of the individuated experience of democracy that it suggests, that this production of images will persist as architecture.
What is the role of found materials in your work and how does this pertain to the sites you work with and its history? (Thinking of the sermon) 'Let us pray for those now residing in the designated area...'
They are ready-mades that once re-presented and re-engage the velocity of their inception not as heritage but as a constant or ur-principle. This form of found material indicated a form of ancient modernism/ancient technology that I wanted to disinter.
Your work approaches the murky zone of the spiritual, mystical and abject (bodily) in parallel with an apparent critique of an enlightenment model of time and progress... the blind spot of the disciplines of planning, architecture, urbanism.
I read that Bataille once planned to write a book on the origins of democracy in carnival. If by re-presenting a town's Apollonian ambitions as having Dionysian origins, a festival or carnival that would have originally taken place outside of the city walls, making claims on democracy through a temporary inversion of laws, then these works look to unpack those origins as present and material, and not as revelatory facts.
What is a community? Can public art build community?
Public art cannot build community. People build communities, but often in response to and borne along by representations of community. However there are communities of artists and communities of people that look at art. Representations of community are the concern of many artists whilst some practices are seen and presented as both examples of plurality and individuated values. These processes are not guarantors of 'good' politics.
What are your reasons for becoming involved with Essex County Council's Genius Loci project and the regeneration agencies that support it? And did you have any specific relationship with Harlow before being chosen as its 'Lead Artist'?
The ECC project is an ECC project that works with partners across the county. Much of their work is funded by a common fund derived from a percent for art policy applied to capital schemes taking place in Essex. I was invited to tender for the post by a commissioning agency, Commissions East, who had been introduced to the work by artist Bob & Roberta Smith during his time as a Lead Artist for a similar project in the Thames Gateway. They recognised that the project would be of interest to me. I'm not a career public artist but I do have an interest in the aesthetics of bureaucracy, territory and real estate, planning, architecture and the role of culture and philosophy in those processes; both historically and now. It was advertised as being the first time that an artist would work on a committee selecting a developer partner. But it was the town that was the hook. I'd visited Harlow in the eighties and been taken to visit the wife of the master-planner and chief architect for the New Town project Frederick Gibberd. The house is located on the periphery of the town. I'd been struck by the relationship of the town's public spaces with those of the master-planners private spaces of reflection and modelling. Gibberd was also responsible for amongst other things designing Liverpool's Catholic Cathedral, Regents Park Mosque and parts of Heathrow Airport, where my great uncle used to work in the control tower. Ballard who used to drink at the Hilton hotel at Heathrow commented before his death that Heathrow existed as the last vestiges of the Festival of Britain. A remark that underlines the quasi magical role of technology in sustaining the cohesion of that arcadian vision of Britain. Of course Harlow was one of the Festival of Britain's nationwide exhibits having as it did the first residential tower block, The Lawns. Gibberd's house with its mix of modernism, English pastoralism, expansive picturesque gardens and classical remnants was reminiscent of an observation space, that's panoptic in nature. My memory confused the models in the house with the town spaces and I'd falsely thought that you could see the town from the house which is not the case. Harlow's distinction is that it employed and embodied culture and in particular sculpture to make an argument for the creation of a settlement away from the metropolis but referencing the Tuscan city-state model. This conflation of Greco-Roman and Judeo-Christian modernism amplified in the house was something that has stayed with me since my visit and needed unpacking. There was also the sense that something was worth retrieving from this experiment.
What do you think about the model of public art and its negotiation of community embraced in Harlow's first phase of development?
The delivery of public art during Harlow's invention was celebrated by individuals such as critic and broadcaster Kenneth Clark, who stated at the town's unveiling of a Henry Moore sculpture 'on behalf of all those who believed in civilization – (I hail the town ) for maintaining the great tradition of urban civilization in making a work of art a focal centre of a new town.' The approach to commissioning was to degrees aristocratic and singular in vision, paralleling the approach to designing and delivering the town. The art was one aspect of a set of architectures for a new settlement and provided structures around which 'pioneers' could commune and commit to the project. Which they did. Those works are now objects and not events.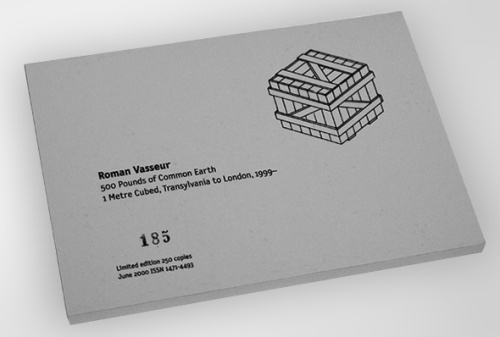 Image: Roman Vasseur, 500 Pounds of Common Earth, a chronicle of the journey of earth excavated from Transylvania and transported to London, 2000, courtesy of Vargas Organisation
What do you consider progressive and what do you consider conservative about Gibberd's plans for the New Town?
I think I have outlined the progressive areas of the project elsewhere in my answers. There is a degree of stratification in the design that is not mirrored some 20 years on, in Milton Keynes for example. Milton Keynes took its cues from American Urban theorist Melvin M. Webber and planned deregulated areas within a grid; something more akin to the ideas of Archigram or aspects of Constant Niewenhuys' New Babylon project. Webber saw the growth of telecommunications and car ownership as enabling 'community without propinquity' and the old idea of a city as a series of concentric clusters as outdated. Gibberd did not anticipate this liberalisation of both communication and travel and his vision is constrained by a more static, classical Apollonian notion of the city where individuals and communities are constants within that equation. However, there are moments in the town design where this Apollonian grid is transposed by something more Dionysian. The pastoral and less mobile model for town design may now have a greater relevance. The town was born at the moment when CIAM, for example, questioned Corbusier's approach to planning and in its design questioned the continental approach to urban planning.
To what extent is Harlow a microcosm of contemporary urban experience and to what extent is it an exception?
It was the first new town and initiated many things now considered the norm. The first health centres, the first residential tower-block, one of the earliest open air shopping precincts and then shopping mall, the largest and earliest network of cycle paths, a priority on green spaces integrated with low rise mixed housing types that provided a healthy alternative to the chaotic mega-city that London was feared of becoming both before and after the war. What has happened to the town over the last 20-25 years is fairly typical of a great many towns in the UK. The relative newness of the town and the fact that it was not born out of trade or a specific industry has meant that it has suffered a little more than other towns due to those societal changes. That it retains some of the exotic singularity of Gibberd's original quasi-pastoral vision may make it an exception.
How have the New Town artist and art projects negotiated between the desires of the community and those of the developers? Do you see yourselves as mediators? To whom do you owe loyalty?
The loyalty of the artists was to the work. After that follows discussion and processes of critique. The question suggests an instrumental function for art which I'd try to avoid. However, politics is in the business of co-opting initiatives within its field of activity in the same way that this magazine gains weight through the inclusion of certain writers in its pages that in turn becomes a form of association.
How do you explain the recent explosion of public art in the UK? Will it continue?
We've witnessed the largest amount of building since the early '60s and a significant proportion of that has been new cultural, quasi-civic, health amenities and public realm. This has meant a growth for example in the number of mid-scale architectural practices. The same thing occurred in the early '60s with the growth of design-build companies in parallel with the emergence of the landowning and development companies such as Land Securities for example. That expansion was in part due to Macmillan's tax breaks on development and the largest ever programme of public housing provision. Art has been one constituent part of this recent version of the Macmillan boom years that saw development corporations growing both consultancies and building companies through a politics of pragmatics set on course to rebuild post-war Britain. A degree of public art is outside of the realms of art, serving as it does other functions. Should you be concerned about that? That sounds like a policing function looking for an art of national identity.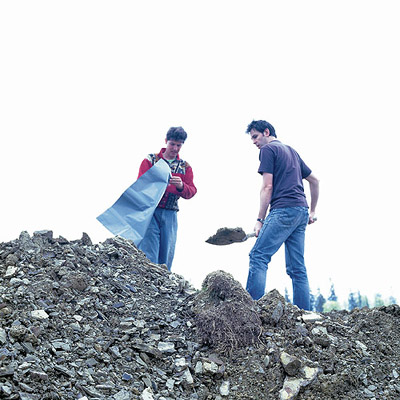 Image: Roman Vasseur, 500 Pounds of Common Earth, the excavation site at Borgo Pass, Transylvania, 1999, Photograph by Annabel Frearson, courtesy of Vargas Organisation
Do you see yourself as a public artist? Has your self-perception changed over the course of the New Town project?
I don't see myself as a public artist but I understand myself as public. We are all public now.
How possible is it for artists to pursue progressive, critical or subversive agendas within the context of urban regeneration?
Why would a politics of opposition wish to function within an economy of urban regeneration if it is opposed to regeneration wholesale? Surely its function is to exist outside of it... if it's to be oppositional? If this is a question about legitimate and illegitimate publics then I think it leads on to a question of whether spaces exist for opposition to take place or whether exteriority is impossible due to the nature of late capitalism. Artists in my experience are not willing to wait for revolutionary change in order to express their sensuous beings and so are disloyal to communities of politics. Debord was right to expel them. They're terrible people.
How does public art take hold of space now as compared to the 1960s?
That you are now talking about it as a genre is perhaps the answer to your own question.