articles
I'm Vicki Bennett
By Emily Wiczek

,

10 September 2001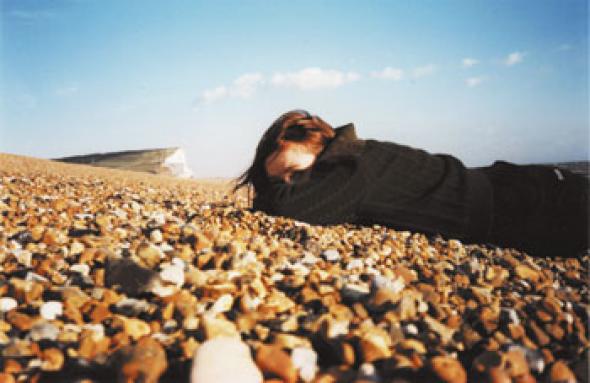 Emily Wiczek wonders what really makes People Like Us laugh
'If there's any tradition that I'm really proud of, and that I'd love to be interpreted as being part of, it would be one of humour because humour is a form of surrealism and it transcends, and heals, and crosses languages.'
Vicki Bennett, this self-proclaimed surrealist who carries the People Like Us alias on her lonesome, is happiest in the world of cultural obscurities – where everything is up for grabs. Her live gigs, collaged video and DJ sets draw on marginal musics, absurd hybrids and sounds from the forgotten layers of 'insignificant' cultural histories. Listening to the Archers fold into '60s electronica, or Throbbing Gristle mix with polka and German Schlager, you start to wonder where Bennett herself sits in this disparate, referential world.
Linked only by the People Like Us label under which they're produced, Bennett's sources appear limitless. I ask her if her editing decisions are subject to any parameters: 'It depends on what I'm working with. I tend to work with spoken word as a sound source because I work with nonsense. When I work with spoken word I expand upon that nonsense. Repetition is like a mantra: just like with music, if you repeat things you can alter people's state of mind. I like to do that with nonsense because I'm a surrealist.'
So, if People Like Us are altering our state of mind, is there a musical mission?
'I don't believe in banging a drum about anything. I used to, but I've given up now. The best way to describe what I do is slapstick.' Bennett neither mocks nor criticises her sources, preferring to pay homage to things that make her laugh: 'I never work with things I hate, because there's too much self-destruction going on that counteracts your creation as it is.'
Through repetition, loops, the retracing of thought and suspension of disbelief, Bennett lures us into a curious space where she can hold up a mirror to the world – 'a mirror I occasionally shake in front of people' – and laugh. Is this what healing is: being able to laugh at ourselves? If so, I wonder if Bennett will ever tire of the process – of searching, collating, editing and recontextualising found footage? Probably not: the follies and faux pas of recorded history will always exist (they've kept her going since the late '80s) and, set adrift in a sea of cultural blunders and plunders, who's to say we don't get a nice view? As Bennett says: 'No one's an island, and if they are then they'll probably be pretty boring.'
People Like Us [http://www.peoplelikeus.org]
Emily Wilczek <emilywilczek AT hotmail.com> is an artist, author, curator and musician. Current projects include the National Review of Live Art Platform in Hull and music collective Eye_Sound