articles
Harvest Time on the Server Farm (Reaping the Net's Body Politic)
By Roy Ascott, Sara Diamond, Geert Lovink and Pauline van Mourik Broekman

,

10 September 2000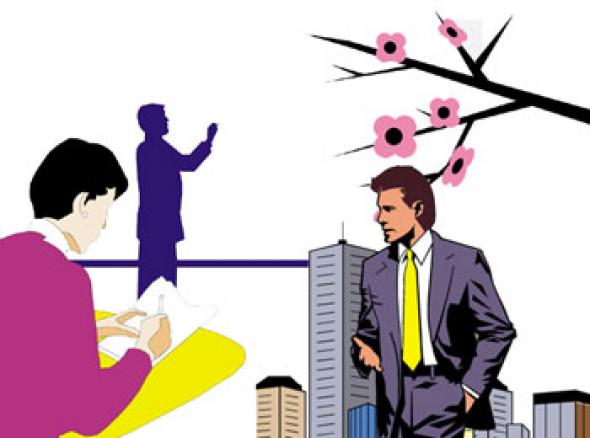 The 'Internet Revolution' is nearly a decade old. But what type of 'revolution' is it, and what type of revolutionaries are net users? The worlds of digital art and theory have gone round the houses on these questions; Pauline van Mourik Broekman caught up with three of their members - Sara Diamond, Roy Ascott and Geert Lovink - to get an update on the state of conflict
There is no anno domini for Internet time: its converging technologies and overlapping histories do not easily lend themselves to one linear story. 60s guru Marshall McLuhan called communication technologies the extensions of man; e-business bible Wired heralded the Internet as a revolutionary medium; influential sociologist Manuel Castells calls the political landscape it helped create 'the network society'. But, since the mid 1990s — the time of the Net's first 'big bang' — it was arguments over its social character that vitalised the net community. Fought everywhere from the media to the academy, zines, lists and conferences, these philosophical gang wars seem to have lost their ferocity (perhaps even their raison d'être) now the Net has been normalised. In the public imagination, extropians, hi-tech Buddhists and hackers — all of whom claimed the Net as quintessentially theirs — have been replaced by online shoppers, e-traders and dot com entrepreneurs. At the same time, metaphors from its heyday — of out-of-control hives and other biological systems — continue to permeate popular discourse; the new lexicon can accommodate 'global brains' and 'emergent orders' very well. So, what is the Net's body politic, roughly seven years into the Internet 'revolution'? Can we even speak of 'bodies' anymore? Pauline van Mourik Broekman chewed these issues over via email with three members of another Internet-bound tribe, the digital art community: Sara Diamond, artistic director (MVA) of the Banff Centre for the Arts, Roy Ascott, pioneering electronic artist and Geert Lovink, speculative media theorist.
PB: Whatever your point of view, one fact is inescapable — and that's the degree to which computerisation has penetrated biological research at every level. It's now impossible to posit a discrete natural or biological realm — if it ever was — with technology mediating every stage of scientific analysis. Despite the fundamental impact on the natural world that IT also causes, are these nevertheless just reiterations of very old questions about nature and nurture, nature and technology and nature and the production of value? Or do you think the emergence of 'bioinformatics' is symptomatic of something altogether different, a 'bioconsciousness' perhaps? And how would you describe the role the Internet has played in this change?
RA: 'Biological research' covers a vast field, with DNA and genetic engineering currently in the media spotlight. But neuroscience and the study of consciousness are equally significant. Indeed that is where the greatest challenge to science lies. We know almost nothing about consciousness, and yet that is finally what defines us as human beings and where the most significant transformations of self can take place.
Now, the Internet can be seen as an extension of mind, just as the book has been. However its structure is inherently non-linear and associative, in ways that are very similar to mental processes. These qualities enable thought to leak through boundaries with the effect of making minds in cyberspace more permeable. A kind of collective intelligence such as Pierre Lévy describes may emerge. Ultimately, this is all a question of language.
PB: Geert, do you also see this uncanny similarity between, and thus easy permeability of, one 'associative' system and another? Is the self, your self, being transformed by the Net?
GL: The Self, as I understand this psychoanalytic term, has no relation either to biology or to technology. It is formed within a very broad context of culture and civilisation and, individually, by early socialisation. I read Roy's work strictly in political terms, as a pre-Enlightenment romantic escape route for tired post-modern people, fed up with the world, the Internet, contemporary art and the young generation in general. These bio-centred metaphors for technology display a great eagerness to excise layers of society, power, race, gender, even business.
For me the Self is a somewhat tragic notion. The damage is already done — by growing up in this world which is, in essence, neither good nor bad. The question should be whether technology will function as armour or enhancement for the Self: will it help us to navigate or isolate ourselves from the world's complexities?
RA: It would be helpful if Geert were to address some of the first questions. Instead he chooses to make rather sullen assertions/assumptions about me, framed in the old language of sociology. The Internet, contemporary art and the current generation are central to the world view I espouse and fill me with the most exhilarating enthusiasm and optimism. Romantic? Yes! Pre-enlightenment? Well that covers a vast field of ideas and ideologies. Post-enlightenment? For sure. Escape route? Try portal.
In my view, it's not a matter of either/or (armour/enhancement; navigation/isolation) but both/and. Technology offers the means of (re-)constructing the self and the world. The contemporary artist can contribute to this perspective by showing, amongst other things, what transformations of the world and of oneself are imaginable and conceivable. The value of the Internet in these endeavours should not be underestimated.
GL: I agree with this analysis. I would never underestimate the Internet. It certainly changes our communication abilities, but I see the 'global brain' strictly as a metaphor. The same counts for the 'digital city' (a project in which I have been involved) and other urban metaphors: they help us to understand the new. But both will eventually become irrelevant and die out.
PB: Roughly seven years into the 'Internet Revolution' there seems to be a broad consensus that the Net has essentially become a corporate led and dominated environment — although many question the way this viewpoint romanticises and misconstrues its early history.
GL: The future of the Net is still open, at least on a conceptual level. On the other hand, I do think that a particular part of the Net is rapidly closing down. It is going to get harder for artists etc. to get their content to mass audiences. AOL, Microsoft and all the rest, from Bertelsmann to Murdoch owned media, and all those with major stakes in portals are spreading fear amongst content gatekeepers not to miss the boat. Strong pressure is being exerted by the mainstream to cater to its tastes. At the same time lots of opportunities are opening up on the (meta) level of software, peer-to-peer networks, open source initiatives, streaming media. I don't condemn the corporate take-over, it is a reality now — one which can be analysed and countered, perhaps even overruled and circumvented.
RA: Agreement again! It was ever so since the early years, always a conceptual challenge; the circumvention of imposed norms, countering corporate strategy, creating new models and metaphors — this has been the name of the game since we first started using networks over twenty years ago.
As a channel, the Internet can link minds, as an instrument it can enhance systems, as an environment iT can accommodate new kinds of community. Let's start from where we seem to agree: in itself the Net is nothing, can do nothing. But I think it is not too simplistic to suggest that it can be useful to human development from three points of view: as a channel, as an instrument, and as an environment. As a channel it can link minds, as an instrument it can enhance systems, as an environment it can accommodate new kinds of community. The degree to which this affects consciousness, biology and social organisation depends on its relative ubiquity, the subtlety of its interfaces and its information-bearing capacity; and above all perhaps its affordance of interactive and transformative process. After the 'seven years' that Pauline mentions the rate of progress is indeed disappointing.
SD: I have to say that I am far from writing off the Internet and the complex of networked communications as "essentially a corporate-led, corporate-dominated environment". There is such tremendous hybridity within the Internet for one thing. Secondly, we are at a moment of confrontation, where there is a struggle for power between groups and organisations over the nature and design of networked communications. Thirdly there is in fact, due to all of these processes, more access to the Internet as a space where struggles over consciousness, what is public, what is individual and what is collective can — and do — occur. Fourth — and this is a critical point — there is a promising collective praxis bridging activism, intervention, pastiche and new artistic forms: "Radical corporations in an era of corporations," as RtMark puts it.
Perhaps my final point in this list is that, with increased access, I see cultural praxis of a sophisticated nature emerging from aboriginal groups on the Internet (there is a major movement towards aboriginal Internet radio, for example). Life on the margin may not necessarily be about being a provocateur of activism or change.
Playing for what is international (rather than global), shared (rather than mass-culturally enforced), local and specific (and often the most resonant) is critical. And as Roy suggests, Internet culture is highly performative, and hence still allows for this play, invention and mobility — all of which are survival needs for the 21st century. In this sense, and without any reference to a utopian project, there is a dispersed potential for new types of identity formation. Groups use the Internet to remap local power — to create bridges within their urban spaces. Through these different pathways people make fundamentally different kinds of meanings from the same knowledge.
This also leads me to language: I am fascinated by the tension between the invention of words, reclamation of words and repurposing of words. The Net has of course been a location for rampant appropriation and invention of this kind. In particular, with a term like 'community' which, embraced by the liberal Left as well as by identity politicians in the late l980s and early 1990s, was also a child of American violence in Central America and Vietnam, and enabled the reciprocal gating of spaces to function, ultimately, as a protection against difference.
Looking at the last ten years, there have been a number of preoccupations that have served as lighting rods for Internet development. First and foremost was the emergence of new social formations and communities, while the outlaw imagery of the hacker dominated the Net — the hacker, actually a product of military and scientific culture, was the last of the twentieth century heroes. I see a fundamental irony in the fact that this figure is now becoming a trope of mass culture at the very moment that the World Wide Web is becoming a mass communications and entertainment system. The hacker ensures that discussions remain tainted with either utopian or dystopian visions of the future.
This is where I question allusions Roy's made in the past to Heidegger, and ideas of the virtual space as a state of transcendent mind, one capable of healing the historical western rupture of time and space. I also question the associated notion of the Web as an expressive state, somehow positioned beyond representation and as experiential, not referential.
Understandably, a related concern of the early part of this decade was the problem of the virtual. How do we make meaning without suture? Is it through free fall? What are the politics of hallucination, loss of balance, 'navigation'? And how do these align with the self-conscious analysis of language that was such a part of the l980s? In 'navigating' — a frictionless passage through deterritorialised space — what are the social and political assumptions about the territory navigated, the identity of the navigators, their responsibility or relationship to the spaces traversed? And why the metaphor of territory in a time when post-colonial discourse was unravelling power relationships and their presence within metaphor.
Cyberculture was the last frontier; the problem of virtual experience connected directly to the final ground of concern, the body. I think this is a discourse we need to remain tightly engaged with, so to speak. The body as present, not transcendent; the body as desirable.
As I have implied, until recently cyber theorists disdained identity politics. This was an ironic stance for members of a subculture created by hackers and academics but also, at least temporarily, chaos theory and fractal mathematics became panaceas for social and economic analysis in a time of crisis — precisely at the moment when other universal and determinist theories such as Marxism and structuralism had hit the dustbin of historical materialism.
The Net is still an environment shared by effective left-wing solidarity machines and the neo-right electoral apparatus. It substitutes for the erasure and incursion into public space and as such offers a rich ground by which to consider the potentials of subcultural subversion. This means the level of conflict on the Internet has in fact intensified.
GL: Yes, it's unbearable to live without anchors and everyone needs his or her own church — that seems all too human. But, I can also see a flaw in identity-based community work.
Today, the underlying idea is one of self-organisation. No identity but one's own: cultural apartheid in the original (Dutch/Boer) meaning of 'separated development'. We can be happy about the identity-building of the Other, even encourage its expression and support it morally and financially, but that's it. A context of plenty is likely only to increase this drive towards 'sovereignty within one's own circle' — another of these Dutch ideas.
Arts, culture, politics will not be constitutional, but recreational — relegated to the after-hours of society. At the same time, this does mean that we can expect the discussions about operating systems, interfaces and censorship to increase. That's what people on a global scale will share.
SD: I do agree with this, mostly. After all, look at late night US reality TV and you will see that pleasure resides not only in self help or 'sovereignty within one's own circles' but also very much in the voyeuristic access to the Other. Pain and gain. However, I don't think that the complete commodification is here yet — rather, there are different forms of commodification: some by big capital, some by little, some by para-economies.
PB: This is very interesting: the tug and pull between representations of identity and difference as either incarcerating or expressive and liberating. This 'own circle sovereignty' equates with a honing down of market demographics into ever finer slices. In the offline environment, for example, large-scale publishers have recently started acquiring special interest magazines they previously wouldn't have touched (e.g. in the Hobbyist category) as vehicles with which to then go online — an environment they clearly see as totally determined by very specific user preferences. If we're to face the fact that we're tribal in our cultural consumption, then where are the areas of properly experimental and dialogic commonality?
GL: At some stage, the new media arts system, consisting of festivals, exhibitions, discourses and a tiny, vital social life, may disappear altogether. The current implicit 'civil war' between the so-called contemporary arts mafia and the much smaller new media arts scene may soon lose its meaning. We can already see that happening with video.
What is missing now, in my view, is an understanding of the new position of new media arts and its telematic experiments in a wider context. I wonder why Roy is often so preoccupied with the role of the engineer: what makes them such an interesting species? Why does he always leave out the term media and narrow down technology to a hard core science? I think this fascination with the (exclusive) laboratory culture is something of the past — technology has spread now, it's in the hands of people.
RA: Actually, Geert, I largely agree with you. My take on science comes from the metaphors and models of scientists working at the edge of their discipline or breaking new ground between fields. Scientists as a whole may be more institutionally constrained than we are but the radicals really are wild. In fact, I'm not sure it is so very different in the art world. Our Damien Hirsts and Tracey Emins also come from extremely tight 'academic' frameworks working within quite precise parameters of the 'new' (mostly à la late sixties and seventies shock/schlock).
My search for ideas takes me into many realms that could be classed as scientific but stand way outside the validated research establishments. That takes me also across cultures and back in time, often in what is usually deemed/damned as esoteric.
SD: This context, or complex of contexts, has been in crisis for a long, long time: festivals, galleries, museums, artist-run centres too. The crisis is one of historical function. Radical museology has most recently been about absorbing its own institutional critique into presentation. The museum becomes a site for the reinterpretation of collections and repositioning of subjectivities. This is happening at the same moment as the blockbuster show, which is a return to the museum of the 19th century and before — as a place of spectacle, mostly about the Other.
Now the spectacle is the spectacle of creativity in a time without time. Some of my cynicism about the emerging institutional presence of video is due to video in the museum being the video of spectacle. Why haven't museums and galleries become broadcasters, or rather narrow casters, streaming an archived collection? Why do they care so much about their real estate as opposed to their social agency?
PB: Roy, I'm very bemused at your characterisation of Tracey Emin and Damien Hirst as coming out of the tight strictures of an academy.
RA: It's neo-schlock based in an uncritical reverence for commodities. It's the déjà vu of tableaux and frozen moments that is so depressing; the imperialism of the object. What could better support the centre right cause? They juggle 'signs of the New' while eschewing any kind of real creative innovation.
SD: Why is the Right so able to reach consensus though where critical thinking is not? What should a cultural program look like now — a nice fractured program?
GL: The Right is not in power, I would say. Neither is the Left. These are outdated categories. I know, this statement is a banality but it is really true! So much of the political Will is focused on harnessing the fears and desires of the ever-growing middle class. That's the Third Way. So we have to understand the secret, unconscious streams. What do they want? A normal, decent life? Less work, more leisure? Basic infrastructure? Public facilities? For me that's where a fractured program would start. Reinventing the public sphere(s), on the edges of the (nation) state and the (global) market.
RA: Tapping into "the secret, unconscious streams". The artist's role as always. But 'reinvention' could sound rather top-down in conception, whereas presumably we all look to the artist (inter alia) as seeding new culture(s) rather than laying out master plans or blueprints for others. My interest is in the artist contributing to life at the edge of the Net, which in many ways corresponds to the edges of the (nation) state and the (global) market. In my view, this is where a 'moist' culture — where dry computational systems converge with wet biology — will likely emerge.
GL: Reinvention is not at all top-down and I am not sure if artists have a higher consciousness and greater sensibility in this field: they're not such meta humans.
RA: What does it mean to say everyone is an artist? Do we mean in potential or in practice?
In many places the semiology of the public sphere — terminology like 'public library', 'museum' and 'town hall' — needs a makeover. It used to speak for authorised knowledge, classification, boundaries, centralisation. All that is being continuously rethought of course. Public education, too, may need to give way to new forms of accessing and navigating knowledge. As much as privatised education is abhorrent to me, so the massification of public education has been disastrous (in the UK the whole curriculum is prescribed from the centre and endlessly and rigorously enforced, assessed, and subject to accountability to the degree that over 40 per cent of time is taken as sick leave by the desperately stressed out teachers). Net culture shows signs of eliciting new possibilities for education: where it deals more with the navigation of knowledge fields than the ordered ingestion of authorised blocks of knowledge, it could be brought forth and cultivated.
What is truly dangerous is that, in between the failure of public education in the States (for example) and the dithering uncertainties of political will regarding cyberspace, the private operators are moving in with truly crass ideas about commercialising education to remove the 'burden' from local authorities. So neither public education (to the extent that it means centralised or uniform) nor commercial education will do. Some visionary pragmatism is needed here.
PB: In the UK, the term 'creative industries' is now commonly used in the spheres of media, government, education and economic policy to bracket a previously unrecognised cluster of activities which, although diffuse and not obviously lucrative, taken together contribute significantly to national income. The term is a special favourite of British Culture Secretary Chris Smith and has begrudgingly been adopted by many working in the cultural field. As such, it forms a cornerstone of UK arts funding policy — and education. What role do you think this convergent area, in which what used to be called 'applied' and 'fine' arts coexist, has for government and politics?
GL: If it exists in the first place, this 'emerging' phenomenon of 'creative industries' has come into being in spite of government policy, not because of it. Politicians should be ashamed of themselves and shut their mouth. In fact, quite the opposite is true — governments are now fighting over the accumulated symbolic capital of cultural production, claiming it as a result of their homeopathic surgeries in the cultural scenery. This is not only a question of window dressing and appropriating the work of countless cultural workers who have never seen any reward (or have been paid too little for a very long time), but there is also a serious lack of vision and willingness to take risks. Third Way policies are not changing this. Their logic is: you take the risk and we claim the result.
Roy Ascott <roy_ascott AT compuserve.com>Sara Diamond <sara AT banff.org>Geert Lovink <geert AT xs4all.nl>Pauline van Mourik Broekman <pauline AT metamute.com>
Related sitesThe Banff Centre for the Arts [http://www.banff.org], Nettime [http://www.nettime.org] and CAiiA STAR [http://www.caiia-star.net]