articles
Democracy Unrealized
By Matthew Hyland

,

28 November 2002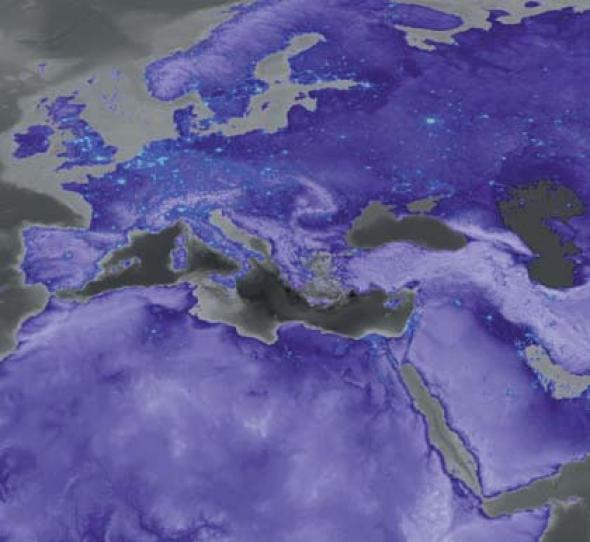 Image: Multiplicity. Solid Sea, 2002. Satellite image. A project by Multiplicity + Giovanni Maria Bellu, Massimiliano Gherzi, Paolo Vari. Courtesy of the artists
Matthew Hyland reviews the first in a series of books commissioned to provide a discursive background to the Documanta 11 exhibition
We are the privileged custodians of a Great Idea. It must be developed, promoted, ultimately realized, even if we don't quite know exactly what it is. In Robert Musil's The Man Without Qualities a thought like this occupies the finest minds of the Austro-Hungarian Empire through 1913, while around them the balance of belligerent powers and Europe's hopes of escaping mechanised catastrophe crumble. In an elegant Vienna salon an elite cell of experts imagines a radiant synthesis of peace and martial prowess, aristocratic tradition and Enlightened socialistic modernity, Culture and Capital, in Emperor Franz Josef's frail, almost 100 year-old person. Their 'Collateral Campaign' of intellectual labour yields the inspiring slogan, 'Action!', and a 'Commission of Enquiry into the Wishes of the Relevant Sections of Society with regard to the Reform of Administration in Home Affairs.' Perhaps most farsighted of all is a plan to celebrate Diversity by requiring Jews, Muslims, Slovenians etc to wear traditional costume at all times in public.
In 2002, while representational politics and institutional high culture withered into brittle husks around them, an elite Multitude of experts in an elegant Vienna auditorium imagined a grand synthesis of multiplicity and identity, nostalgia and technozeal, revolutionary-left and liberal-rights traditions, in the frail, almost 3,000 year old notion of 'democracy'. Like the Collateral Campaign, Documenta 11's inaugural 'Platform' sought to soften history in the name of a Great Idea almost wholly without qualities. For example, decorously post-Marxist and 'Radical Democratic' citizen activist positions were seen to share a utopian horizon beyond their obvious disagreement. Each version looks in some way to a potential for praxis, its details conveniently hidden in the distant future or the opacity of local 'micropolitics', while completely disavowing the 'actually existing' political structures associated with it. Had anyone been paying attention, therefore, the conference would have had the great virtue of showing many times over how the common ethical ground recently discovered behind all 'non-terrorist' politics always entails absolute abstraction. Like the Stalinist doctrine of the 'Law of the Unity and Struggle of Opposites', 'democracy' accommodates all contradictory passions as long as their expression falls short of concrete interference in the real. To stop representing your desire and try autonomously to construct it would be violence, regrettably a matter for the police.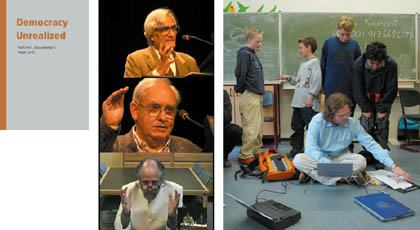 Images from Documenta 11, Platform 1: Democracy Unrealized*
To put it another way, 'democracy' is a popular aspiration in neo-Collateral circles as it allows the ground of political debate to be shifted from the material to the ideal without drawing attention to the switch. Thus even Immanuel Wallerstein uses demographic statistics to do with wealth distribution almost interchangeably with those regarding the formal right to 'democratic' representation, as if the passage from selfexpression to appropriation of resources were automatic, or at most merely a technical problem.
Editors of this fat commemorative tome detect in the speeches transcribed the germ of a common programme, which they name 'a politics of nonambiguity'? Another inspired slogan, this time for what it expresses negatively. If 'ambiguity' implies difficulty choosing between things which may be similar but whose attributes and consequences are ultimately distinct, 'nonambiguity' means giving up the will to choose.
Documenta 11: Platform 1: Democracy Unrealized // Edited by Okwui Enwezor // Hatje Cantz 2002 (distributed in the UK by Art Books International) // ISBN 3775790829 // Price: £22.95
Matthew Hyland <asperger AT caramail.com> is co-founder of Wolverine, the journal of Childish Psychology, a regular contributor to Datacide and plays guitar and Farfisa organ in Mean Streaks
*Image credit in full
Left: Documenta 11 cover
Centre: platform1_Documenta11: video still of satellite transmissions from the October 2001 discussion events featuring (from top down): Harbans Mukhia, Ernesto Laclau, and Homi K. Bhabha
Right: Ben Kinmont, Moveable type no Documenta, 2002. A conversation and printing project in and around Kassel and Installation in the museum, variable dimensions [http://www.kinmont.documenta.de/] Collection the artist