articles
A Body like Adonis
By Keith Tyson

,

26 September 2008
Tuesday (Arms/Chest)
Awoke feeling a little fatigued from yesterday's leg work. Took 1 multi-vit 1000mg tab, 1 biochromium, 2 amino tabs and did some stretches.
Breakfast: .75 litre of Maximus weight gain,
1 bowl of Bran flakes with half a banana
2 whole grain toasts with reduced sugar peanut butter
Gym 10.am.
Met up with Rick and decided to get straight on with bicep work, low rep/high weight routine. Bar-curls 2x10 + 2x8 with a 101b increase, preacher curls 3 x 12 (both arms), Triceps pull downs (taking Rick's advice of slow release and maximum intensity pump at stretch) 3x12, Overpulley's 4x12, general grip and forearm work till lunch.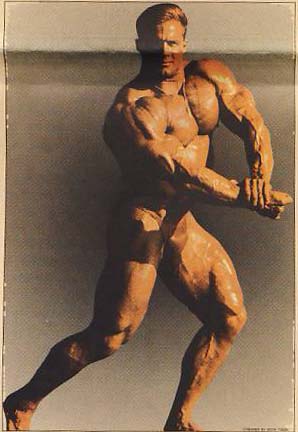 Lunch: 2 breasts of skinless steamed chicken
Greens and steamed veg (unlimited)
1 large jacket potato
4oz cottage cheese with 1 banana
French bread and Wieder vitamin enriched Shake
Took 1 amino with Dibencozide, B-complex 100mg, 4x100mg chainlinked anabolicenhancers.
Then slept from 2 till 3 before having energy snack before the afternoon's chest work.
Energy snack:
1 pt raw juice : Banana, 2 orange, peach, apple, mineral water
1 can of Wieder pre-workout vascu drink
1 rice cake with honey.
Gym 4.30pm
After warm ups straight on to bench press 4 x 12 reps followed by flat flyers 5 x 10 reps.( Really burning chest.) Then Pec Deck and frontal lifts.
Dinner: 14 oz. steak
Large bowl of pasta with tomato sauce
Large bowl of green salad with low fat dressing
2 scoops of ice-cream
Came home feeling great and felt I had made real progress, but after about half an hour I got very depressed and felt kind of unsatisfied with life, I thought I must be lacking something so I took some supplements and read health mags until eight - Craig Titus - Classic Californian Colossus (I've still a lot to learn.) Watched a couple of videos (Lostboys and
Brewster's Millions, quite good).Looking forward to tomorrows back, shoulder and abb work.
Supper: Tuna and sweetcorn sandwich with yogurt
Mug of hot choc made with semi-skimmed milk
Weighed 215 pounds at bed time (bulked).