articles
Beach Buffs and Film Combers
By Zoe Young

,

5 July 2004
The Bring Your Own Film Festival (BYOFF) at Puri, Eastern India in February 2004, was a 'just turn up with your film and we'll show it' response to Indian independent film makers' urge to create and explore their own community. And where better to find time and space for each other than on the beach? Zoe Young reports
As the smell of rotting turtle drifts in yet again on the breeze, I wonder what kind of heaven this is. In a bamboo and canvas edifice we lounge on rugs and cushions on the sand, while film after crazy film flits before our watchful eyes. Stumbling to the exit through sleeping students and bespectacled film makers in plastic chairs, some new friend or other joins my mission to the beach. Past the gate and smiling security we amble, eager for another dose of ocean and deep discussion over beer, sweet coffee or spliff.
Around us, crowds besiege returning fishing boats, while hawkers accelerate towards my paler face. On the side where the sun sets, the sand is clean and the leisured loll in delicious surf; to the east, mounds of rubbish half hide fisherfolks' huts, and pellets of shit roll in the breaking waves. Between, on the stretch outside BYOFF's venue at the ultra-laid back Pink House, a dead Olive Ridley turtle lies baking in the sun. Even crows and the dogs near bald with mange do not venture beyond a sniff or peck at this carcass of an endangered species still strangled by fishermen's rope.
Back inside our cultural enclosure (only a 'private' venue can screen films without the censor's certificate), Bhadaas and Dho are the dark and temporary structures housing our raison d'etre here in Puri. Between them we wander and mill, pensive or deep in conversation, while a passing TV crew zooms in on those who stand out: the child director, the three obvious westerners. Punctuated by the occasional jubilant call of 'Bhadaas..' and response 'Dho!' – BYOFF's multi-purpose slogan which means something like an explosive letting off steam in the local Oriya language – we watch, we wonder and we talk.
The plan, according to Gurpal, a genial TV star from Bombay and one initiator of BYOFF, was for film-makers to 'get together on the beach and fight' without a formal festival's red tape and competition. But most of us are so happy here that we just beam.
The screenings open only half a day late with a short: Where is my Brother? made by the nine year old son of a Bangalore film teacher. They continue with such gems as The Turtle People – saving nature and themselves on the coast of Kerala; True Love is Just Filmi – a German's homage to Bollywood plots; Loo Stories – a sharp-cut wordless cctv view of the bathroom at a wild party; What is Docu? – Gurpal's hilarious compilation of ordinary Indians trying to explain just that; Le Pocha – a funky dwell in alternative Bengali music; Way Back Home – a two hour evocation of India's partition through the directors' aging parents return to their former home in nearby Bangladesh; and (though I say so myself), Not This Time, the Story of the Simon Jones Memorial Campaign – which introduces some viewers to the fact that Britain too is no land of milk and honey for ordinary people. A few films are poorly made but hint at inspired aspirations, others are simply bad (no wonder at a festival without curation) so we return to sit under the sky.

We speak of the 'thousand flowers' of independent documentary now blooming with digital video, of style and substance, of Cuba and Godard and working out our own identities through making films. We speak of the recent World Social Forum and the 600,000-odd Indians 'disappeared' since independence, of films about poverty made by agencies with a stake in sustaining it, of the invisibility of the dispossessed even in 'open' fora like this and the WSF, of rural people driven to armed resistance rather than suicide by the interminable deafness of power, and of ways for the disenfranchised to represent their problems themselves.
We speak of growing censorship by ruling Hindu right-wingers, of the latest Mumbai International Film Festival and the excitement of its resulting counter event Vikalp – Films for Freedom, held across the road from MIFF in WSF-donated space. (Many participants had withdrawn their films from MIFF in solidarity with those rejected for their political content; MIFF organisers tried to pretend it was all about sour grapes and arm-twisting by makers of bad films, but Vikalp's packed houses and statements on censorship from MIFF's jury and selection committee proved them wrong.)
The temple town of Puri is a world away from all this. As we speak of caste and class, communism and communalism, democracy and distribution and the government ganja shop on the high street, every so often the ocean falls silent, as if giving our thoughts a moment to breathe on the edge of India's chaos.
One new friend is Shriprakash, who comes from a small town in the troubled new 'tribal' state of Jharkand. Unable to access elite training to use celluloid, in the 1980s he started making activist films on VHS. He has never sat by the sea like this before, and loves the potential of BYOFF. He introduces me to a group of students from Jandarshan, a unique EU assisted media training centre for rural and 'backward' caste youth. Their gender ratio is about the same as the rest of this festival – maybe one woman to ten men – but far more balanced than the average Indian cinema audience. Only one of the Jandarshan group (a man) avows interest in making films on gender, social issues, or the armed communist movement known as Naxalites. The rest want big commercial TV jobs, but are lucky to find work in small town media.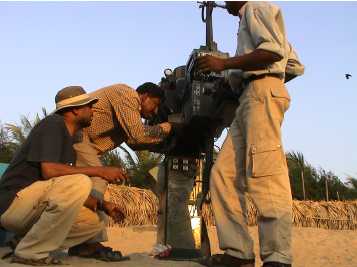 One Jandarshan-made short, Karim's Ramayana featuring a Muslim who recites a Hindu holy text, causes heated debate. Is it a sign of conciliation between religious communities as Sanjay, the young director, claims, or is it pandering to the Hindu right by suggesting that acculturation is necessary to accept the 'other'? Oh no! We want more backwoods voices, but what if they do not reflect a sophisticated politics of tolerance?
Sometimes it seems easier, come the evening, to forget the problems of a billion Indians and simply lie beneath a trillion stars, with Bengali folk songs dancing above the sound of waves and didgeridoo.
After another long morning in the surf, Shri calls me from my coffee: 'something important is happening, come, come!' A big circle has formed on the sand, discussing the future of the forum. Everyone agrees 'we've started now, we should continue', and 'it is a must to have an event like this every year'. But should it move, grow and, if so, how? 'A small audience is a good audience', and 'our strength is networking', so maybe we can dodge the censors and connect with people and places through nationwide informal screenings in sitting rooms, halls and schools? Vikalp participants are already planning something like this: for the nation's independent film makers to be screeners too.
The question, as ever with 'open' networks, is about quality, exclusivity and politics. Nobody wants to show a bad film, nobody can deny (can they?) that the medium is overly in the hands of 'high' caste urbanites, and nobody is interested in promoting hate. All of which opens the problem of curation, which everyone agrees will kill the spirit of BYOFF. And at 'Woodstock on Puri beach' (as Tehelka called it), nobody at all wants to do that.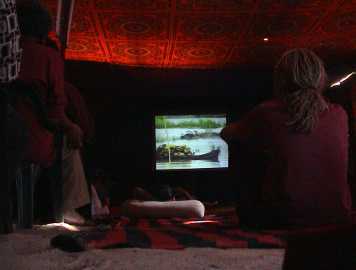 Zoe Young <zoe AT esemplastic.net> is a researcher, writer and film-maker. Her book A New Green Order? The World Bank and the Politics of the Global Environment Facility is published by Pluto Press, see [http://www.newgreenorder.info]