articles
Abort, Retry, Fail
By Simon Ford

,

12 January 2004
With the advent of new computer art archiving projects such as CACHe, historical insights into the fraught relationship between these 'two cultures' are being salvaged. Simon Ford joins the rescue operation
In 1968, the art critic Christopher Finch wrote that 'the emphasis on the conceptual role of the artist leads to the notion of the artist as programmer.' With communication systems emerging that provided links between previously separate disciplines, Finch considered the role of the artist as increasingly resembling that of a co-ordinator – someone who compiled instructions that variously skilled technicians would then implement. Finch concluded that the artist, 'by adopting the role of the programmer, can utilize all of these skills.'1 Finch's text appeared during the 'Go-Go' years, the original boom time for the nascent computer industry. Fed by the rising value of technology shares, supported by a seemingly ever-lasting revenue stream from Cold War spooked defence departments, and effervescent with the missionary zeal of NASA's race to put a man on the moon, the computer age had arrived. Nothing was out of bounds for the technocrats, even art. By 1971, Colin Moorcraft boldly declared that 'the heroic phase of modern art is well and truly over: no more lunatics burning their passions out on canvas; just a group of men [sic] in white coats deciding what next week's New Movement is going to be.'2
Given such confident statements and the many others like them that appeared at this time, it is surprising that art historians writing about late 1960s and early 1970s art tend to overlook the role played by the computer in the 'mentality' of the period's artists. Two main factors have contributed to this. The first of which, in Britain at least, is the 'two cultures' argument which describes a terminal lack of communication between the arts and sciences.3 The second factor concerns a continued narrowness of definition as to what constitutes actually existing art, beyond traditional forms of painting, drawing and sculpture. One project that aims to overcome such prejudices and recover the history of early computer art in order to 'confirm its cultural and aesthetic legitimacy' is the CACHe research project. CACHe stands for Computer Arts, Contexts, Histories etc. and is based at the School of History of Art, Film and Visual Media at Birkbeck, University of London.4 The CACHe team consists of Dr Charlie Gere, Paul Brown, Dr Nick Lambert, and Catherine Mason and its activities include: discovering and recovering the work of leading pioneers (not just artists but also engineers, scientists, and institutions); the identification and acquisition of personal and institutional archives; and the wider interpretation of this material to provide a historical context for the computer arts of the period. With funding only in place to cover three years of work it constitutes a pilot project to map out the field and identify the most urgent and necessary work that needs to be done. The ultimate aim is to create a permanent national collection. One key archive already acquired is that of the late John Lansdown, co-founder (along with George Mallen and Alan Sutcliffe) of the Computer Arts Society (CAS) in 1969.5 Another project with at least some focus on early computer art is The Digital Art Museum [http://www.dam.org ], a collaboration between Metropolitan University and – reflecting the potential but still largely untapped commercial value of these works – the gallerist Wolfgang Lieser.6 Key events of the late 1960s and early 1970s still remain to be fully documented and assessed, including the British exhibitions Cybernetic Serendipity (1968), Event One (1969), and Interact (1973). However, alongside such essentially optimistic and utopian projects, any history of this period will necessarily also have to deal with those that took a more dystopian view. The benign nature of computers and their manufacturers was always fiercely contested, not just amongst defenders of humanistic values but also amongst the most radical elements of the counter-culture. Take for example Robert Smithson in 1969 who was invited by the MIT Center for Advanced Visual Studies to take part in the US section of the São Paulo Bienale. He eventually withdrew stating that: 'To celebrate the power of technology through art strikes me as a sad parody of NASA. I do not share the confidence of the astronauts. [...]If technology is to have any chance at all, it must become more selfcritical.' 7 It also informed cinematic representations of possible future worlds in films such as 2001: A Space Odyssey (1968) and Alphaville (1965), which Jean-Luc Godard had originally considered calling Tarzan versus IBM.8 Early exhibitions promoting the confluence of art and technology did little to instil confidence that a bright new future lay ahead.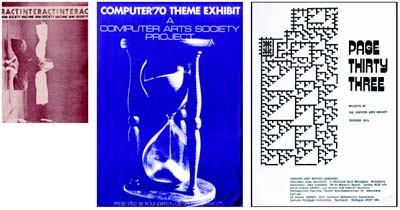 In late 1970, Agnes Denes was so disgusted by her treatment in the Software exhibition at the Jewish Museum in New York that she wrote to Studio International accusing the Museum of incompetence. Denes accepted an invitation to show on the grounds that her work Dialectic Triangulation: a Visual Philosophy was going to be reprogrammed for three-dimensional computer display presentation. She was assured the programming work would be completed in time, but 'assurances turned to evasions and finally just double talk.' By chance, just ten days before the opening, she learnt that work had hardly begun on her program and the show duly opened without it. Along with another artist she was also promised four computers for the show but only one was provided which meant the 'seven days a week through the summer' she had spent writing four new programs was wasted as only one could be used. In support of Denes a number of artists (including Hans Haacke, Joseph Kosuth and Lawrence Weiner) signed another letter claiming even more insidious wrongdoing, specifically that the technical advisor assigned to her 'told her at one point he would not do her work because he did not like her and did not like women.'9 American Motors Corporation sponsored Software and this marriage of art, technology and big business remained obligatory as long as computing power remained so debilitatingly expensive. One organiser of the exhibition Art and Technology (1971) at the Los Angeles County Museum of Modern Art believed that it was 'possible, and perhaps valuable, to effect a practical interchange between artists and members of the corporate-industrial society.'10 She cited as examples: John Chamberlain and James Byar working with think-tanks Rand and the Hudson Institute respectively, and Jesse Reichek's work with Jack Citron, a physicist at IBM. Meanwhile, for the Situationist Raoul Vaneigem, such collaboration with the technocrats of the military-industrial complex provided only one benefit: the reversal – through détournement – of its practices for revolutionary ends: 'By laying the basis for a perfect power structure, the cyberneticians will only stimulate the perfection of its refusal. Their programming of new techniques will be shattered by the same techniques turned to its own use by another kind of organization. A revolutionary organization.'11
Whether such statements are mere rhetoric or a portent of the inevitable, futurologists of both the right and left operate without the historian's luxury of hindsight. As projects such as CACHe should reveal, operating in often hostile conditions, early computer art was plagued by false starts and false promises. But without any knowledge of these shortcomings we run the risk of repeating the mistakes of the past. Now is a good time for a history of early computer art, to go back to the future of what went wrong as much as what went right.
1 Christopher Finch, Pop Art, Object and Image, London: StudioVista/Dutton Picturebook, 1968. Quoted in Kenneth Coutts-Smith, The Dream of Icarus: Art and Society in the Twentieth Century, London: Hutchinson, 1970, p. 1902 Colin Moorcraft, 'On-line Nothings', Studio International, March 1971, no. 931, pp. 1343 The key text of this debate is: C.P. Snow, The Two Cultures and the Scientific Revolution: The Rede Lecture 1959, Cambridge: Cambridge University Press, 19594 CACHe is funded by the Arts and Humanities Research Board and can be contacted at: CACHe, Vasari Lab, School of History of Art, Film & Visual Media, Birkbeck, University of London, 43 Gordon Square, London, WC1H 0PD, England, +44 (0) 20 7631 6197, <info@cache.bbk.ac.uk>, [http://www.bbk.ac.uk/hafvm/cache] 5 For more on the founding of the CAS, see my 'Technological Kindergarten' in Mute 266 For a useful overview of projects relating to the history of early computer art see Paul Brown's 'Recovering History – Critical and Archival Histories of the Computer-based Arts' [http://www.siggraph.org/artdesign/ gallery/S03/essays/brown.pdf]7 Robert Smithson, 'Letter to Gyorgy Kepes (1969)' in Jack Flam (ed.) Robert Smithson: The Collected Writings, Berkeley: University of California Press, 1996, p. 3698 Jean Luc Godard, Alphaville, London: Lorrimer Publishing, 1984, p.9 9 Undersigned, 'Open Letter to Jewish Museum', Studio International, December 1970, no. 928, pp. 22810 Jane Livingstone, 'Some Thoughts on 'Art and Technology'', Studio International, June 1971, no. 934, p. 258 11 Raoul Vaneigem, The Revolution of Everyday Life, London: Left Bank Books and Rebel Press, 1983, p. 62
Picture Credits
Top > Poster of the Interact show in Edinburgh, 1973, which was run by the Computer Arts SocietyLeft > Front of the Interact show catalogueMiddle > Poster of the trade show Computer'70 where CAS had an exhibitionRight > PAGE issue 33 – this was the Computer Arts Society magazine
Simon Ford <fordmobile AT tiscali.co.uk > is the author of Hip Priest: The Story of Mark E. Smith and The Fall