articles
adonnaM.mp3
By Charlotte Frost

,

4 July 2003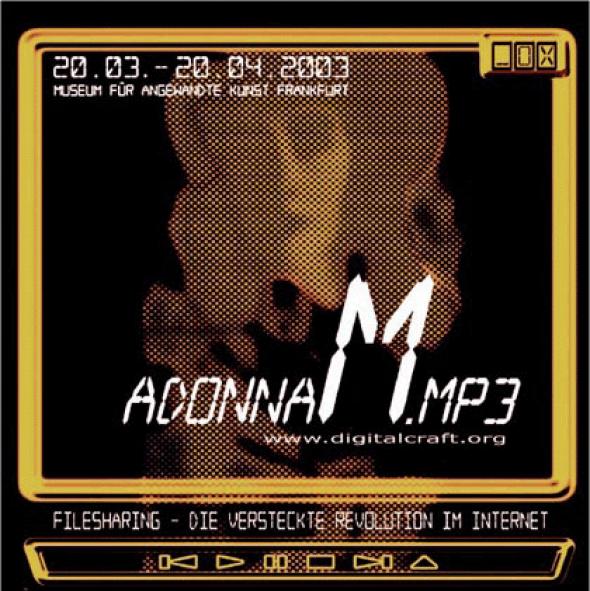 She might have made some controversial videos, sworn when she presented the Turner Prize and collected some art, but the 'material girl' will always be a part of the music industry status quo. Is this why her name is the perfect acronym for an exhibition on troubling musical and art world protocol?
The latest offering from Digitalcraft at the Museum for Applied Arts, Frankfurt, is the adonnaM.mp3 exhibition, which looks at the effects of peer-to-peer file sharing, and specifically the mp3 format. The exhibition consists of five installations which combine audio and visuals to discuss issues such as the future of copyright, freedom and property in the networked society, and the socio-economic ramifications of the gift economy. Coverbox creates links between musicians and music, from an archive of over 500 mp3 cover versions, resulting in an infinite amount of images, network passages, and collaborations, whilst The Heavy Rotation Revisor allows a musical collective of gallery visitors to be created on site for a mixing and sampling fest. ReBraun breathes new life into an old machine creating a bootlegger's paradise.
In the best traditions of file sharing, the website, (if you can't get to Frankfurt) provides a beginner's guide to P2P and Mp3 with a chronology – courtesy of Luca Lampo and Marina Serina – and extensive catalogue of essays. Bizarrely enough, though the exhibition is on sharing, the artworks do not have web-friendly counter parts. Perhaps this is because, as the website states: 'These developments arouse a conflict of economic interests – and clashes between new restrictions and long-established democratic concepts of the right of access to collective knowledge.'
From within a museum, Digitalcraft are actively looking at the destruction of traditional concepts of collecting. The site boasts both archives of computer games and website design and details of past techno/museo interventions. They are well aware that these are informational rather than capitalistic investments and that the future of the museum as a concept is questionable, and yet paradoxically, here they are doing exactly what museums do best, collecting, recording, disseminating – uh-oh, that sounds like something Madonna does too!
adonnaM.mp3: File Sharing, the Hidden Revolution in the Internet // Museum fuer Angewandte Kunst // Frankfurt // 20th March – 20th April 2003 Digital Craft: [http://www.digitalcraft.org]