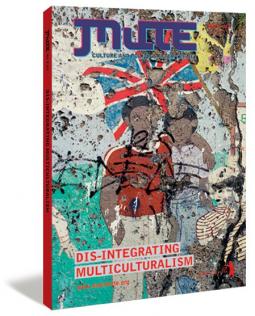 magazine
Mute Vol 2, No. 2 − Dis-Integrating Multiculturalism
Since the advent of multiculturalism in the 1970s, the redefinition of race in cultural terms has gone hand in hand with an official discourse of respect for cultural difference and diversity. Today, in the wake of 9/11, the rhetoric of tolerance is visibly breaking down. As state policy shifts from the celebration of difference to an anxious call for assimilation, the racial other (whether citizen or immigrant) is under renewed pressure to integrate herself into society.
In this issue of Mute, contributors read the crisis of multiculturalism – political, scientific and social – as both a neoliberal offensive and a challenge to rethink the relationship between particular identities and universal rights, evolutionary science and biopower.
2006-06, ISSN 1356-7748-202 & ISBN 9780955066425
The Values on the Ground
Hari Kunzru looks at the shift in New Labour's emphasis from tolerance to the need to impose 'shared values'
Disrespecting Multifundamentalism
Melancholic Troglodytes offer a critical genealogy of the term 'respect' and its detournement
Under the Beach, the Barbed Wire
Angela Mitropoulos on trouble in Australia's multicultural paradise
Proud Scum − The Spectre of The Ingrate
Matthew Hyland tracks the shifting meaning of 'integration'
Dividing The Species
Can a non-racist evolutionary science help us tackle the return of scientific racism. Marek Kohn and Luciana Paresi discuss
Show Some Disrespect!
Daniel Jewesbury argues for the renewal of a left universalism as a means to fight racism
Acts of God and Enclosures in New Orleans
George Caffentzis pin-points the true culprit of New Orleans' devastation
Free Speech as Shibboleth: on the Danish Cartoons
How did the racist provocation of Muslims turn into a debate about free speech?, asks Benedict Seymour
The Netherlands: from Multiculturalism to Forced Integration
Eric Krebbers on the swing to the right in Holland
Illustrations
Photography by Alessandra Chilia
ISBN 0-9550664-2-5
Dimensions: 22.4 x 15.2 x 1.3 cm
108 pages
By Hari Kunzru
By Melancholic Troglodytes
By Angela Mitropoulos
By Matthew Hyland
By Marek Kohn and Luciana Parisi
By Daniel Jewesbury
By George Caffentzis
By Benedict Seymour
By Eric Krebbers