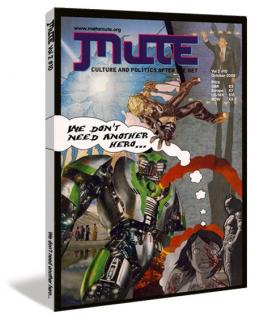 magazine
Mute Vol 2, No. 10 − We Don't Need Another Hero
The state is pouring billions into propping up the collapsing financial sector, but who is going to take care of the rest of us? Between Hollywood's embattled superbrats and the gruesome charisma contests of political party leaders, we can be sure of one thing – we don't need another hero! Mute surveys some popular myths of political-economic salvation (and damnation), and looks for signs of collective agency in the global Gotham.
2008-10, ISSN 1356-7748-210 & ISBN 9781906496210
Liverpool – Culture of Capital
Leo Singer & Clara Paillard crash Liverpool's regeneration party
Descrambling the Food Crisis
George Caffentzis puts the class politics of hunger back on the table
From Subprime to Slump?
Jon Amsden argues that the capitalist doom doctors have got things the wrong way round
Mr Smith Goes to Beijing
Daniel Berchenko on Giovanni Arrighi's retrogressive vision of China as the future of capitalism
Mexican Wave
Mihalis Mentinis on a new cycle of armed anti-capitalist struggle in Mexico
Any Other But Our Selves
J.J. Charlesworth on Other-worship in the art gallery and the denigration of human agency
Orientalism Inverted: the Rise of 'Hindu Nation'
Neil Gray on Indianness as German ideology, from colonial mystique to neoliberal pogroms
One World, One Lie
Paula Cerni finds a thoroughly modern lack of democracy in Tibet
Illustrations
Pauline van Mourik Broekmann, Nick Brooks, Amitabh Kumar
ISSN 1356-7748-10
ISBN 978-1-906496-21-0
Dimensions: 22.4 x 15.2 x 1.3 cm
112 pages
By Leo Singer and Clara Paillard
By George Caffentzis
By Jon Amsden
By Daniel Berchenko
By Mihalis Mentinis
By J.J. Charlesworth
By Neil Gray
By Paula Cerni