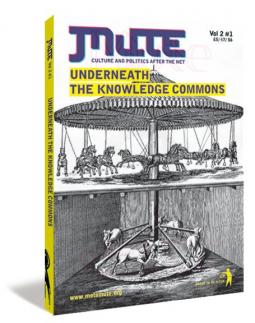 magazine
Mute Vol 2, No. 1 − Underneath The Knowledge Commons
A struggle is ensuing to produce and protect what is being called the Knowledge Commons in defiance of the latter day regime of enclosures around knowledge and informational goods. As with the pre-capitalist common lands on which the majority of people subsisted, the idea is that we can build a resource, a life source, of intellectual wealth to sustain people within informatic capitalism.
2005-12, ISSN 1356-7748-201 & ISBN 9780955066417
Free Labour or Social Sculpture?
Mute canvasses a small selection of cultural producers working with FLOSS about the bottom line
Patently Obvious
The OpenMute project explains its approach to FLOSS and the public domain
FLOSS Redux
Soenke Zehle on the politics of 'tropicalised' software in South Africa
Reality Check
Steve Wright applies Marx's law of value to immaterial labour
Freedom's Standard Advanced?
Benjamin Mako Hill asks just how many licences we need to preserve freedom
Change of the Century
Martin Hardie scrutinises the 'freedoms' enshrined in FLOSS licensing, and the American constitutionalism it extends
Copy that Floppy!
Mute talks to Palle Torsson about the Pirate Bay, filesharing, piracy and the 'grey commons'
Charters of Liberty in Black face and White Face
Peter Linebaugh links the English enclosures to Atlantic slavery and financial liquidity
State Wide Shut
Gregor Claude on Demos' blueprint for open sourcing the State
Gender Dimensions of FLOSS Development
Yuwei Lin shows how the gender gap in FLOSS development contradicts in own ideals
Illustrations
Per Wizen, Anya Kirschner, Benedict Seymour, Raquel Perez de Eulate
ISBN 0-9550664-1-7
Dimensions: 22.4 x 15.2 x 1.3 cm
108 pages
By Mute
By Simon Worthington
By Soenke Zehle
By Steve Wright
By Benjamin Mako Hill
By Martin Hardie
By Gregor Claude
By Yuwei Lin