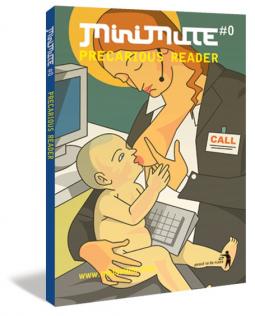 magazine
Mute Vol 2, No. 0 − Precarious Reader
This inaugural issue of Mute's Volume 2 series is a Reader that collects together texts on precariousness that first appeared in Mute Volume 1 issues 29 (January 2005) and 28 (August 2004) with writing on the politics of precarity from a number of other sources. The intention is to present a selection of texts in one small volume which address the problems and potentials of the concept of precarious labour. This Reader reflects something of the current discussion and debate around social precariousness, precarious work, precarious life, and the struggles against this condition.
2005-09, ISSN 1356-7748-200 & ISBN 9780955066405
Cheap Chinese
John Barker on the perilous and exploitative employment of economic migrants essential to capitalist productivity today
The Insecurity Lasts a Long Time
Anthony Iles reviews online magazine Republicart's issue on precarious labour
Precarious Straits
Marina Vishmidt on the dubious equation of artists with other forms of insecure (service) workers
Precarity and N/european Identity
An interview with Alex Foti of ChainWorkers by Merijn Oudenampsen and Gavin Sullivan
Is Precarity Enough?
Before the precariat came the mass worker. Kidd McKarthy puts precarity in historical perspective
Precarious, Precarisation, Precariat?
Impacts, traps and challenges of a complex term and its relationship to migration. By the Frassanito Network
Marx and Makhno Meet McDonalds
What does 'precarious' struggle look like in practice? Loren Goldner on Collectif de Solidarité
Disobbedienti, Ciao
Hydrachrist on the death of the Italian Disobbedienti and the rise of the precariat
Wages for Anyone is Bad for Business
Laura Sullivan interviewed Selma James and Nina Lopez of Wages for Housework about the Venezuelan State's recent recognition of the economic value of women's work
Call to Arms
Kolinko present some of the findings from their workers' enquiry into call centre work
Illustrations
Angelo Rindone
ISBN 9780955066405
Dimensions: 22.4 x 15.2 x 1.3 cm
104 pages
By John Barker
By Anthony Iles
By Marina Vishmidt
By by Merijn Oudenampsen and Gavin Sullivan
By Kidd McKarthy
By Loren Goldner
By Hydrarchist
By Laura Sullivan
By Mute Editor